WM or RSG: Which Waste Management Stock Is Better Placed?
The waste management market is likely to gain traction backed by rise in population, increase in environmental awareness, and rapid industrialization and urbanization. Strict government restrictions to limit landfills and steps to increase the collection of waste for recycling are also expected to create opportunities for the industry.
Per a new report by Allied Market Research, the global waste management market size is projected to witness CAGR of 6.2% from 2017 to 2023 to reach $435.0 billion.
Notably, The Zacks Waste Removal Services Industry has a Zacks Industry Rank in the top 14% (36 out of the 250 plus groups). This indicates a relatively favorable earnings outlook for the industry.
Given this backdrop, it is not a bad idea to undertake a comparative analysis of two waste removal services stocks – Waste Management WM and Republic Services RSG. Both the stocks are part of the broader Business Services sector (one of the 16 Zacks sectors). While Waste Management has a market capitalization of $40 billion, Republic Services' market cap is $25.1 billion.
As both the stocks carry a Zacks Rank #3 (Hold), we are using certain other parameters to give investors a better insight. You can see the complete list of today's Zacks #1 Rank (Strong Buy) stocks here.
Price Performance
Republic Services clearly scores over Waste Management in terms of price performance. Shares of Republic Services have gained 19% in a year's time, outperforming the 12% rise of Waste Management and 10% rise of the industry.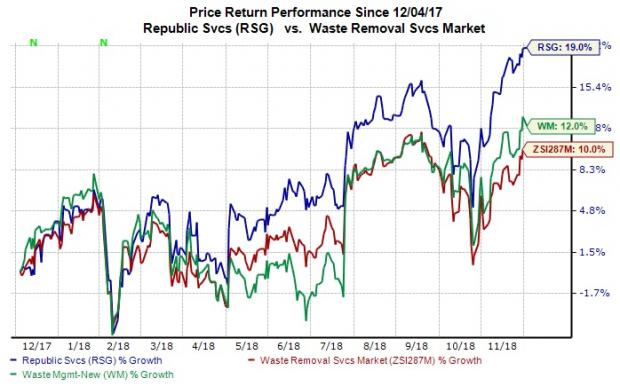 Earnings Expectations
Earnings growth along with stock price gains is often an indication of a company's strong prospects.
Waste Management's earnings for 2018 are projected to grow 28.6% while that of Republic Services are expected to increase 25.9%. For 2019, Waste Management's earnings are expected to register 7.1% growth compared with 5.9% for Republic Services.
Thus, Waste Management has an edge over Republic Services in terms of yearly projected earnings growth.
Estimate Revisions
The direction of estimate revisions serves as an important pointer when it comes to the price of a stock.
The Zacks Consensus Estimate for Waste Management's 2018 earnings inched up 1.5% in the past 60 days. For Republic Services, estimates for 2018 moved up 0.7% in the same time frame.
Earnings Surprise History
The earnings surprise history of a stock helps investors have an idea of the stock's performance in the previous quarters.
Waste Management and Republic Services have an impressive earning surprise history, with their earnings surpassing the Zacks Consensus Estimate in all of the previous four quarters.
However, Waste Management has delivered a higher average positive earnings surprise than Republic Services. The reading for Waste Management is 4.5% compared with 3.9% for Republic Services.
Net Margin
Net profit margin helps investors evaluate a company's business model in terms of pricing policy, cost structure and operating efficiency, and shows how good it is at converting revenues into profits. Hence, a strong net profit margin is preferred by all classes of investors.
Waste Management's TTM net margin of 11.6% places it favorably in comparison to the industry's figure of 11% and Republic Services' figure of 9.5%.
Valuation
EV/EBITDA is a commonly used multiple for the waste management industry. We observe that while Republic Services and Waste Connections have EV/EBITDA ratios of 13.9 and 13.6, respectively, the industry's figure stands at 12.4. Although both the companies compare unfavorably with the industry, Waste Management has a lower EV/EBITDA value than Republic Services.


So, Waste Management looks cheaper than republic Services.
Bottom Line
Our comparative analysis shows that while Republic Services scores over Waste Management in terms of year over year price performance and earnings estimate revisions, Waste management has an edge in terms of yearly projected earnings growth, surprise history and net margin.
Although faster share price rally in the past year led to a rich valuation for both stocks compared with the industry, Waste Management is trading slightly cheaper compared to Republic Services.
Stocks to Consider
Some better-ranked stocks in the broader Business Services sector include Total System Services, Inc. TSS and Paychex, Inc. PAYX, each carrying a Zacks Rank #2 (Buy).
The long-term expected EPS (three to five years) growth rate for Total System Services and Paychex is 14.2%, and 8.5%, respectively.
Today's Stocks from Zacks' Hottest Strategies
It's hard to believe, even for us at Zacks. But while the market gained +21.9% in 2017, our top stock-picking screens have returned +115.0%, +109.3%, +104.9%, +98.6% and +67.1%.
And this outperformance has not just been a recent phenomenon. Over the years it has been remarkably consistent. From 2000 - 2017, the composite yearly average gain for these strategies has beaten the market more than 19X over. Maybe even more remarkable is the fact that we're willing to share their latest stocks with you without cost or obligation.
Want the latest recommendations from Zacks Investment Research? Today, you can download 7 Best Stocks for the Next 30 Days.
Click to get this free report
Paychex, Inc. (PAYX): Free Stock Analysis Report
Total System Services, Inc. (TSS): Free Stock Analysis Report
Waste Management, Inc. (WM): Free Stock Analysis Report
Republic Services, Inc. (RSG): Free Stock Analysis Report
To read this article on Zacks.com click here.
Zacks Investment Research