Palo Alto Boosts Stronghold in SASE With New Prisma Features
Palo Alto Networks PANW recently announced new enhancements to the comprehensive secure access service edge (SASE) platform, namely Prisma Access.

These include cloud-delivered software-defined wide area network (SD-WAN) and data loss prevention (DLP) capabilities.

These upgrades will extend the company's comprehensive cloud security strategy, Prisma, and enhance its capabilities to provide end-to-end protection for modern applications. This, in turn, will safeguard clients' journey to the cloud in a much better fashion.
Palo Alto Networks, Inc. Revenue (TTM)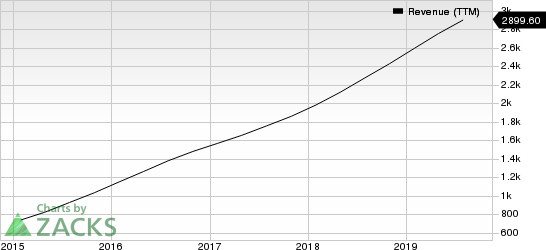 Palo Alto Networks, Inc. revenue-ttm | Palo Alto Networks, Inc. Quote
Prisma: Key Growth Factor

The Prisma platform brings all Palo Alto's cloud security solutions under one umbrella, in a bid to address the need for comprehensive and end-to-end security solutions. This will allow enterprises to better focus on business growth without worrying about security gaps in the system.

Prisma Access, which delivers end-to-end networking and security services from a globally distributed cloud platform, has been supplementing growth of several client companies with consistent delivery of comprehensive networking and security services. These services include IPsec VPN, SSL VPN, cloud-delivered malware analysis, DNS Security and URL filtering capabilities.

Palo Alto has been taking strong steps to fortify this growth-driving platform. Moreover, its recent acquisitions of PureSec and Twistlock — both of which are being integrated into Prisma cloud — are expected to bolster the platform.

Bright Prospects of SASE Model

With the announcement of new SD-WAN features and the DLP service, Palo Alto Networks is also extending its powerful SASE capabilities.

SASE has recently been named by Gartner as one of the most promising emerging technology in enterprise networking. The relatively new technology is still in a nascent stage, with less than 1% adoption. This means that it has the opportunity to grow significantly.

Moreover, Gartner predicts that the SASE technology will see strong adoption over the next 10 years. This adoption is likely to be driven by an ongoing architectural transformation of traditional data center-centric networking and security to better cater to current mobile workforce, as well as achieve high adoption of cloud technology.

Notably, this architectural transformation is a threat to traditional network and security models. The emerging SASE model converges networking and security in the cloud, which is beyond the capacity of traditional models.

Gartner says, "Enterprise demand for cloud-based SASE capabilities, and market competition and consolidation, will redefine enterprise network and network security architectures and reshape the competitive landscape."

To Conclude

Palo Alto's aggressive growth tactics are noteworthy. With back-to-back acquisitions and product launches, the company is leaving no stone unturned to maintain its leading position in the security market.

Moreover, Palo Alto's belief that its addressable market will be worth $24 billion by 2020 compared with $19 billion in 2017 is encouraging it to move forward in the cybersecurity market. Its efforts are leading to consistent expansion of customer base and revenue growth. In the last reported quarter, revenues of $805.8 million increased 22% year over year.

Zacks Rank and Key Picks

Palo Alto currently has a Zacks Rank #3 (Hold).

Some better-ranked stocks in the broader technology sector are Alteryx, Inc. AYX, Perficient, Inc. PRFT and Fortinet, Inc. FTNT. All the three stocks flaunt a Zacks Rank #1 (Strong Buy). You can see the complete list of today's Zacks #1 Rank stocks here.

Long-term earnings growth rate for Alteryx, Perficient and Fortinet is currently pegged at 39.9%, 11.6% and 14%, respectively.

Free: Zacks' Single Best Stock Set to Double

Today you are invited to download our just-released Special Report that reveals 5 stocks with the most potential to gain +100% or more in 2020. From those 5, Zacks Director of Research, Sheraz Mian hand-picks one to have the most explosive upside of all.

This pioneering tech ticker had soared to all-time highs and then subsided to a price that is irresistible. Now a pending acquisition could super-charge the company's drive past competitors in the development of true Artificial Intelligence. The earlier you get in to this stock, the greater your potential gain.

Download Free Report Now >>

Want the latest recommendations from Zacks Investment Research? Today, you can download 7 Best Stocks for the Next 30 Days.
Click to get this free report
Fortinet, Inc. (FTNT): Free Stock Analysis Report
Palo Alto Networks, Inc. (PANW): Free Stock Analysis Report
Perficient, Inc. (PRFT): Free Stock Analysis Report
Alteryx, Inc. (AYX): Free Stock Analysis Report
To read this article on Zacks.com click here.
Zacks Investment Research