Service Corporation Q1 Earnings Beat Estimates, Sales Miss
Service Corporation International SCI reported mixed financial numbers for first-quarter 2019. While the company's earnings surpassed the Zacks Consensus Estimate, revenues missed. However, the top line increased on a year-over-year basis. The quarterly results gained from strong performance in the cemetery category. Let's take a closer look.

Q1 in Detail

Service Corporation reported adjusted earnings of 47 cents per share, exceeding the Zacks Consensus Estimate of 41 cents. However, the bottom line remained unchanged from the year-ago quarter. Strength in comparable cemetery revenues, efficient cost management and reduced tax rate were offset by lower profits at the funeral segment. This in turn stemmed from tough year-over-year comparison, owing to the presence of a strong flu season last year.

Adjusted effective tax rate was 21.4% in the first quarter of 2019 compared with 25.8% in the same period last year.

Total revenues of $798.2 million inched up 0.5% from $794.5 million in the year-ago quarter. Improved cemetery revenues aided the top line. However, the figure came below the consensus mark of $807 million.

Service Corporation International Price, Consensus and EPS Surprise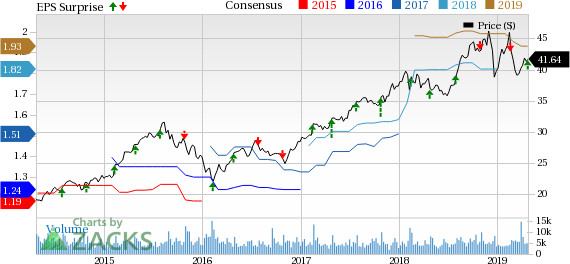 Service Corporation International Price, Consensus and EPS Surprise | Service Corporation International Quote
General and administrative costs increased nearly $7.7 million to reach $42.5 million, owing to higher legal settlement costs.

The company's interest costs rose $3.8 million to $47.4 million, due to higher interest rates on its floating rate debt and increased total debt.

Segment Discussion

Comparable Funeral revenues declined 5.5% owing to lower core revenues. Core revenues declined, as a result of lower funeral services performed and reduced average revenue per service conducted. Moreover, revenues in this category were dented by the absence of last year's strong flu season. Recognized preneed revenues declined on fewer contracts sold.
These downsides were partly compensated by increase in other revenues, driven by rise in General Agency revenue. Comparable preneed funeral sales production increased 2.3%, driven by growth in core locations.

Comparable funeral operating profit declined approximately 14% to $104.8 million and the operating margin contracted nearly 210 basis points (bps) to 21.7%. The downside resulted from lower core revenues, partially offset by decrease in fixed costs.

Comparable Cemetery revenues rose 7.5% year over year, courtesy of higher recognized preneed revenues, partially offset by decline in at-need cemetery revenue. Comparable preneed cemetery sales production grew 6.3% on account of mid-single digit increase in both preneed property production and preneed merchandise and service sales production.

Comparable cemetery operating profit rose around 15% to $86.5 million, while the respective margin expanded 190 bps to 28.8%. This upside was driven by higher recognized preneed revenues and income from endowment care trust.

Other Financial Details

This Zacks Rank #3 (Hold) company ended the quarter with cash and cash equivalents of $153.7 million, long-term debt of $3,409.2 million and total equity of approximately $1,700.4 million.

Net cash from operating activities (excluding special items) amounted to $184.9 million in the quarter, compared with $211.5 million in the prior-year period. The decrease was due to lower funeral operating profit and improved working capital.

During the first quarter, Service Corporation returned $47.4 million to its shareholders via dividends and share buybacks, and invested $26.3 million of capital into accretive acquisitions and building new funeral homes.

Also, the company incurred capital expenditures of $51.6 million during the first quarter 2019.

Outlook

Management expects the company to be well positioned for long-term growth of 8%-12%, backed by dedicated workforce, solid operating platform and a healthy financial position. It plans to continue deploying capital efficiently to augment shareholders' value.

The company reiterated its guidance for 2019. It continues to expect adjusted earnings per share for 2019 in the range of $1.84-$2.02. Further, management anticipates net cash from operating activities (excluding special items) between $550 million and $610 million. The company plans to allocate about $195 million toward capital enhancements at existing facilities and cemetery development.

Price Performance

Shares of the company decreased 2.6% in the past three months, wider than the industry's decline of 1.5%.

3 Stocks to Watch

McCormick & Company, Inc. MKC has a long-term earnings growth rate of 9% and a Zacks Rank #2 (Buy). You can see the complete list of today's Zacks #1 Rank (Strong Buy) stocks here.

Lamb Weston Holdings, Inc. LW has a long-term earnings growth rate of 12.4% and a Zacks Rank #2.

The Estee Lauder Companies Inc. EL delivered average positive earnings surprise of 11.7% in the trailing four quarters. It has a long-term earnings growth rate of 12.9% and a Zacks Rank #2.

Radical New Technology Creates $12.3 Trillion Opportunity

Imagine buying Microsoft stock in the early days of personal computers… or Motorola after it released the world's first cell phone. These technologies changed our lives and created massive profits for investors.

Today, we're on the brink of the next quantum leap in technology. 7 innovative companies are leading this "4th Industrial Revolution" - and early investors stand to earn the biggest profits.

See the 7 breakthrough stocks now>>
Want the latest recommendations from Zacks Investment Research? Today, you can download 7 Best Stocks for the Next 30 Days.
Click to get this free report
The Estee Lauder Companies Inc. (EL): Free Stock Analysis Report
Lamb Weston Holdings Inc. (LW): Free Stock Analysis Report
McCormick & Company, Incorporated (MKC): Free Stock Analysis Report
Service Corporation International (SCI): Free Stock Analysis Report
To read this article on Zacks.com click here.
Zacks Investment Research