Comtech Gets U.S. Army's Contract to Support Warfighters
Comtech Telecommunications Corp. CMTL recently announced that its Mission-Critical Technologies group, which is part of its Government Solutions segment, has secured a contract with $98.6 million ceiling, during its first-quarter fiscal 2020.

Markedly, the company's Mission-Critical Technologies group is known to be a leading provider of highly-mobile C4ISR (Command, Control, Communications, Computer, Intelligence, Surveillance, and Reconnaissance) solutions. Comtech sells products to a diverse customer base in the global commercial and government communications markets. The deal underscores U.S. Army's trust in the company to support warfighters.

The company aims to provide global field support services for military satellite communication terminals worldwide. The contract has been initially funded at $22.2 million with additional funding likely across the performance period, which is expected from award through 12 months. Federal government agencies depend on Comtech's cyber security expertise, professional consulting services and highly secure deployable satellite solutions for mission-critical communications.

Moreover, Comtech has created a niche market for secure wireless solutions to defend global security and improve public safety. The company continues to provide market-leading products for messaging, location and deployable wireless communications. Its acquisition of Solacom and the GD NG-911 business has significantly enhanced its ability to deliver innovative products and services to public safety agencies globally.

With a significant exposure to large growing end markets, characterized by emerging technology trends for communications, Comtech's earnings estimates for fiscal 2019 have increased 18.4% over the past year to $1.35. The company topped earnings estimates in each of the trailing four quarters, delivering average positive surprise of 239.2%.

Backed by healthy business momentum including strong backlog, Comtech's shares have added 28.5% compared with the industry's growth of 17.3% year to date.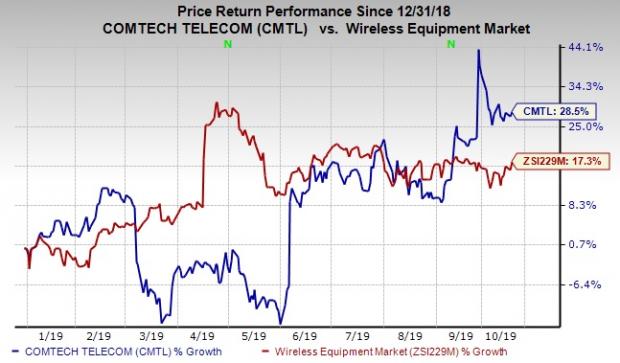 Comtech currently has a Zacks Rank #3 (Hold). A few better-ranked stocks in the broader industry are Zayo Group Holdings, Inc. ZAYO, Nokia Corporation NOK and PCTEL, Inc. PCTI, each carrying a Zacks Rank #2 (Buy). You can see the complete list of today's Zacks #1 Rank (Strong Buy) stocks here.

Zayo is currently trading with a forward P/E of 45.7X.

Nokia surpassed earnings estimates thrice in the trailing four quarters, the average positive surprise being 89.3%.

PCTEL surpassed earnings estimates in each of the trailing four quarters, the average surprise being 110.4%.

Free: Zacks' Single Best Stock Set to Double

Today you are invited to download our just-released Special Report that reveals 5 stocks with the most potential to gain +100% or more in 2020. From those 5, Zacks Director of Research, Sheraz Mian hand-picks one to have the most explosive upside of all.

This pioneering tech ticker had soared to all-time highs and then subsided to a price that is irresistible. Now a pending acquisition could super-charge the company's drive past competitors in the development of true Artificial Intelligence. The earlier you get in to this stock, the greater your potential gain.

Download Free Report Now >>
Want the latest recommendations from Zacks Investment Research? Today, you can download 7 Best Stocks for the Next 30 Days.
Click to get this free report
Zayo Group Holdings, Inc. (ZAYO): Free Stock Analysis Report
PC-Tel, Inc. (PCTI): Free Stock Analysis Report
Nokia Corporation (NOK): Free Stock Analysis Report
Comtech Telecommunications Corp. (CMTL): Free Stock Analysis Report
To read this article on Zacks.com click here.
Zacks Investment Research