W&T Offshore (WTI) Up 1.7% Since Q3 Earnings Beat Estimates
W&T Offshore, Inc.'s WTI shares have increased 1.7% since it reported strong third-quarter results on Nov 2 despite a decrease in production due to the impacts of Hurricane Ida. The company recovered the majority of the impacted production throughout September.
It reported third-quarter break-even adjusted earnings (excluding one-time items) versus the Zacks Consensus Estimate of a loss of 9 cents per share. The bottom line also improved from the year-ago loss of 14 cents per share.
Total quarterly revenues of $133.9 million surpassed the Zacks Consensus Estimate of $117 million. Also, the top line increased from $72.5 million in the prior-year quarter.
The strong quarterly results were supported by higher realization of commodity prices.
W&T Offshore, Inc. Price, Consensus and EPS Surprise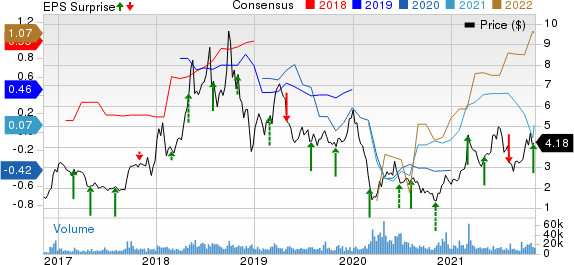 W&T Offshore, Inc. price-consensus-eps-surprise-chart | W&T Offshore, Inc. Quote
Production Stats
Total production averaged 34.8 thousand barrels of oil equivalent per day (MBoe/d), marginally up from the year-ago quarter's 34.5 MBoe/d.
Oil production was recorded at 1,083 thousand barrels (MBbls), down from the year-ago level of 1,115 MBbls. Also, natural gas liquids' output totaled 376 MBbls, lower than 407 MBbls a year ago. Yet, natural gas production of 10,481 million cubic feet (MMcf) for the reported quarter was higher than 9,897 MMcf in the year-earlier period. Of the total production for the reported quarter, almost 45.5% comprised liquids.
Realized Commodity Prices
The average realized price for oil for the third quarter was $68.57 a barrel, higher than the year-ago level of $41.81. The average realized price of NGL increased to $32.46 from $10.99 per barrel in the prior year. The average realized price of natural gas for the September quarter was $4.31 per thousand cubic feet, up from $1.94 in the last year's comparable period. Average realized price for oil equivalent output increased to $41.05 per barrel from $22.16 a year ago.
Operating Expenses
Lease operating expenses rose to $12.32 per Boe for the third quarter from $11.49 a year ago. Nevertheless, general and administrative expenses decreased to $4.18 per Boe from $4.57 in the year-ago period.
Overall, total costs and expenses increased to $158.9 million from the year-ago level of $92 million.
Cash Flow
Net cash from operations for the third quarter was $65.1 million compared with $21.3 million in the year-ago period.
Free cash flow for the reported quarter increased to $7.6 million from $5.9 million in the year-ago quarter.
Capital Spending & Balance Sheet
W&T Offshore spent $10.2 million in capital through the September quarter (excluding acquisitions) on oil and gas resources.
As of Sep 30, 2021, the company's cash and cash equivalents were $257.6 million, up from the second-quarter 2021 level of $209.1 million. Its net long-term debt as of the September-end quarter was recorded at $696.2 million, down from the previous-quarter level of $717.9 million. The current portion of the long-term debt was $46.2 million.
Guidance
For fourth-quarter 2021, W&T Offshore expects total production within 34.8-38.5 MBoe/d. Production of oil is expected within 1.06-1.17 MMBbls, while that of natural gas will likely be in the range of 10.76-11.90 Bcf. The upstream company expects fourth-quarter lease operating expenses within $44.6-$50.6 million.
Zacks Rank & Stocks to Consider
The company currently has a Zacks Rank #3 (Hold). Some better-ranked stocks from the energy space include Continental Resources, Inc. CLR, HollyFrontier Corporation HFC and PHX Minerals Inc. PHX, each holding a Zacks Rank #2 (Buy). You can see the complete list of today's Zacks #1 Rank (Strong Buy) stocks here.
Continental Resources' bottom line for 2021 is expected to rise to $4.52 per share from a loss of $1.17 a year ago.
HollyFrontier's bottom line for 2021 is expected to rise 324.1% year over year.
PHX Minerals' bottom line for the current year is expected to rise 280% year over year.
Bitcoin, Like the Internet Itself, Could Change Everything
Blockchain and cryptocurrency has sparked one of the most exciting discussion topics of a generation. Some call it the "Internet of Money" and predict it could change the way money works forever. If true, it could do to banks what Netflix did to Blockbuster and Amazon did to Sears. Experts agree we're still in the early stages of this technology, and as it grows, it will create several investing opportunities.
Zacks' has just revealed 3 companies that can help investors capitalize on the explosive profit potential of Bitcoin and the other cryptocurrencies with significantly less volatility than buying them directly.
See 3 crypto-related stocks now >>
Want the latest recommendations from Zacks Investment Research? Today, you can download 7 Best Stocks for the Next 30 Days.
Click to get this free report
W&T Offshore, Inc. (WTI): Free Stock Analysis Report
HollyFrontier Corporation (HFC): Free Stock Analysis Report
Continental Resources, Inc. (CLR): Free Stock Analysis Report
PHX Minerals Inc. (PHX): Free Stock Analysis Report
To read this article on Zacks.com click here.
Zacks Investment Research