Adobe (ADBE) Stock Slumps Despite Earnings & Revenue Beats
Adobe Systems Incorporated (ADBE) just released its latest quarterly financial results, posting adjusted earnings of $1.66 per share and revenues of $2.20 billion.
Currently, ADBE is a Zacks Rank #3 (Hold), but that could change based on today's results. Shares of the company have gained about 8.3% over the past month, including a 0.8% gain during regular trading hours today.
The stock is currently down 4.3% to $247.11 per share in after-hours trading shortly after its earnings report was released.
Adobe:
Beat earnings estimates. The company posted earnings of $1.66 per share, beating the Zacks Consensus Estimate of $1.54. Investors should note that this consensus projection has trended remained relatively flat over the duration of the quarter.
Beat revenue estimates. The company saw revenue figures of $2.20 billion, topping our consensus estimate of $2.15 billion. Total revenue grew 24% on a year-over-year basis.
Digital Media segment revenue was $1.55 billion, while Creative segment revenue reached $1.30 billion. Meanwhile, Document Cloud revenue touched a quarterly record of $243 million, up 22% from the year-ago period.
Adobe also said that Digital Media Annualized Recurring Revenue grew to $6.06 billion in the quarter, an increase of $343 million from the previous quarter.
"Adobe delivers all the capabilities to enable transformative digital experiences, including content creation and management, predictive analytics and commerce," said CEO Shantanu Narayen. "Our record results in Q2 reflect continued execution against this significant opportunity where Adobe is the clear market leader."
Here's a graph that looks at Adobe's recent earnings performance:
Adobe Systems Incorporated Price, Consensus and EPS Surprise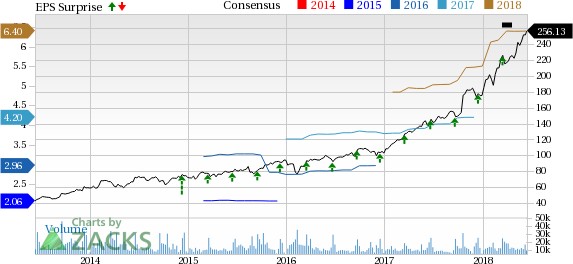 Adobe Systems Incorporated Price, Consensus and EPS Surprise | Adobe Systems Incorporated Quote
Adobe Systems Incorporated is one of the largest software companies in the world. It offers a line of products and services used by creative professionals, marketers, knowledge workers, application developers, enterprises and consumers for creating, managing, delivering, measuring, optimizing and engaging with compelling content and experiences across personal computers, devices and media.
Check back later for our full analysis on ADBE's earnings report!
Want more market analysis from this author? Make sure to follow @
https://twitter.com/Ryan_McQueeney
on Twitter!
5 Medical Stocks to Buy Now
Zacks names 5 companies poised to ride a medical breakthrough that is targeting cures for leukemia, AIDS, muscular dystrophy, hemophilia, and other conditions.
New products in this field are already generating substantial revenue and even more wondrous treatments are in the pipeline. Early investors could realize exceptional profits.
Click here to see the 5 stocks >>
Want the latest recommendations from Zacks Investment Research? Today, you can download 7 Best Stocks for the Next 30 Days.
Click to get this free report
Adobe Systems Incorporated (ADBE): Free Stock Analysis Report
To read this article on Zacks.com click here.
Zacks Investment Research