Sanofi (SNY) Gets Label Expansion Nod for Sarclisa in Europe
Sanofi SNY announced that the European Commission (EC) has granted approval to the label expansion of Sarclisa (isatuximab-irfc) for the treatment of adult patients with relapsed refractory multiple myeloma (RRMM) in the second- or later-line settings. The drug received the nod in combination with Amgen's (AMGN) Kyprolis (carfilzomib) and dexamethasone (Kd) for treating adults with RRMM who have received at least one prior therapy.
The approval of Sarclisa plus Kd was based on data from phase III study — IKEMA — which showed that treatment with this combo regimen reduced risk of disease progression or death by 47% compared to Kd alone in MM patients.The FDA approved Sarclisa for a similar indication in March 2021
Please note that Sarclisa was approved in combination with Bristol Myers' BMY Pomalyst/Imnovid (pomalidomide) and dexamethasone for third- or later-line treatment of RRMM patients in Europe last year. With this label expansion, Sarclisa received two approvals in Europe within a year.
We note that both Kd and Pomalyst plus dexamethasone are standard-of-care regimens for RRMM patients.
Although the launch of the drug was hampered due to COVID-19 related restrictions, it generated nearly $50 million since its launch in any country.
Sanofi stock has gained 5.6% this year so far compared with an increase of 1.8% for the industry.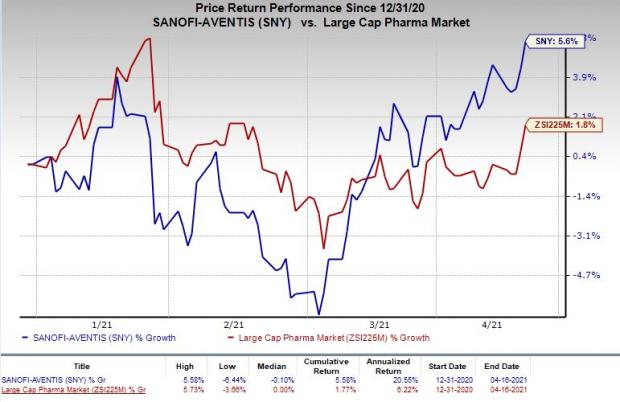 Launch of Sarclisa and Libtayo, a promising skin cancer drugs, boosted sales of the company's Oncology segment in 2020. Libtayo, which is marketed in collaboration with Regeneron Pharmaceuticals REGN, also received two label expansions from the FDA in February for skin cancer and lung cancer. The drug is also under review in Europe for similar indicatiojn. Label expansion of these two drugs is likely to bring additional oncology revenues in 2021.
Sanofi is developing Sarclisa as monotherapy or in combination with other drugs, including Roche's RHHBY Tecentriq as a potential treatment for solid tumors, leukemia or myeloma in several mid- to late-stage studies. Three late-stage studies are evaluating Libtayo in lung and skin cancer in different treatment settings, as well as cervical cancer.
Sanofi Price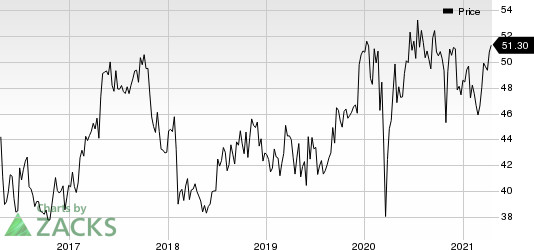 Zacks Rank
Sanofi currently carries a Zacks Rank #3 (Hold). You can see the complete list of today's Zacks #1 Rank (Strong Buy) stocks here.
Zacks Top 10 Stocks for 2021
In addition to the stocks discussed above, would you like to know about our 10 best buy-and-hold tickers for the entirety of 2021?
Last year's 2020Zacks Top 10 Stocks portfolio returned gains as high as +386.8%. Now a brand-new portfolio has been handpicked from over 4,000 companies covered by the Zacks Rank. Don't miss your chance to get in on these long-term buys.
AccessZacks Top 10 Stocks for 2021 today >>
Want the latest recommendations from Zacks Investment Research? Today, you can download 7 Best Stocks for the Next 30 Days.
Click to get this free report
Regeneron Pharmaceuticals, Inc. (REGN): Get Free Report
Sanofi (SNY): Get Free Report
Roche Holding AG (RHHBY): Get Free Report
Bristol Myers Squibb Company (BMY): Get Free Report
To read this article on Zacks.com click here.