Here's Why Magellan Midstream Should be on Your Watchlist
Magellan Midstream Partners LP MMP is a leading midstream energy player, boasting a stable business model. Though the stock has lost 21.5% in the past year, the partnership has a strong potential to grow in the near term. The stock should be in investors' watchlist despite a more levered balance sheet as compared to the industry. Let's dig deeper.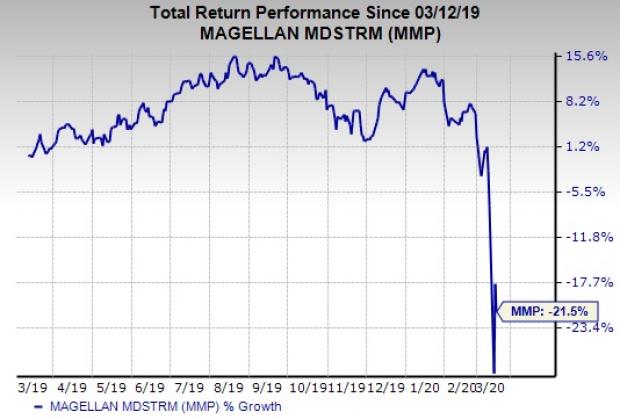 Stable Fee-Based Revenues
In the United States, the partnership's pipeline system for refined petroleum products is the longest, spreading over 9,700 miles.
Moreover, the partnership's pipeline network for crude oil spreads across 2,200 miles and has been supported by long-term volume commitments. The partnership also has operating interests in six marine terminals, with the capacity to store 27 million barrels.
It is to be noted that from all those midstream assets, the partnership generates stable fee-based revenues.
Expansion in Projects & Distribution
Importantly, although several projects are placed in services and completed, the list of the partnership's potential expansion projects is still more than $500 million, thereby securing additional fee-based revenues. Investors should know that for financing its expansion projects, the partnership has been increasingly relying on retained cash, reflecting its strong operations.
Moreover, solid returns on invested capital have been driving Magellan Midstream's distribution growth over the years. Importantly, the partnership, carrying a Zacks Rank #3 (Hold), expects its 2020 cash distribution to grow 3%.
Strong Earnings Surprise History
The Tulsa, OK-based partnership beat the Zacks Consensus Estimate for earnings in the prior four reported quarters, the average positive earnings surprise being 9.6%. Moreover, the consensus estimate for the partnership's first-quarter 2020 earnings per share of $1.10 suggests year-over-year earnings growth of 3.8%.
Stocks to Buy
Some better-ranked players in the energy space include Precision Drilling Corporation PDS, Range Resources Corporation RRC and Antero Resources Corporation AR. While Precision Drilling and Range Resources carry a Zacks Rank #2 (Buy), Antero sports a Zacks Rank #1 (Strong Buy). You can see the complete list of today's Zacks #1 Rank stocks here.
Precision Drilling beat the Zacks Consensus Estimate for earnings in the prior four reported quarters.
Range Resources is likely to see bottom-line growth of 4.1% in the next five years.
Antero is likely to see earnings growth of more than 270% in 2020.
The Hottest Tech Mega-Trend of All
Last year, it generated $24 billion in global revenues. By 2020, it's predicted to blast through the roof to $77.6 billion. Famed investor Mark Cuban says it will produce ""the world's first trillionaires,"" but that should still leave plenty of money for regular investors who make the right trades early.
See Zacks' 3 Best Stocks to Play This Trend >>
Want the latest recommendations from Zacks Investment Research? Today, you can download 7 Best Stocks for the Next 30 Days.
Click to get this free report
Magellan Midstream Partners, L.P. (MMP): Free Stock Analysis Report
Range Resources Corporation (RRC): Free Stock Analysis Report
Precision Drilling Corporation (PDS): Free Stock Analysis Report
Antero Resources Corporation (AR): Free Stock Analysis Report
To read this article on Zacks.com click here.
Zacks Investment Research