Roche's Tecentriq-Chemo Combo Gets FDA Nod in First-Line NSCLC
Roche Holdings AG RHHBY announced that the FDA has approved a label expansion of its immuno-oncology drug Tecentriq (atezolizumab). The drug has been approved in combination with chemotherapy (Abraxane [paclitaxel protein-bound; nab-paclitaxel] and carboplatin) for the initial (first-line) treatment of adults with metastatic, non-squamous, non-small cell lung cancer (NSCLC), with no EGFR or ALK genomic tumor aberrations.
The approval was based on positive results from the phase III IMpower130 study, which showed that Tecentriq in combination with chemotherapy demonstrated a significant overall survival and progression-free survival benefit.
The label expansion of the drug in this lucrative space should boost sales for the company.
We note that Tecentriq is already approved in the United States in combination with Avastin, paclitaxel and carboplatin for the first-line treatment of adults with metastatic non-squamous NSCLC, with no EGFR or ALK genomic tumor aberrations. The drug is also approved by the FDA to treat adults with metastatic NSCLC who have disease progression during or following platinum-containing chemotherapy. It is also approved in the United States in combination with carboplatin and etoposide (chemotherapy) for the initial treatment of adults with extensive-stage small cell lung cancer (ES-SCLC).
Meanwhile, Roche has an extensive development program for Tecentriq as a monotherapy or in combination with other drugs. These include nine phase III studies underway across different types of lung cancer, and multiple ongoing and planned phase III studies in genitourinary, skin, breast, gastrointestinal, gynecological, and head and neck cancers.
While the NSCLC market presents immense potential, competition is stiff in this space. Immuno-oncology therapies like Merck's MRK Keytruda, AstraZeneca's AZN Imfinzi and Bristol-Myers' BMY Opdivo are approved for various types of lung cancer.
Shares of Roche have gained 22.8% so far this year compared with the industry's growth of 5.7%.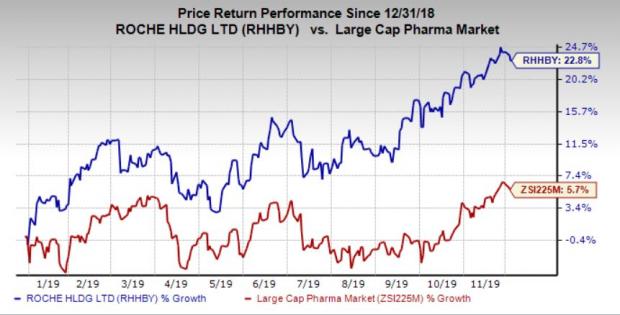 Roche has one of the strongest oncology portfolios. The company's efforts to develop the portfolio beyond oncology have been impressive as well.
Roche currently carries a Zacks Rank #2 (Buy). You can see the complete list of today's Zacks #1 Rank (Strong Buy) stocks here.
Biggest Tech Breakthrough in a Generation
Be among the early investors in the new type of device that experts say could impact society as much as the discovery of electricity. Current technology will soon be outdated and replaced by these new devices. In the process, it's expected to create 22 million jobs and generate $12.3 trillion in activity.
A select few stocks could skyrocket the most as rollout accelerates for this new tech. Early investors could see gains similar to buying Microsoft in the 1990s. Zacks' just-released special report reveals 8 stocks to watch. The report is only available for a limited time.
See 8 breakthrough stocks now>>
Want the latest recommendations from Zacks Investment Research? Today, you can download 7 Best Stocks for the Next 30 Days.
Click to get this free report
AstraZeneca PLC (AZN): Free Stock Analysis Report
Bristol-Myers Squibb Company (BMY): Free Stock Analysis Report
Roche Holding AG (RHHBY): Free Stock Analysis Report
Merck & Co., Inc. (MRK): Free Stock Analysis Report
To read this article on Zacks.com click here.
Zacks Investment Research