Hexcel (HXL) Shares Up on Solid Long-Term Financial Outlook
Hexcel Corporation HXL recently revealed its financial outlook through 2021 along with target of achieving other long-term objectives. These projections must have encouraged investors' sentiments, evident from the 3.6% rise in shares witnessed by the company following the news release.

Details of the Financial Outlook

Hexcel Corp. expects adjusted earnings per share (EPS) to see a double-digit compounded annual growth rate (CAGR) and total sales to witness a CAGR of 6-9%, backed by strong sales during the 2019-2021 period. Earlier, the company expected sales to see a CAGR of 7-10% during the 2018-2020 period, while adjusted EPS was projected to reflect double-digit growth.

Segment wise, Hexcel unveiled its financial outlook for the Commercial Aerospace, the Space & Defense and the Industrial business units for the three-year period 2019 to 2021. Per the latest announcement, the company's Commercial Aerospace segment is expected to see a CAGR of 4-7% and the Space & Defense segment a CAGR of 11-13%. Earlier, for the 2018-2020 period, the company expected a CAGR of 6-9% for the
commercial business and 3-5% for the defense unit.

The Industrial unit is anticipated to progress at a CAGR in excess of 10%. Total capital expenditures are expected to be $500-$550 million in total during the 2019-2021-time frame.

With respect to its financial position, Hexcel Corp. expects continued expansion of free cash flow generation, achieving a total of $1.8 billion between 2019 and 2023. Such cash flows will be deployed for continued investment in organic growth, strategic acquisitions and
dividend payments to shareholders.

What Lies Ahead for Hexcel's Business Units?

As Hexcel provided its financial outlook through 2021, the Commercial Aerospace market is projected to benefit from production increases of the Airbus A320neo, and Boeing's BA 737 MAX and 777X aircraft programs, supported by strong demand for engines and nacelles.

Meanwhile, in the Space & Defense market, the company expects to witness increased activities supported by continued strength in the F-35 and military rotorcraft programs. The company's growth prospects in the Industrial market also remain strong, supported by high Wind Energy sales and continued adoption of composites.

Our View

The recent expansion observed in the global aerospace market will continue to instill substantial growth opportunities for equipment manufacturers like Hexcel Corp. Per a report published by the International Air Transport Association (IATA), global passenger traffic increased 6.3% in 2018 and is expected to increase 6% in 2019. This indicates growth for Hexcel Corp's commercial business.

Moreover, considering the fact that the current U.S. administration is in favor of spending heftily in the nation's defense, companies like Hexcel Corp. should benefit. Notably, the fiscal 2020 defense budget proposed by the U.S. government includes a spending plan of $57.7 billion on aircraft, reflecting a massive increase of 166% from the fiscal 2019 budget allotted for aircraft spending.

No doubt, the aforementioned factors that indicate a favorable business environment for aerospace-defense equipment providers like Hexcel Corp. must have motivated it to foresee such optimistic financial outlook for its operations.

Price Performance

Shares of Hexcel have gained 4.1% in the past 12 months compared with the industry's growth of 6.8%.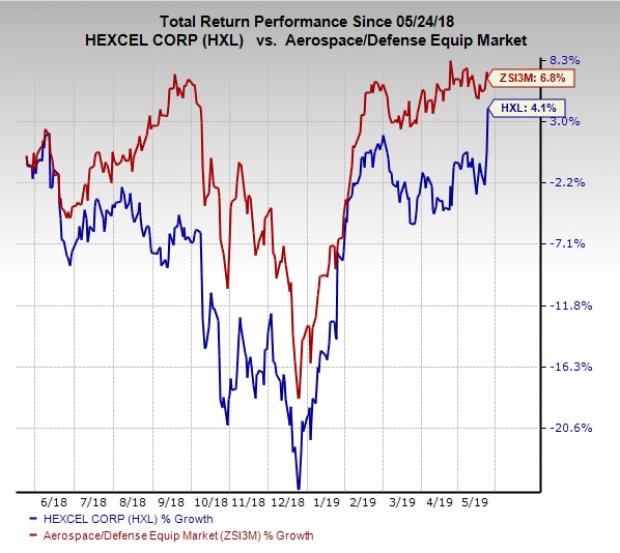 Zacks Rank & Key Picks

Hexcel Corp. currently carries Zacks Rank #3 (Hold).

A few better-ranked stocks in the same sector are Lockheed Martin Corporation LMT and Northrop Grumman Corporation NOC, each carrying a Zacks Rank #2 (Buy). You can see the complete list of today's Zacks #1 Rank (Strong Buy) stocks here.

Lockheed Martin came up with average positive earnings surprise of 17.35% in the last four quarters. The Zacks Consensus Estimate for 2019 earnings has increased 4.21% to $20.28 in the past 60 days.

Northrop Grumman Corporation delivered average positive earnings surprise of 18.50% in the last four quarters. The Zacks Consensus Estimate for 2019 earnings has climbed 1.85% to $19.29 in the past 60 days.

Wall Street's Next Amazon

Zacks EVP Kevin Matras believes this familiar stock has only just begun its climb to become one of the greatest investments of all time. It's a once-in-a-generation opportunity to invest in pure genius.

Click for details >>
Want the latest recommendations from Zacks Investment Research? Today, you can download 7 Best Stocks for the Next 30 Days.
Click to get this free report
Lockheed Martin Corporation (LMT): Free Stock Analysis Report
Northrop Grumman Corporation (NOC): Free Stock Analysis Report
The Boeing Company (BA): Free Stock Analysis Report
Hexcel Corporation (HXL): Free Stock Analysis Report
To read this article on Zacks.com click here.