Incyte (INCY) Jakafi Wins FDA Approval for Chronic GVHD
Incyte INCY recently announced that the FDA has approved a label expansion of its JAK1/JAK2 inhibitor, Jakafi (ruxolitinib). The drug can now be used for the treatment of chronic graft-versus-host disease (GVHD) after the failure of one or two lines of systemic therapy in adult and pediatric patients 12 years and older.
The FDA approval was based on the phase III REACH3 study that compared Jakafi to the best available therapy (BAT) for the treatment of steroid-refractory chronic GVHD after allogeneic stem cell transplantation. Data showed that the primary endpoint of the overall response rate (ORR) at week 24 was 49.7% for Jakafi compared with 25.6% for BAT.
Jakafi is already approved for the treatment of polycythemia vera (PV) in adults who have had an inadequate response to or are intolerant of hydroxyurea, intermediate or high-risk myelofibrosis (MF), including primary MF, post-polycythemia vera MF and post-essential thrombocythemia MF in adults. It is also approved for the treatment of steroid-refractory acute GVHD in adult and pediatric patients 12 years and older.
GVHD is a condition that can occur after an allogeneic stem cell transplant (the transfer of stem cells from a donor) in which the donated cells initiate an immune response and attack the transplant recipient's organs. Acute GVHD generally occurs within 100 days of transplant. Chronic GVHD occurs more than 100 days after transplant.
Incyte has a collaboration agreement with Novartis NVS for Jakafi.
The approval of additional indications should generate incremental revenues.
It has been raining good news for Incyte this week after a few setbacks earlier in the year. On Sep 21, the FDA approved the cream formulation of ruxolitinib for the treatment of mild to moderate atopic dermatitis (AD). Ruxolitinib cream has been approved under the brand name Opzelura for the short-term and non-continuous chronic treatment of mild to moderate AD in non-immunocompromised patients 12 years of age and older.
However, shares were down 8% on Sep 22 despite back-to-back approvals. This is perhaps due to the FDA's recent update on warnings about increased risks of serious heart-related events, cancer, blood clots, and death for JAK inhibitors that treat certain chronic inflammatory conditions. While JAK inhibitors, Jakafi and Bristol Myers' BMY Inrebic (fedratinib), are not indicated for the treatment of arthritis and other inflammatory conditions and are not part of the updates being required for prescribing information for other inhibitors, there is a cloud of uncertainty regarding the same and hence the decline.
Shares of the company have lost 20% in the year so far compared with the industry's 0.7% decline.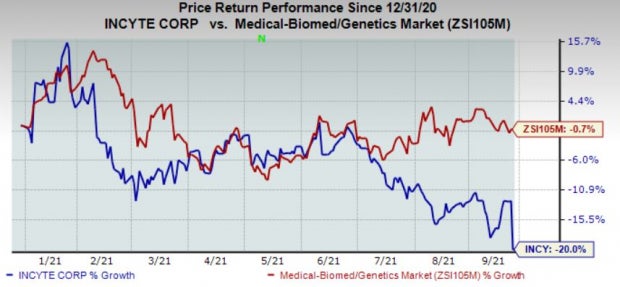 Image Source: Zacks Investment Research
Incyte's lead drug Jakafi sales recorded growth in the second quarter after a soft first quarter. The uptake of Pemazyre is also gaining traction. The company's efforts to diversify its revenue base are encouraging as well and approval of additional drugs will boost revenues.
Last month, Incyte and partner MorphoSys AG MOR obtained the European Commission's approval for tafasitamab under the brand name Minjuvi for the treatment of adult patients with relapsed or refractory diffuse large B-cell lymphoma.
Incyte currently carries a Zacks Rank #3 (Hold). You can see the complete list of today's Zacks #1 Rank (Strong Buy) stocks here.




More Stock News: This Is Bigger than the iPhone!
It could become the mother of all technological revolutions. Apple sold a mere 1 billion iPhones in 10 years but a new breakthrough is expected to generate more than 77 billion devices by 2025, creating a $1.3 trillion market.
Zacks has just released a Special Report that spotlights this fast-emerging phenomenon and 4 tickers for taking advantage of it. If you don't buy now, you may kick yourself in 2022.
Click here for the 4 trades >>
Want the latest recommendations from Zacks Investment Research? Today, you can download 7 Best Stocks for the Next 30 Days.
Click to get this free report
Novartis AG (NVS): Free Stock Analysis Report
Bristol Myers Squibb Company (BMY): Free Stock Analysis Report
Incyte Corporation (INCY): Free Stock Analysis Report
MorphoSys AG Unsponsored ADR (MOR): Free Stock Analysis Report
To read this article on Zacks.com click here.