UBS Group's (UBS) Q2 Earnings Beat on Solid Revenues, Expenses Up
UBS Group AG UBS reported second-quarter 2021 net profit attributable to shareholders of $2 billion, up 63% from the prior-year quarter.
The company's performance was supported by a 29% increase in net fee and commission income, year over year, along with a 17% rise in net interest income. Also, net credit loss release acted as a tailwind. However, rise in expenses was an undermining factor.
Performance of almost all the segments of UBS Group was impressive during the quarter. It recorded higher profitability in Asset Management, Global wealth management and Personal & Corporate banking units.
Operating Income Climbs, Expenses Rise
UBS Group's operating income increased 21% to $8.97 billion from the prior-year quarter. Operating expenses flared up 10% to $6.38 billion in the second quarter. This rise was due to higher personal expenses, general and administrative expenses as well as depreciation and impairment of property, equipment and software.
The company reported net credit loss releases of $80 million in the quarter as against expense of $272 million witnessed in the year-ago quarter.
Business Division Performance
Global wealth management's operating profit before tax was $1.3 billion, up 47% year over year. Higher transaction-based and recurring net fee income supported the company.
Asset Management's operating profit of $255 million jumped 62% year over year, mostly driven by higher net management fees, as well as a $37 million gain from the sale of its remaining minority investment in Clearstream Fund Centre in the second quarter. Also, invested assets jumped 5% sequentially to $1.17 trillion.
Personal & Corporate banking reported operating profit before tax of $500.4 million, up significantly year over year. Revenue from credit card and foreign exchange transactions was the key driver of the boost in transaction-based income, portraying a gradual rise in travel and leisure spending by clients as pandemic restrictions ease.
Investment Bank unit's operating profit before tax was $668 million, up 9% from the prior-year quarter, aided by Advisory and Capital Market revenues. However, lower revenues from Global Markets and higher expenses were offsetting factors.
Group Functions incurred an operating loss before tax of $124 million in the reported quarter compared with the loss of $305 million witnessed in year-ago quarter.
Strong Capital Position
As of Jun 30, 2021, UBS Group's invested assets remained flat at $4.5 trillion. Total assets increased 2.1% to $1.08 trillion from previous quarter.
The company's phase-in common equity tier (CET) 1 ratio was 14.5% as of Jun 30, 2021, compared with 13.3% on Jun 30, 2020. Phase-in CET 1 capital increased 11.7% to $42.6 billion. Fully applied risk-weighted assets increased 2.4% to $293.3 billion from the year-ago quarter.
Our Take
The company's second-quarter performance seems impressive. UBS Group's restructuring initiatives to free resources will likely boost its operating efficiency in the quarters ahead. However, the negative interest-rate environment and rising expenses pose as key headwinds.
UBS Group AG Price, Consensus and EPS Surprise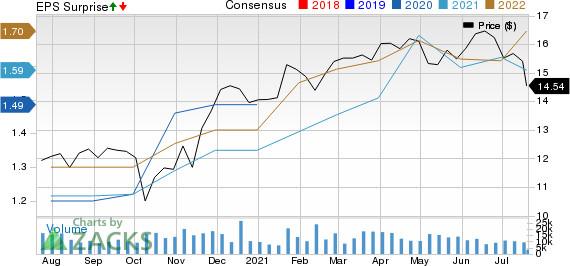 UBS Group AG price-consensus-eps-surprise-chart | UBS Group AG Quote
Currently, UBS Group carries a Zacks Rank #2 (Buy). You can see the complete list of today's Zacks #1 Rank (Strong Buy) stocks here.
Performance of Major Banks
Large reserve releases, solid IB performance and a modest rise in loan demand drove JPMorgan's JPM second-quarter 2021 earnings of $3.78 per share. The bottom line handily outpaced the Zacks Consensus Estimate of $3.05.
First Republic Bank FRC delivered an earnings surprise of 14.04% in second-quarter 2021 on solid top-line strength. Earnings per share of $1.95 surpassed the Zacks Consensus Estimate of $1.71. The bottom line climbed 45.3% from the year-ago quarter.
Goldman Sachs' GS second-quarter 2021 earnings per share of $15.02 significantly surpassed the Zacks Consensus Estimate of $9.90. The bottom line compared favorably with the 53 cents per share earned in the year-earlier quarter.
Zacks' Top Picks to Cash in on Artificial Intelligence
In 2021, this world-changing technology is projected to generate $327.5 billion in revenue. Now Shark Tank star and billionaire investor Mark Cuban says AI will create "the world's first trillionaires." Zacks' urgent special report reveals 3 AI picks investors need to know about today.
See 3 Artificial Intelligence Stocks With Extreme Upside Potential>>
Want the latest recommendations from Zacks Investment Research? Today, you can download 7 Best Stocks for the Next 30 Days.
Click to get this free report
The Goldman Sachs Group, Inc. (GS): Free Stock Analysis Report
JPMorgan Chase & Co. (JPM): Free Stock Analysis Report
UBS Group AG (UBS): Free Stock Analysis Report
First Republic Bank (FRC): Free Stock Analysis Report
To read this article on Zacks.com click here.