Chipotle (CMG) Q1 Earnings Beat Estimates, Increase Y/Y
Chipotle Mexican Grill, Inc. CMG reported first-quarter 2021 results, with earnings surpassing the Zacks Consensus Estimate and revenues missing the same. However, the top and the bottom line increased on a year-over-year basis.

Following the announcement, Brian Niccol, chairman and CEO, Chipotle, stated, "Chipotle is off to a great start in 2021 thanks to our employees and their incredible level of collaboration and tireless dedication. As vaccines roll out and we get closer to moving past this pandemic, I believe Chipotle is well positioned for growth."
Q1 Earnings & Revenues Discussion
During the first-quarter 2021, adjusted earnings of $5.36 per share beat the Zacks Consensus Estimate of $4.92 by 8.9%. Moreover, the bottom line surged 74% from $3.08 reported in the year-ago quarter.
Chipotle Mexican Grill, Inc. Price, Consensus and EPS Surprise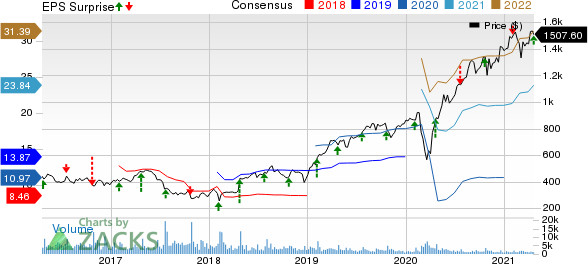 Chipotle Mexican Grill, Inc. price-consensus-eps-surprise-chart | Chipotle Mexican Grill, Inc. Quote
Meanwhile quarterly revenues of $1,741.6 million missed the consensus mark of $1,746 million by 0.3%. Neverthless, the top line increased 23.4% on a year-over-year basis. The upside can be primarily attributed to strength in digital sales, rise in delivery menu price along with new restaurant openings. In the quarter under review, Chipotle opened 40 new restaurants and closed five, taking the total restaurant count to 2,803.

Digital sales surged 133.9% year over year to $869.8 million during the first-quarter 2021. Notably, Digital sales contributed 50.1% to sales during the quarter. Notably, the company witnessed a rise in order ahead transactions, owing to enhanced guest access and convenience. This along with Chipotlanes add-ons drove the company's performance.

Comps in the first quarter increased 17.2%, following growth of 5.7% in the fourth quarter of 2020. Notably, introduction of new menu items, effective marketing, strong digital sales and government stimulus funding contributed to the company's results.
Costs, Operating Highlights & Net Income
During first-quarter 2021, food, beverage and packaging costs, as a percentage of revenues, declined 280 basis points (bps) year over year to 30%. The upside can be attributed to increase in menu prices, favorable usage of protein mix and better waste control management. However, this was partially offset by fewer sales of high margin beverages along with a rise in cauliflower rice costs.

During the first quarter, restaurant-level operating margin came in at 22.3%, up from 17.6% recorded in the year-ago quarter. The uptick was primarily backed by leverage from the comparable restaurant sales growth as well as rise in menu prices. However, this was partially offset by increased delivery expenses and wage inflation.

Adjusted net income in the reported quarter amounted to $153.1 million compared with $87.2 million in the prior-year quarter.
Balance Sheet
A strong balance sheet will help the company tide over the coronavirus-induced crisis. The company had $1.2 billion in cash, restricted cash and short-term investments as of Mar 31. The company doesn't have any debt.

Moreover, the company has access to $500 million credit facility to help it navigate through the crisis.

Inventory totaled $24.3 million as of Mar 31, 2021, down from $26.4 million as of Dec 31, 2020. Goodwill (as a percentage of total assets) came in at 0.4% at the end of first-quarter 2021.

Meanwhile, the board of directors have resumed the buyback program in late February and have repurchased $61.2 million of stock at an average price of $1,425. Further, the management has also approved an additional $100 million (exclusive of commissions) to repurchase shares. As of Mar 31, the company had approximately $153.8 million available for the buyback program.
2021 Outlook
For the second quarter 2021, the company expects comps in the range of high twenties to 30%. Notably, it expects normalizing of quesadilla incidence as well as lower marketing investments. Owing to the volatility and uncertainty regarding the coronavirus impact, the company did not provide its comparable restaurant sales growth guidance for 2021.

Meanwhile, the company expects to open nearly 200 new restaurants in 2021. However, the new openings might face minimal construction and permit delays owing to the pandemic. Also, it expects 2021 tax rate in the range of 25-27%.
Zacks Rank & Key Picks
Chipotle currently carries a Zacks Rank #3 (Hold). You can see the complete list of today's Zacks #1 Rank (Strong Buy) stocks here.

Some better-ranked stocks in the same space include Darden Restaurants, Inc. DRI, Chuy's Holdings, Inc. CHUY and Yum! Brands, Inc. YUM. Darden sports a Zacks Rank #1, while Chuy's Holdings and Yum! Brands carry a Zacks Rank #2 (Buy).

Darden 2021 earnings are expected to rise 26.5%.

Chuy's Holdings has a trailing four-quarter earnings surprise of 126.5%, on average.

Yum! Brands has three-five-year earnings per share growth rate of 12%.
Bitcoin, Like the Internet Itself, Could Change Everything
Blockchain and cryptocurrency has sparked one of the most exciting discussion topics of a generation. Some call it the "Internet of Money" and predict it could change the way money works forever. If true, it could do to banks what Netflix did to Blockbuster and Amazon did to Sears. Experts agree we're still in the early stages of this technology, and as it grows, it will create several investing opportunities.

Zacks' has just revealed 3 companies that can help investors capitalize on the explosive profit potential of Bitcoin and the other cryptocurrencies with significantly less volatility than buying them directly.

See 3 crypto-related stocks now >>
Want the latest recommendations from Zacks Investment Research? Today, you can download 7 Best Stocks for the Next 30 Days.
Click to get this free report
Darden Restaurants, Inc. (DRI): Free Stock Analysis Report
Yum Brands, Inc. (YUM): Free Stock Analysis Report
Chipotle Mexican Grill, Inc. (CMG): Free Stock Analysis Report
Chuys Holdings, Inc. (CHUY): Free Stock Analysis Report
To read this article on Zacks.com click here.
Zacks Investment Research