QEP Resources (QEP) Beats on Q1 Earnings, Tweaks 2019 View
QEP Resources, Inc. QEP recently reported first-quarter 2019 earnings per share — excluding special items — of 15 cents against the Zacks Consensus Estimate of loss of 2 cents. The outperformance was attributed to lower operating expenses and income-tax benefits. The bottom line also improved significantly from the year-ago loss of 20 cents per share.
Quarterly revenues of $280.6 million lagged the Zacks Consensus Estimate of $288 million. Sales also declined 34.4% from the year-ago figure.
QEP Resources, Inc. Price, Consensus and EPS Surprise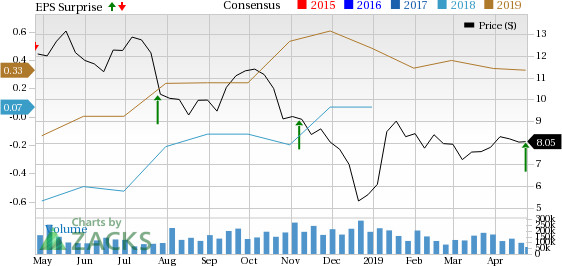 QEP Resources, Inc. Price, Consensus and EPS Surprise | QEP Resources, Inc. Quote
Volume Analysis
Overall first-quarter production of the company came in at 7,806.3 thousand barrels of oil equivalent (Mboe), down 33% from the year-ago period. The divestment of Haynesville/Cotton Valley and Uinta Basin assets attributed to the fall in production volumes. Further, lack of new well completions caused 9% y/y decline in volumes from the Williston Basin.
While natural gas volumes substantially declined74% y/y to 9.2 billion cubic feet (Bcf), natural gas liquids output jumped 30% to 1,178.8 thousand barrels (Mbbl). Oil volumes increased marginally from 4,974 Mbbl in first-quarter 2018 to 5,083.6 Mbbl (65% of the total output) in the quarter under review.
With the company shifting its focus toward Permian Basin, equivalent production from the area jumped 47% year over year to 4,082.3 Mboe, partly offsetting the overall decline in volumes. QEP Resources allocated about 80% of its 2019 capital budget for this lucrative play, as it aims to transform itself into a Permian pure play.
Realized Prices
QEP Resources' net realized natural gas price in the quarter was $2.18 per thousand cubic feet, down 26%from the year-ago level of $2.94. Net oil price realization declined 6% year over year to $48.50 per barrel. Net NGLs price realization also plummeted 35% year over year to $14.31 per barrel.
Operating Expenses
Total operating expenses in the quarter decreased to $283.2 million from $411 million a year ago. The decline was primarily due to lower depreciation, lease operating costs, and transportation and processing expenses.
Capital Expenditure
Capital investment, excluding acquisitions, decreased more than 60% year over year to $167.2 million in the first quarter, mainly due to a fall in drilling and completion activities in Permian and Williston basins.
Balance Sheet
As of Mar 31, 2018, QEP Resources had $89.9 million in cash and cash equivalents. The company's long-term debt was $2,026.7 million, representing a debt-to-capitalization ratio of 43.4%.
Revised Guidance
For full-year 2019, QEP Resources expects total oil-equivalent production in the range of 28.5-30.3 MMboe versus the earlier forecast of 28-29.9 MMboe. While oil and NGL output projections remain unchanged, the company now anticipates gas volumes to increase 10.4% from the midpoint of the prior guidance to 25.5-27.5 Bcf.
While the firm has kept its projections for lease operating and adjusted transportation and processing costs unchanged, QEP Resources projects general/administrative expenses within $165-$175 million versus prior forecast of $170-$180 million.Capital expenditure guidance for 2019 remains intact in the range of $615-$665 million. The mid-point of the guidance is 39% lower than 2018 capital spending.
For second-quarter 2019, QEP Resources expects total oil-equivalent production in the range of 6.8-7.2 million barrels of oil equivalent (MMboe). Oil and condensate production is expected within 4.95-5.15 million barrels (MMBbls). While gas output is expected in the range of 5.4-5.8 Bcf, NGLs production is estimated within 0.9-1.1 MMBbls. Capital outlay for the second quarter is anticipated in the band of $185-$205 million.
Zacks Rank and Key Picks
QEP Resources currently carries a Zacks Rank #3 (Hold).
Some better-ranked players in the same industry include W&T Offshore, Inc. WTI, Apache Corporation APA and Carrizo Oil & Gas CRZO. While W&T Offshore sports a Zacks Rank #1 (Strong Buy), both Apache and Carrizo carry a Zacks Rank #2 (Buy). You can see the complete list of today's Zacks #1 Rank stocks here.
W&T Offshore pulled off average positive earnings surprise of 47.10% in the trailing four quarters.
Apache surpassed earnings estimates in each of the last four quarters, with average of 34.11%.
Carrizo delivered average positive earnings surprise of 20.15% in the preceding four quarters.
Radical New Technology Creates $12.3 Trillion Opportunity
Imagine buying Microsoft stock in the early days of personal computers… or Motorola after it released the world's first cell phone. These technologies changed our lives and created massive profits for investors.
Today, we're on the brink of the next quantum leap in technology. 7 innovative companies are leading this "4th Industrial Revolution" - and early investors stand to earn the biggest profits.
See the 7 breakthrough stocks now>>
Want the latest recommendations from Zacks Investment Research? Today, you can download 7 Best Stocks for the Next 30 Days.
Click to get this free report
QEP Resources, Inc. (QEP): Free Stock Analysis Report
Apache Corporation (APA): Free Stock Analysis Report
W&T Offshore, Inc. (WTI): Free Stock Analysis Report
Carrizo Oil & Gas, Inc. (CRZO): Free Stock Analysis Report
To read this article on Zacks.com click here.
Zacks Investment Research