Suncor Energy (SU) Gains 5.2% Following Q3 Earnings Beat
Shares of Suncor Energy SU have rallied 5.2% since third-quarter 2020 earnings announcement on Oct 28.
The company delivered an operating income per share of 15 cents, attributable to decreased operating, selling and general costs as a result of reduced production and its continuous cost-minimizing efforts. The Zacks Consensus Estimate was of a loss of 7 cents per share. Buoyed by this outperformance, investors are optimistic about the company's full-year cost-controlling efforts and a healthy balance sheet.
However, the bottom line fell from the year-ago profit of 55 cents per share. This downside is due to the ramped-down Fort Hills and Oil Sands production along with soft refined product sales.
Quarterly operating revenues of $4.85 billion fell short of the Zacks Consensus Estimate of $5.09 billion. Moreover, the top line dropped 35.4% from $7.5 billion in the year-ago quarter.
Upstream
Total upstream production in the reported quarter was 616,200 barrels of oil equivalent per day (Boe/d), down 19.2% from the prior-year level of 762,300 Boe/d. This fall in output was due to a drop in the Fort Hills and Oil Sands production plus planned maintenance activities. Consequently, this upstream unit recorded an operating income of C$25 million, 85.4% lower than the earnings of C$171 million in the prior-year quarter.
Notably, Fort Hills production came in at 42,600 barrels per day (BPD) in the quarter, lower than 85,500 BPD registered in the year-ago period.
Output from Syncrude operations scaled down to 161,100 Bbl/d from 162,300 Bbl/d a year earlier.
Oil Sands operations volume was 325,600 Bbl/d compared with 423,900 Bbl/d in the year-earlier quarter. Operating costs per barrel increased to C$31.75 in the quarter under review from C$26.6 in the corresponding period of 2019. Meanwhile, upgrader utilization declined to 75% from 87% in the comparable quarter of last year.
However, Suncor Energy's Exploration and Production segment (consisting of International, Offshore and Natural Gas segments) produced 97,200 Boe/d compared with 92,300 Boe/d in the prior-year quarter. Results were pleasant owing to higher output at Hebron. The same was partially offset by lower output levels from Terra Nova natural declines in the United Kingdom.
Downstream
Operating earnings from the downstream unit plunged to C$384 million from the year-ago figure of C$668 million due to dented margins, lower crude throughput and weak refined product sales. Suncor Energy recorded soft refined product sales in the quarter under consideration, which fell to 534,000 Bbl/d from the prior-year level of 572,000 Bbl/d as a result of decline in transportation fuels' demand due to the novel coronavirus outbreak.
Crude throughput came in at 399,700 Bbl/d in the third quarter compared with 463,700 Bbl/d in the year-ago period. Also, refinery utilization was 87%.
Suncor Energy Inc. Price, Consensus and EPS Surprise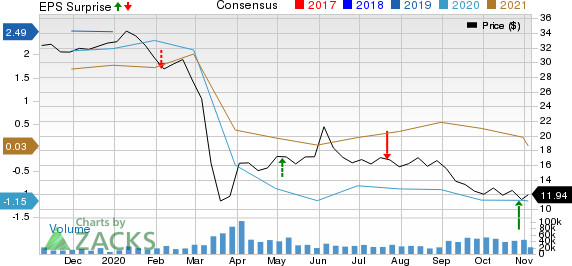 Suncor Energy Inc. price-consensus-eps-surprise-chart | Suncor Energy Inc. Quote
Expenses
Total expenses in the reported quarter plummeted to C$6.7 billion from C$8.4 billion in the year-earlier period. This improvement is mainly led by lower costs related to purchases of crude oil and products as well as fall in operating, selling and general costs.
Financials
Importantly, cash flow from operating activities summed C$1.24 billion in the third quarter, down from the prior-year figure of C$3.14 billion. The company incurred capital expenditure worth C$912 million in the quarter under discussion.
As of Sep 30, 2020, Suncor Energy had cash and cash equivalents worth C$1.49 billion and total long-term debt of C$15.4 billion. Its total debt to total capital was 29.8%.
During the quarter under review, the company distributed $321 million as dividends.
Guidance
Suncor Energy expects its overall net production for 2020 in the range of 680,000-710,000 barrels of oil equivalent per day (Boe/d), lower than the previously provided guided range of 740,000-780,000 BPD.
The company anticipates its 2020 refiner throughputs in the band of 390,000-420,000 barrels per day (BPD). Output from oil sands operations is estimated within 355,000-380,000 barrels per day. Suncor Energy's production from its stake in Fort Hills is projected in the range of 60,000-65,000 BPD while the same from Syncrude is estimated at 160,000-175,000 BPD. Besides, exploration and production for the ongoing year is predicted within 100,000-110,000 Boe/d.
For the full year, this Alberta-based integrated player's total capex is envisioned within C$3.6-C$4 billion. Meanwhile, the company added that it is on track to lower its operating cost by $1 billion this year compared to 2019 levels. It estimates to disburse funds in the range of C$3.05-C$3.30 billion for the upstream segment. Moreover, the company has plans to spend C$450-C$550 million on its downstream operations this year while the corporate spending is assumed in the C$100-C$150 million bracket.
Regardless of the challenges faced in 2020, such as the operational incident, the unexpected drop in oil prices and a decline in global demand due to the novel coronavirus outbreak, Suncor Energy continues to focus on safety measures and maximize value through an improved performance and an efficient cost management.
Zacks Rank & Key Picks
Suncor Energy currently has a Zacks Rank #4 (Sell).
Some better-ranked stocks in the energy space are Oasis Petroleum Inc OASPQ, Antero Resources Corporation AR and Matador Resources Company MTDR, each carrying a Zacks Rank #2 (Buy) at present. You can see the complete list of today's Zacks #1 Rank (Strong Buy) stocks here.
5 Stocks Set to Double
Each was hand-picked by a Zacks expert as the #1 favorite stock to gain +100% or more in 2020. Each comes from a different sector and has unique qualities and catalysts that could fuel exceptional growth.
Most of the stocks in this report are flying under Wall Street radar, which provides a great opportunity to get in on the ground floor.
Today, See These 5 Potential Home Runs >>
Want the latest recommendations from Zacks Investment Research? Today, you can download 7 Best Stocks for the Next 30 Days.
Click to get this free report
Suncor Energy Inc. (SU): Free Stock Analysis Report
Matador Resources Company (MTDR): Free Stock Analysis Report
Antero Resources Corporation (AR): Free Stock Analysis Report
Oasis Petroleum Inc. (OASPQ): Free Stock Analysis Report
To read this article on Zacks.com click here.
Zacks Investment Research