Abbott's New Antibody Test Gets FDA's EUA, Test Suite Expands
Abbott Laboratories ABT announced the receipt of the FDA's Emergency Use Authorization ("EUA") for its AdviseDx SARS-CoV-2 IgM (Immunoglobulin M) lab-based serology test. Notably, the test will be used on the company's ARCHITECT and Alinity platforms.
For investors' note, the AdviseDx SARS-CoV-2 IgM test is the second antibody test being offered by Abbott after its launch of the IgG antibody test in April. Further, the company has received EUAs for seven tests since the beginning of the pandemic, including molecular tests, a rapid antigen test and the IgG antibody test.
Notably, the IgM antibody test has illustrated high reliability in Abbott's research as well as external virology laboratory studies. The company's data demonstrated high specificity and sensitivity for patients who were tested 15 days after the onset of symptoms.
With the recent regulatory clearance, Abbott aims to fortify its position in the Diagnostic Product business on a global scale.
Significance of the Approval
Antibody testing plays an important role in the fight against the spread of coronavirus as it helps detect whether an individual had a previous infection. The test detects antibodies such as IgM and IgG and thus is effective in understanding whether the virus is present in an area. Per management, this will also aid physicians in knowing how their patients are responding to the virus and progressing through recovery.
Abbott's IgG blood test detects the presence of the IgG antibody, which is often the longer-lasting antibody post infection. This widely-adopted test continues to play a key role in understanding if someone has recovered from the virus as well as contact tracing and epidemiological studies. However, the IgM antibody is useful for determining a recent infection as the antibodies become undetectable weeks to months following the infection. This more comprehensive idea of where a patient is in their recovery enables healthcare providers to determine the next course of treatment, isolation or follow-up visits.
Industry Prospects
Per a report by Grand View Research, the global molecular-diagnostics market size was valued at $9.2 billion in 2019 and is expected to reach $18.2 billion by 2027, at a CAGR of 9%. Factors like progress in molecular diagnostics and the growing prevalence of infectious diseases are likely to drive the market.
Given the market potential, Abbott's Diagnostic Product business is expected to be significantly boosted by the recent regulatory clearance.
Notable Developments
Abbott has witnessed a few notable developments in its Diagnostic Product business over the past few months.
The company released favorable results from a new interim clinical study on its ID NOW COVID-19 rapid test this month. Data from the study points toward the high sensitivity and specificity of the test within seven days of symptom onset.
In August, Abbott received the EUA for its BinaxNOW COVID-19 Ag Card rapid antigen test for detection of COVID-19 infection.
In May, Abbott received the FDA's EUA for its molecular test for COVID-19 for use on its new Alinity m molecular laboratory instrument. In the same month, the company received the EUA for its SARS-CoV-2 IgG lab-based serology blood test on the Alinity i system.
Also in May, Abbott announced that new research published in the Journal of Clinical Microbiology found that its SARS-CoV-2 IgG lab-based serology blood test had high specificity and sensitivity for detecting the IgG antibody in patients within 17 days or more after the onset of symptoms.
Price Performance
Shares of the company have gained 39.1% in the past year compared with the industry's 8.1% rise and the S&P 500 composite's 19.4% growth.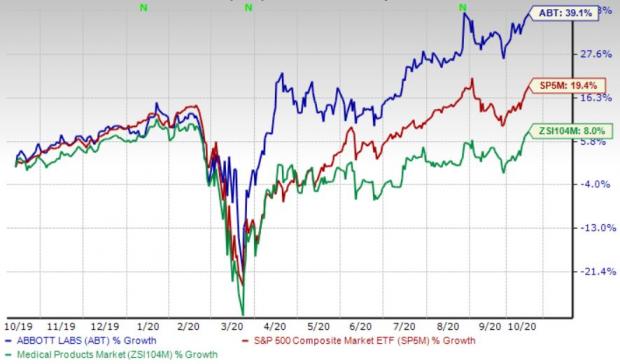 Zacks Rank & Other Key Picks
Currently, Abbott carries a Zacks Rank #2 (Buy).
A few other top-ranked stocks from the broader medical space are QIAGEN N.V. QGEN, Thermo Fisher Scientific Inc. TMO and Boston Scientific Corporation BSX.
QIAGEN's long-term earnings growth rate is estimated at 17.2%. It currently flaunts a Zacks Rank #1. (Strong Buy). You can see the complete list of today's Zacks #1 Rank stocks here.
Thermo Fisher's long-term earnings growth rate is estimated at 15.5%. It currently sports a Zacks Rank #1.
Boston Scientific's long-term earnings growth rate is estimated at 10%. The company presently carries a Zacks Rank #2.
Looking for Stocks with Skyrocketing Upside?
Zacks has just released a Special Report on the booming investment opportunities of legal marijuana.
Ignited by referendums and legislation, this industry is expected to blast from an already robust $17.7 billion in 2019 to a staggering $73.6 billion by 2027. Early investors stand to make a killing, but you have to be ready to act and know just where to look.
See the pot stocks we're targeting >>
Want the latest recommendations from Zacks Investment Research? Today, you can download 7 Best Stocks for the Next 30 Days.
Click to get this free report
QIAGEN N.V. (QGEN): Free Stock Analysis Report
Abbott Laboratories (ABT): Free Stock Analysis Report
Boston Scientific Corporation (BSX): Free Stock Analysis Report
Thermo Fisher Scientific Inc. (TMO): Free Stock Analysis Report
To read this article on Zacks.com click here.
Zacks Investment Research