CONSOL Energy's Initiatives to Boost Liquidity Amid Crisis
CONSOL Energy CEIX and CONSOL Coal Resources LP CCR have collectively taken some steps to boost finances and liquidity amid the ongoing pandemic.

Since the second half of 2020, these firms have tried to create value through multiple transactions that included land and mineral asset sales, gas wells and coal reserves outside of its active operations. Courtesy of the initiatives, CONSOL Energy and CONSOL Coal are expected to generate $60-$70 million and $9-$10 million, respectively. These companies are also looking forward to other ways for strengthening their respective balance sheets.

CONSOL Energy, a producer and exporter of high-Btu bituminous thermal and crossover metallurgical coal, is expected to utilize the funds generated from these initiatives to strengthen the balance sheet through open market repurchases and will work to position it well to take advantage of a potential coal market recovery.
Near-Term Coal Outlook Dull, 2021 Holds Some Promise
Coal is gradually losing ground to natural gas and renewable energy. The novel coronavirus outbreak and the resultant decline in commercial and industrial activities further affected coal demand. The latest report from U.S. Energy Information Administration ("EIA") forecasts 2020 coal consumption in the United States to fall to 475.1 million short tons (MMst), indicating a 19.1% decline from 2019 levels of 587.3 MMst. Demand for electricity from industrial customers is expected to drop 11% in 2020 due to the coronavirus pandemic, while coal demand from the electric power sector is expected to drop nearly 20% in 2020.

However, in 2021, the scenario might change if the prediction made by EIA in their latest release comes true. EIA predicts coal production to increase 17% from the expected 2020 levels to 600 MMst in 2021. This projection takes into consideration the rising demand for coal because of higher natural gas prices than 2020. Moreover, the 2020 Steam Electric Reconsideration Rule from the U.S. Environmental Protection Agency will aid the coal industry.

Coal stocks like SunCoke Energy, Inc. SXC and Contura Energy CTRA, among others, are well poised to gain from the expected recovery in coal demand.
Zacks Rank
CONSOL Energy currently has a Zacks Rank #3 (Hold). You can see the complete list of today's Zacks #1 Rank (Strong Buy) stocks here.
Price Performance
In the past three months, its shares have underperformed the industry.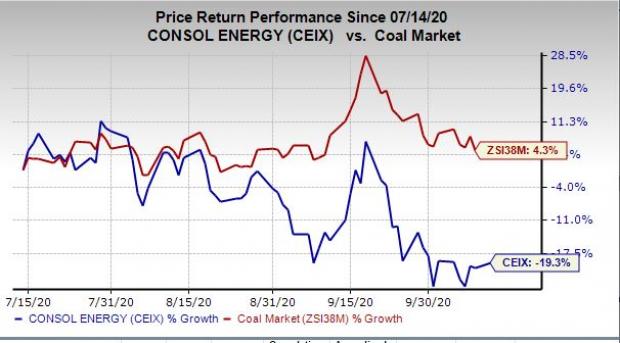 Looking for Stocks with Skyrocketing Upside?
Zacks has just released a Special Report on the booming investment opportunities of legal marijuana.

Ignited by referendums and legislation, this industry is expected to blast from an already robust $17.7 billion in 2019 to a staggering $73.6 billion by 2027. Early investors stand to make a killing, but you have to be ready to act and know just where to look.

See the pot stocks we're targeting >>
Want the latest recommendations from Zacks Investment Research? Today, you can download 7 Best Stocks for the Next 30 Days.
Click to get this free report
SunCoke Energy, Inc. (SXC): Free Stock Analysis Report
Consol Energy Inc. (CEIX): Free Stock Analysis Report
CONSOL Coal Resources LP (CCR): Free Stock Analysis Report
CONTURA ENERGY (CTRA): Free Stock Analysis Report
To read this article on Zacks.com click here.
Zacks Investment Research