Rockwell Automation Bets on Acquisitions, Cost-Cutting Efforts
On Oct 6, we issued an updated research report on Rockwell Automation Inc. ROK. The company is poised to gain from its focus on broadening the portfolio of hardware and software products, solutions and services as well as the acquisition strategy. Cost-cutting efforts and productivity improvement will also aid its margin performance.
Raised Guidance for Fiscal 2020
Rockwell Automation reported adjusted earnings of $1.27 in third-quarter fiscal 2020, which plummeted 47% year over year, primarily on lower sales. The company, however, has been witnessing increase in order levels lately and raised the fiscal 2020 adjusted earnings per share guidance to the band of $7.40-$7.60 from its prior estimate of $6.90-$7.70. The raised guidance is based on the premise of a gradual recovery, with no increase in pandemic-related facility closures or disruptions to the supply chain.
Pandemic-Led Demand to Fuel Top-Line Growth
The company falls under essential business to support critical infrastructure. It has been supporting a few pharmaceutical and medical device companies to scale up their production of critical products and testing capacity during the current crisis. Moreover, demand for packaged food and beverages is spiking on travel restrictions imposed by governments around the world. Around 70% of Rockwell Automation's Food & Beverage business revenues are dependent on grocery stores and home delivery, which remains strong amid the pandemic.
Cost-Saving Actions to Sustain Margins
Rockwell Automation has been taking preemptive actions to align the company's cost structure with this uncertain environment. The company is trying to minimize workforce reductions. There will be no incentive compensation payouts for fiscal 2020 and it is cutting down on discretionary spending, among others. These actions are expected to generate $150 million of savings in fiscal 2020. Efforts to improve productivity are expected to boost margins as well.
Growth Drivers in Place
Rockwell Automation is focused on broadening the portfolio of hardware and software products, solutions and services. Further, significant investments to globalize manufacturing, product development and customer-facing resources will drive growth. The company is likely to witness above-market growth through a combination of share gains in core platforms, double-digit growth in Information Solutions and Connected Services segment, as well as contribution from acquisitions and inorganic investments.
Acquisitions Remain a Key Growth Strategy
In fiscal 2020, Rockwell Automation acquired MESTECH Services, a global provider of Manufacturing Execution Systems/Manufacturing Operations Management, digital solutions consulting, and systems integration services. The acquisition enhances the company's capabilities to profitably grow Information Solutions and Connected Services globally and accelerate its ability to help customers execute digital-transformation initiatives.

The company has also acquired Avnet Data Security, LTD, in a bid to boost its cybersecurity offerings — one of Rockwell Automation's fastest-growing businesses. In line with this, in April, the company completed the acquisitions of ASEM, a leading provider of digital automation technologies, and Kalypso, a privately-held U.S.-based software delivery and consulting firm specializing in the digital transformation of industrial companies with a strong client base in life sciences, consumer products and industrial high-tech. Recently, Rockwell Automation announced that it has acquired another industrial cybersecurity services provider company — Oylo.
Price Performance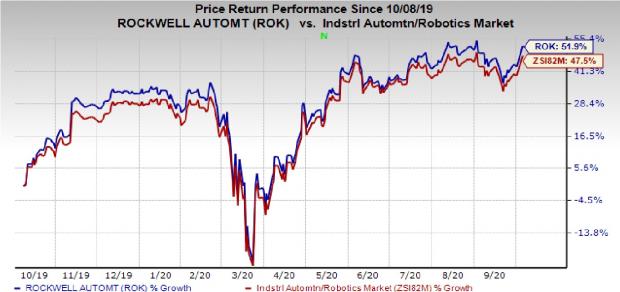 The company's shares have appreciated 51.9% over the past year, outperforming the industry's growth of 47.5%.
Zacks Rank & Other Stocks to Consider
Rockwell Automation currently carries a Zacks Rank #2 (Buy). You can see the complete list of today's Zacks #1 Rank (Strong Buy) stocks here.
Some other top-ranked stocks in the Industrial Products sector include Titan International, Inc. TWI, Berry Global Group, Inc. BERY and Fortune Brands Home & Security, Inc. FBHS, each carrying a Zacks Rank of 2, currently.
Titan International has an estimated earnings growth rate of 21.1% for 2020. The company's shares have gained 10.3% in a year's time.
Berry has a projected earnings growth rate of 32.3% for fiscal 2020. Shares of the company have appreciated 21.8% over the past year.
Fortune Brands has an expected earnings growth rate of 6.9% for the current year. The stock has surged 55.6% in the past year.
Biggest Tech Breakthrough in a Generation
Be among the early investors in the new type of device that experts say could impact society as much as the discovery of electricity. Current technology will soon be outdated and replaced by these new devices. In the process, it's expected to create 22 million jobs and generate $12.3 trillion in activity.
A select few stocks could skyrocket the most as rollout accelerates for this new tech. Early investors could see gains similar to buying Microsoft in the 1990s. Zacks' just-released special report reveals 8 stocks to watch. The report is only available for a limited time.
See 8 breakthrough stocks now>>
Want the latest recommendations from Zacks Investment Research? Today, you can download 7 Best Stocks for the Next 30 Days.
Click to get this free report
Rockwell Automation, Inc. (ROK): Free Stock Analysis Report
Fortune Brands Home Security, Inc. (FBHS): Free Stock Analysis Report
Titan International, Inc. (TWI): Free Stock Analysis Report
Berry Global Group, Inc. (BERY): Free Stock Analysis Report
To read this article on Zacks.com click here.
Zacks Investment Research