Chicago Bridge & Iron (CBI) Secures Contract in Uzbekistan
Chicago Bridge & Iron Company N.V. CBI recently secured a multi-technology contract with Shurtan Gas Chemical Complex LLC, which involves a grassroots ethylene complex to be built in southern Uzbekistan. This project will fortify Chicago Bridge & Iron's foothold in central Asia.
Under this contract, the technology and infrastructure services provider will be responsible for the license and basic engineering of an ethylene unit, which will use four proprietary SRT heaters, a Hexene-1 unit and a polypropylene unit. The unit will leverage the company's Comonomer Production Technology for producing Hexene-1 from low-cost C4s and Novolen gas-phase polypropylene technology for producing full-range polypropylene products
Earlier this week, Chicago Bridge & Iron clinched a $40 million contract from U.S.-based E. I. du Pont de Nemours and Company, for providing engineering, procurement and construction services for DuPont's Sabine River Works ethylene plant in Orange, TX.
These contracts are likely to provide a much-needed boost to the company's waning top line, which has been hurt recently owing to reduced activity on the company's large cost-reimbursable LNG projects in the Asia-Pacific region and the winding down of several other E&C projects.
The company did receive a significant reprieve as the Delaware Supreme Courtruled in favor of Chicago Bridge & Iron this Tuesday, in relation to a lawsuit connected to Westinghouse Electric Co.'s 2015 acquisition of the former's Shaw nuclear construction business. The ruling effectively took a $2 billion overhang off Chicago Bridge & Iron.
However, the fact remains that over the past few quarters, the company suffered a precipitous decline in capital investments, severely marring its financials. Volatile commodity pricing and prolonged softness in the energy markets have proven to be major concerns for Chicago Bridge & Iron.
These headwinds were underlined harshly in the company's latest quarterly numbers. Its earnings missed estimates by a colossal 75%. Also, revenues dropped over 11% year over year, displaying broad-based weakness.
On account of these uncertainties, the company's shares slumped hard over the past one year, plummeting 41.6% — against the Zacks categorized Building Products - Heavy Construction industry's average gain of 13.6%.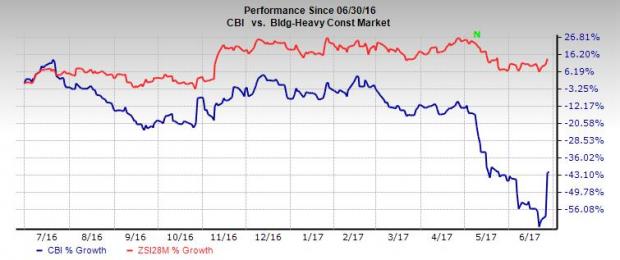 Overall, the company has a bleak earnings surprise history, with three misses in the trailing four quarters, resulting in an average negative surprise of 29.7%. The analyst community is showing no favor toward the company either. The Zacks Consensus Estimate for full-year 2017 earnings continues to go south, reflecting decidedly bearish analyst sentiment.
This Zacks Rank #5 (Strong Sell) company witnessed six downward estimate revisions compared to none upward, over the past couple of months. This has led the Zacks Consensus Estimate for 2017 to move down from $4.15 to $3.34 — a decline of 19.5%.
Stocks to Consider
Some better-ranked stocks in the broader sector include TopBuild Corp. BLD, Armstrong World Industries Inc AWI and Weyerhaeuser Co. WY. While TopBuild sports a Zacks Rank #1 (Strong Buy), Armstrong World Industries and Weyerhaeuser carry a Zacks Rank #2 (Buy). You can see the complete list of today's Zacks #1 Rank stocks here.
TopBuild has a positive average earnings surprise of 6% for the last four quarters, having beaten estimates thrice.
Armstrong World Industries has a decent earnings surprise history, with an average positive surprise of 1.7%, having beaten estimates twice over the trailing four quarters.
Weyerhaeuser has an average positive surprise of 1.3%, beating estimates twice for as many misses over the trailing four quarters.
Today's Stocks from Zacks' Hottest Strategies
It's hard to believe, even for us at Zacks. But while the market gained +18.8% from 2016 - Q1 2017, our top stock-picking screens have returned +157.0%, +128.0%, +97.8%, +94.7%, and +90.2% respectively.
And this outperformance has not just been a recent phenomenon. Over the years it has been remarkably consistent. From 2000 - Q1 2017, the composite yearly average gain for these strategies has beaten the market more than 11X over. Maybe even more remarkable is the fact that we're willing to share their latest stocks with you without cost or obligation. See Them Free>>
Want the latest recommendations from Zacks Investment Research? Today, you can download 7 Best Stocks for the Next 30 Days.
Click to get this free report
TopBuild Corp. (BLD): Free Stock Analysis Report
Armstrong World Industries Inc (AWI): Free Stock Analysis Report
Weyerhaeuser Company (WY): Free Stock Analysis Report
Chicago Bridge & Iron Company N.V. (CBI): Free Stock Analysis Report
To read this article on Zacks.com click here.
Zacks Investment Research