Akamai Announces Pricing of Senior Notes Worth $1 Billion
Akamai Technologies, Inc. AKAM recently announced the pricing of $1 billion aggregateprincipal amount of convertible unsecured senior notes due 2027. The offering is slated to close on Aug 16, 2019, which is subject to customary conditions.
The company has also provided an option to initial buyers to procure up to an additional $150 million of senior notes. Consequently, Akamai will be raising $1.15 billion in total with the senior note offerings. We believe these notes will provide financial flexibility to the company and fuel long-term growth.
The notes will be privately offered to institutional buyers qualifying under Rule 144A of the Securities Act of 1933, as amended.
Once placed, the notes will be an unsecured senior liability of Akamai, interest for which will be paid at 0.375% semi annually. Notably, interest will be paid in arrears as on Mar 1 and Sep 1 of every year, with commencement of interest payments on Mar 1, 2020.
The conversion rate for the notes will remain at 8.6073 shares per $1,000 principal amount of notes initially, and subject to adjustments in certain cases. The initial conversion price represents a premium of approximately 30% to the closing price of Akamai's common stock on Aug 13, 2019, which was $89.37 per share.
The company's prediction states that the net proceeds from this offering of notes will be around $896.9 million, after the initial purchasers optimally exercise their option, and deducted discounts and estimated offering expenses.
The company intends to utilize the $100 million of net proceeds to repurchase shares, in accordance with pricing. The company also intends to use $110.5 million of the net proceeds to fund the cost related to the convertible note hedge transactions.
Meanwhile, the remaining of the net proceeds is expected to be used to finance general corporate purposes, working capital and business expansion initiatives.
Morgan Stanley, BofA Merrill Lynch and J.P. Morgan are acting as "joint book-running managers."
Notably, the stock has returned 46.3% on a year to date basis, substantially outperforming the industry's rally of 0.6%.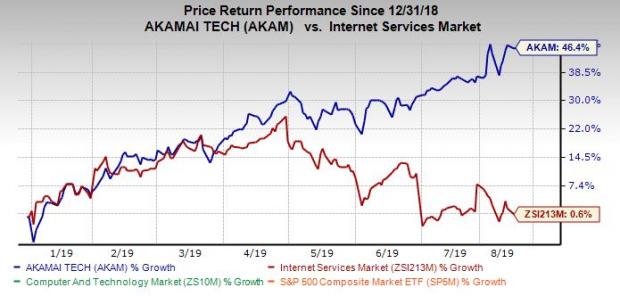 Akamai's Cash Position
As of Jun 30, 2019, Akamai's cash and cash equivalents (and total marketable securities) were $1.33 billion up from $1.22 billion reported at the end of the previous quarter.
The company generated cash flow from operations of $318 million, up from $161 million in the previous quarter. Free cash flow came in at $184.6 million, compared with $18.4 million reported in the previous quarter.
Bottom Line
We believe that the company has a strong balance sheet, which will help it in capitalizing on investment opportunities and pursuing strategic acquisitions, further improving growth prospects. Moreover, the senior notes offering will lower the company's cost of capital, consequently strengthening balance sheet and supporting growth.
Zacks Rank & Stocks to Consider
Currently, Akamai carries a Zacks Rank #3 (Hold).
Some better-ranked stocks in the broader technology sector worth considering are Science Applications International Corporation SAIC, Chegg CHGG and Anixter International AXE. All the three stocks flaunt a Zacks Rank #1 (Strong Buy). You can see the complete list of today's Zacks #1 Rank stocks here.
Long-term earnings growth rate for Science Applications, Chegg and Anixter is currently pegged at 30%, 5.5%, 30% and 8%, respectively.
Looking for Stocks with Skyrocketing Upside?
Zacks has just released a Special Report on the booming investment opportunities of legal marijuana.
Ignited by new referendums and legislation, this industry is expected to blast from an already robust $6.7 billion to $20.2 billion in 2021. Early investors stand to make a killing, but you have to be ready to act and know just where to look.
See the pot trades we're targeting>>
Want the latest recommendations from Zacks Investment Research? Today, you can download 7 Best Stocks for the Next 30 Days.
Click to get this free report
Akamai Technologies, Inc. (AKAM): Free Stock Analysis Report
Chegg, Inc. (CHGG): Free Stock Analysis Report
Science Applications International Corporation (SAIC): Free Stock Analysis Report
Anixter International Inc. (AXE): Free Stock Analysis Report
To read this article on Zacks.com click here.
Zacks Investment Research