Hibbett's (HIBB) Q4 Earnings Miss Estimates, Sales Beat
Hibbett Sports Inc. HIBB posted fourth-quarter fiscal 2020 results, wherein the bottom line lagged the Zacks Consensus Estimate, while sales exceeded the same. The top line was driven by a solid comparable sales performance, sturdy digital business and in-store and online sales contributions from the City Gear business. Meanwhile, adverse weather conditions along with changes in launch dates and calendar shifts acted as deterrents.
Moving on, management didn't issue the fiscal 2021 guidance due to the uncertain impacts of COVID-19 on its operations. The company also noted that it doesn't foresee any supply-chain disruptions for the fiscal first quarter. However, it witnessed sluggishness in demand in the last week.
Q4 Highlights
Hibbett's adjusted earnings of 51 cents per share missed the Zacks Consensus Estimate of 62 cents and declined 10.5% from 57 cents reported in the year-ago quarter. This includes the cost of 5 cents incurred in relation to the City Gear acquisition.
Net sales grew 2.3% year over year to $313 million and beat the Zacks Consensus Estimate of $299 million. The increase can be attributed to gains from the e-commerce business coupled with robust performance in footwear and connected apparel categories. E-commerce sales accounted for 14.2% of total sales in the fiscal fourth quarter. Moreover, digital sales improved 37%.
Comparable store sales (comps), excluding City Gear sales, rose 4% in the quarter, marking the fifth successive quarter of positive comps. Comps benefited from strong performance in the brick-and-mortar and e-commerce businesses.
Notably, footwear comps rose in low-double digit, recording the 10th successive quarter of positive comps. The company witnessed double-digit comps growth in men's, women's and kids' footwear, driven by a strong launch calendar as well as strength in the non-launch business.
Meanwhile, apparel sales were down in low-single digits due to soft performance in women's and kids' categories. Also, the licensed business remained drab in the quarter under review. On the flip side, apparel products related to sneakers performed well.
Gross profit rose 3.8% to $98.7 million in the reported quarter. However, adjusted gross margin contracted 41 basis points (bps) on account of store closures.
Operating income of $7.8 million decreased 13.1% year over year, while operating margin expanded 40 bps. Adjusted store operating, selling and administrative (SG&A) expenses expanded 85 bps to 25.3%, as a percentage of sales. The uptick was due to costs related to the rise in e-commerce sales.

Hibbett Sports, Inc. Price, Consensus and EPS Surprise
Other Financial Aspects
Hibbett ended the quarter with $66.1 million in cash and cash equivalents and $100 million available under its credit facilities. Total stockholders' investment, as of Nov 2, was $336.2 million.
Further, Hibbett repurchased 532,702 shares for $14.1 million in the fiscal fourth quarter. As of Feb 1, it had $153.1 million remaining under its authorization for share repurchase through Jan 29, 2022. For fiscal 2020, capital expenditures came in at $17.4 million.
Store Update
In fourth-quarter fiscal 2020, the company introduced four stores and rebranded three Hibbett stores to City Gear. However, it shut 23 underperforming outlets. Consequently, it ended the quarter with 1,081 stores across 35 states.
Further, the company highlighted that its stores are currently open with limited store hours and lesser employees amid the COVID-19 crisis. Also, its digital business continues to operate with facilities such as BOPIS and ROPIS services for the convenience of customers.
Price Performance
In the past three months, this Zacks Rank #3 (Hold) stock has plummeted 64.1% compared with the industry's 42.8% decline.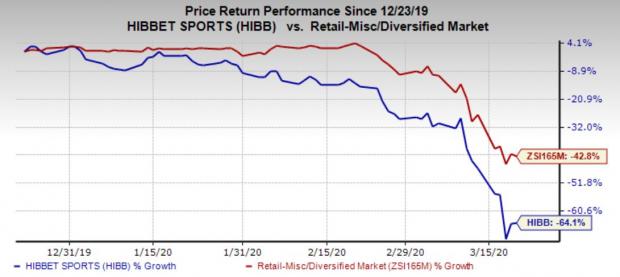 3 Stocks to Watch in the Retail Space
DICK'S Sporting Goods, Inc. DKS has an impressive long-term earnings growth rate of 5.9% and a Zacks Rank #2 (Buy). You can see the complete list of today's Zacks #1 Rank (Strong Buy) stocks here.
Levi Strauss LEVI, also a Zacks Rank #2 stock, has an impressive long-term earnings growth rate of 2.6%.
Genesco GCO, which presently carries a Zacks Rank #2, has an expected long-term earnings growth rate of 5%.
Free: Zacks' Single Best Stock Set to Double
Today you are invited to download our latest Special Report that reveals 5 stocks with the most potential to gain +100% or more in 2020. From those 5, Zacks Director of Research, SherazMian hand-picks one to have the most explosive upside of all.
This pioneering tech ticker had soared to all-time highs and then subsided to a price that is irresistible. Now a pending acquisition could super-charge the company's drive past competitors in the development of true Artificial Intelligence. The earlier you get in to this stock, the greater your potential gain.
Want the latest recommendations from Zacks Investment Research? Today, you can download 7 Best Stocks for the Next 30 Days.
Click to get this free report
DICK'S Sporting Goods, Inc. (DKS): Free Stock Analysis Report
Hibbett Sports, Inc. (HIBB): Free Stock Analysis Report
Genesco Inc. (GCO): Free Stock Analysis Report
Levi Strauss & Co. (LEVI): Free Stock Analysis Report
To read this article on Zacks.com click here.