Biogen (BIIB) Q2 Earnings Top, Aduhelm Early Sales Hit $2M
Biogen BIIB reported second-quarter 2021 earnings per share of $5.68, which beat the Zacks Consensus Estimate of $4.57. Earnings however declined 42.3% year over year due to lower revenues.
Sales came in at $2.78 billion, down 25% (down 26% on a constant currency basis) from the year-ago quarter, hurt by lower sales of Tecfidera and Spinraza, which offset higher sales of Tysabri and biosimilars in the quarter. Sales, however, beat the Zacks Consensus Estimate of $2.61 billion.
Product sales in the quarter were $2.24 billion, down 20% year over year. Royalties on sales of Roche's RHHBY Ocrevus were $257.0 million in the quarter, down 23.4% year over year. Revenues from Biogen's share of Rituxan and Gazyva declined 32.2% from the year-ago period to $183 million. Other revenues declined 76% in the quarter to $99.0 million.
Multiple Sclerosis Revenues
Biogen's MS revenues were $1.79 billion in the reporter quarter, including Ocrevus royalties, which declined 24% (both actual and constant currency) year over year.
Tecfidera sales declined 58.7% to $487.6 million in the quarter, as multiple generic products have been launched in the United States.
Vumerity, launched in the United States late in 2019, recorded $90.9 million in sales, higher than $73.6 million in the previous quarter.
Tysabri sales rose 21.3% year over year to $524.2 million.
Combined interferon revenues (Avonex and Plegridy) in the quarter were $400.4 million, down 16.8% year over year.
Other Products
Sales of spinal muscular atrophy (SMA) drug Spinraza rose 1% year over year to $500 million. However, on a constant currency basis, sales declined 3%. Sales were however better than the Zacks Consensus Estimate of $483 million
In the quarter, biosimilars revenues rose 18% year over year (9% in constant currency) to $202 million. Samsung Bioepis, the joint venture between Biogen and Samsung BioLogics, markets three anti-TNF biosimilars in the EU — Flixabi (a biosimilar referencing J&J [JNJ]/Merck's [MRK] Remicade), Benepali (a biosimilar referencing Amgen/Pfizer's Enbrel), and Imraldi (a biosimilar referencing AbbVie's Humira).
Benepali recorded sales of $121.5 million in the quarter, up 14.4% year over year. Flixabi sales of $25.3 million rose 22.8% year over year. Imraldi sales of $55.6 million rose 24.1% year over year.
In June, the FDA granted accelerated approval to Aduhelm (aducanumab), Biogen's controversial treatment to reduce the accumulation of amyloid beta plaques in the brain of Alzheimer's disease patients. This month, Biogen updated the drug's label to mention that Aduhelm treatment should be initiated in patients with mild cognitive impairment or mild dementia due to Alzheimer's disease. Biogen recorded Aduhelm sales of $2 million in the quarter.
Research and development (R&D) expenses were $585 million, down 10% year over year. Selling, general and administrative (SG&A) expenses increased 14% year over year to $635 million.
2021 Guidance
The company raised its total revenue guidance for 2021 while maintaining its earnings expectations.
Total revenues are expected in the range of $10.65-$10.85 billion in 2021 compared with $10.45-$10.75 previously. The company expects significant erosion of Tecfidera's sales in the United States in 2021. The guidance also assumes significant erosion of Rituxan in the United States. The guidance assumes modest revenues from Aduhelm in 2021.
The earnings per share guidance was maintained in the range of $17.50-$19.00. Capital expenditures are anticipated between $375 million and $425 million.
Adjusted R&D expenses are expected to be between $2.45 billion and $2.55 billion (previously $2.3 billion and $2.4 billion) and adjusted SG&A cost guidance was maintained between $2.6 billion and $2.7 billion. R&D and SG&A costs are expected to be higher in the second half compared with the first due to new collaborations, program readouts, and investments for Aduhelm.
The reduction in revenues from Tecfidera and Rituxan, both high margin products, is expected to put pressure on gross margins in 2021.
Our Take
Biogen beat estimates on both counts. The company raised its sales guidance for the year while keeping the earnings range intact. Shares rose around 1% in pre-market trading. Biogen's stock has risen 31.9% this year so far against a decrease of 1.1% for the industry


Image Source: Zacks Investment Research
Aduhelm's FDA approval faced a lot of criticism as some analysts believed the drug was not backed by strong evidence of efficacy. Aduhelm also comes with a hefty price tag of $56,000 a year, which was widely condemned.
The FDA approved Aduhelm despite an FDA advisory committee voting against its approval in November last year due to mixed outcomes data from ENGAGE and EMERGE phase III studies.
In an open letter to Alzheimer's disease community issued along with the results, Biogen defended Aduhelm's approval saying that it was based on extensive data. Biogen, in the open letter, called for a "formal review" of the regulatory process that led to accelerated approval.
Meanwhile, multiple generic versions of blockbuster drug, Tecfidera have been launched, which are significantly eroding the drug's sales and the company's overall topline. Sales of Spinraza are being hurt due to COVID-19 and the drug's competitive environment is also getting challenging.
Biogen has a Zacks Rank #3 (Hold) currently. You can see the complete list of today's Zacks #1 Rank (Strong Buy) stocks here.
Biogen Inc. Price, Consensus and EPS Surprise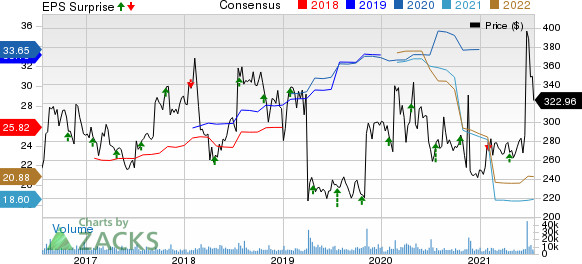 Biogen Inc. price-consensus-eps-surprise-chart | Biogen Inc. Quote
Bitcoin, Like the Internet Itself, Could Change Everything
Blockchain and cryptocurrency has sparked one of the most exciting discussion topics of a generation. Some call it the "Internet of Money" and predict it could change the way money works forever. If true, it could do to banks what Netflix did to Blockbuster and Amazon did to Sears. Experts agree we're still in the early stages of this technology, and as it grows, it will create several investing opportunities.
Zacks' has just revealed 3 companies that can help investors capitalize on the explosive profit potential of Bitcoin and the other cryptocurrencies with significantly less volatility than buying them directly.
See 3 crypto-related stocks now >>
Want the latest recommendations from Zacks Investment Research? Today, you can download 7 Best Stocks for the Next 30 Days.
Click to get this free report
Biogen Inc. (BIIB): Free Stock Analysis Report
Roche Holding AG (RHHBY): Free Stock Analysis Report
Johnson & Johnson (JNJ): Free Stock Analysis Report
Merck & Co., Inc. (MRK): Free Stock Analysis Report
To read this article on Zacks.com click here.