Micron Launches Managed NAND Products for Connected Vehicles
Micron MU recently launched the UFS 2.1 managed NAND products for automotive applications, to enhance driver experience in connected vehicles. The products will be offered in different capacity variations ranging from 32 GB to 256 GB.

The new suite of products will enable a quick system start-up and provide higher data bandwidth for in-vehicle performance systems.

Micron has already started sampling its Automotive-Grade UFS portfolio with automotive customers. The company expects to commence volume production by the third quarter of this year.

Automotive Memory Market: Micron's Efforts and Potential

Micron is focused on taking big steps to boost its foothold in the automotive memory market. The company's vehicle-focused semiconductor technology currently helps mitigate human driving errors like gesture control interfaces that can detect distracted drivers. Its artificial intelligence (AI) also assists cars to detect the presence of objects and humans on the road and alert the driver.

The company already provides automotive-grade low-power DDR memories to automotive companies. Micron believes that this will enable overall system bandwidths of up to 100 gigabytes per second. However, the company estimates that bandwidths of 300 GB/s will be required to power Level 5 autonomous vehicles, making it all the more important to make advancements in its already powerful memory solutions.

In January this year, Micron teamed with Qualcomm Inc. QCOM subsidiary — Qualcomm Technologies — to jointly develop advanced solutions for in-vehicle cockpit controls in autonomous vehicles. Micron's automotive-grade LPDDR4X memory devices are being used to build the next-generation Qualcomm Snapdragon Automotive Cockpit Platforms.

Last November, the company launched the Micron 2100 series of 1TB automotive and industrial grade PCIe NVMe solid state drive (SSD), based on the 3D NAND technology, to enable faster, more cost-effective and powerful storage solutions for level 3 or higher autonomous cars and the industrial Internet of Things (IoT).

In the same month, the company announced that it has entered into partnership with BMW Group to enhance automotive memory solutions for self-driven cars.

All this prove that the company is upping its efforts in self-drive and connected vehicles, as the automotive industry moves toward level 5 autonomy. Management believes that rising demand for in-vehicle infotainment and ADAS will steadily fuel growth for the company.

Per Research and Markets, the global automotive memory market is expected to generate revenues of around $11 billion by 2024, seeing a CAGR of approximately 24% during 2018-2024.

We therefore expect that given a strong growth opportunity of the autonomous vehicle market, the company's demand environment will improve and, in turn, favor this stock.
Micron Technology, Inc. Revenue (TTM)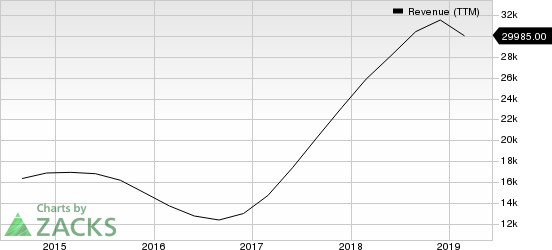 Micron Technology, Inc. revenue-ttm | Micron Technology, Inc. Quote
Zacks Rank & Stocks to Consider

Micron currently has a Zacks Rank #4 (Sell).

A couple of better-ranked stocks in the broader Computer and Technology sector are eGain Corp. EGAN and Cirrus Logic, Inc. CRUS, sporting a Zacks Rank #1 (Strong Buy). You can see the complete list of today's Zacks #1 Rank stocks here.

Long-term earnings growth for eGain and Cirrus is forecast at 30% and 15% respectively.

Breakout Biotech Stocks with Triple-Digit Profit Potential

The biotech sector is projected to surge beyond $775 billion by 2024 as scientists develop treatments for thousands of diseases. They're also finding ways to edit the human genome to literally erase our vulnerability to these diseases.

Zacks has just released Century of Biology: 7 Biotech Stocks to Buy Right Now to help investors profit from 7 stocks poised for outperformance. Our recent biotech recommendations have produced gains of +98%, +119% and +164% in as little as 1 month. The stocks in this report could perform even better.

See these 7 breakthrough stocks now>>
Want the latest recommendations from Zacks Investment Research? Today, you can download 7 Best Stocks for the Next 30 Days.
Click to get this free report
eGain Corporation (EGAN): Free Stock Analysis Report
QUALCOMM Incorporated (QCOM): Free Stock Analysis Report
Cirrus Logic, Inc. (CRUS): Free Stock Analysis Report
Micron Technology, Inc. (MU): Free Stock Analysis Report
To read this article on Zacks.com click here.
Zacks Investment Research