Bull Of The Day: NVIDIA (NVDA)
NVIDIA NVDA, the largest and fast-growing semiconductor innovator in the US, has been a stock market star in recent years, skyrocketing over 700% since 2019 (despite its recent decline) as this GPU pioneer and its visionary leader, Jensen Huang, take the tech sector by storm.
NVDA has experienced this infectious sell-down that so many other richly valued innovators have experienced, sliding into bear market territory (20% or more decline from recent highs) in mid-December and has yet to recover. However, this is a stock that is being bought up on every single dip (despite its incredibly rich 65x P/E), with its ostensibly boundless upside outlook providing endless support.
NVIDIA is the most exciting chipmaker on the public exchanges today, producing chips with unmatchable speed and capabilities that place it at the forefront of next-generation technologies like AI development, data analytics, and even the ambiguous 'metaverse.'
NVIDIA's recent growth is nothing short of incredible as the enterprise sets the bar for prolific innovation in the chip space, and no other business has been even close to keeping up. NVIDIA's intelligence driving chips have solidified their sole GPU market control as we enter a digital renaissance.
The pandemic drove the global economy to digitalize by 10 years in just 10 months, pulling forward unprecedented demand for NVIDIA's hyper-fast GPUs. Society is now conditioned for swift and continuous adaptation to advancing tech, supporting NVIDIA's boundless profitable growth with endless innovation at the core.
Analysts are relentlessly bullish on NVDA as the company consistently blows out estimates each quarter. Sell-side analysts have been pushing up their EPS projections over every time horizon, propelling NVDA into a Zacks Rank #1 (Strong Buy).
NVDA exposure is a must for every portfolio's next-generation allocation as the 4th Industrial Revolution kicks off.
Fundamental & Technical Breakdown
This GPU powerhouse has been able to justify its exceptionally rich 60x P/E multiple with consistently outsized profitable growth that has driven between 40-70% year-over-year revenue appreciation in the past 8 consecutive quarters (flowing down to high-double to triple-digit annual earnings expansions), along with record top and bottom-line results in 6 back-to-back earnings reports.
NVIDIA has proven its ability to generate boundless secular growth that has blown pasts analysts' increasingly aggressive top and bottom-line estimates for years. EPS estimates have been raised across the board after an incredible October quarter, and I still view projection as conservative. NVIDIA's most significant profit drivers in gaming and data centers are still just in their nascent phases of development as we enter this digital renaissance.
I expect demand for NVIDIA's GPU technology to only accelerate over the next decade as this company paves the way for innovation across sectors.
NVDA is a stock that you can't afford to leave out of your portfolio, and after its recent 20% pullback to a critical support level, it'd be prudent to seize on this excellent entry point below $300 a share. $270 has been NVDA's primary support level for the past month, having bounced off it on 4 separate occasions (2 of which were in the past 2 trading days (shown below).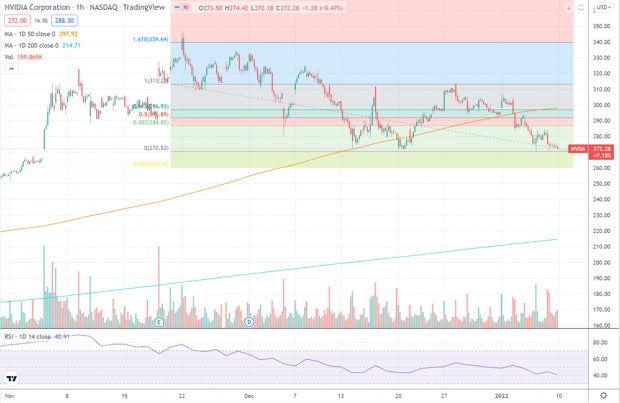 Image Source: TradingView
If NVDA breaks below $270 a share, I will be watching for its next Fibonacci-extension level lower at $260 (seen on the chart above) to provide some support, then its 200-day moving average, which currently sits at $215 but is trending higher.
The Business
NVIDIA has become the most cutting-edge chipmaker on earth. The company invented the graphics processing unit (GPU), initially purposed for rendering images, but now possesses capabilities beyond graphics cards. NVIDIA's hyper-fast GPUs are becoming a necessity in data centers across the globe, most notably in the development of deep learning and artificial intelligence (as I mentioned above).
Data centers will be a primary end-market for this market disruptor in this world headed towards cloud computing, and Nvidia's hyper-fast GPUs are becoming a necessity. CEO and founder of Nvidia, Jensen Huang, said in a recent press release that "NVIDIA AI is enabling breakthroughs in language understanding, conversational AI and recommendation engines ??? the core algorithms that power the internet today. And new NVIDIA computing applications in 5G, genomics, robotics, and autonomous vehicles enable us to continue important work that has great impact."
NVIDIA completely controls the datacenter GPU market with no close competitors (despite AMD's attempts). This company is crucial to the discovery of true AI, which will be an inflection point in human understanding. NVDA chips can already be found in 8 of the top 10 supercomputers and 2/3rd of the top 500.
Nvidia is also leveraging 5G with its anticipated cloud gaming platform. Just as cloud computing is the future of business data and analytics, cloud gaming is the future of gaming. NVIDIA is making a big bet in this field with its cloud platform, GeForce NOW. This platform allows gamers to use their Macs or PCs for gaming anywhere with NVIDIA's GPUs' high-speed, low-latency technology without needing NVIDIA's hardware locally.
Nvidia's Recent Acquisition Announcement
Nvidia announced it would be acquiring Arm Limited from Softbank (SFTBY) in an all-stock deal for $40 billion back in September of 2020 with a closing timeline of 18 months. If this deal goes through, it will be the largest chip deal in history, but first, it must get past the 3 major regulatory authorities, including China, which could pose a challenge amid the reheating US-China trade war.
Regulatory bodies are delaying this deal, which catalyzed the recently added concessions NVIDIA offered to appease EU regulators in the hopes of securing the necessary antitrust approval, which pushed this deal's value up to $54 billion. The merger is still expected to close in March of this year, though it's beginning to look like an aggressive deadline considering pushback from regulators in the UK and China.
Nvidia's announced acquisition would significantly expand the enterprise's chip market control. Nvidia now primarily focuses on GPUs and is leveraging the technology's hyperfast computing power to develop "true AI." The purchase of Arm will give Nvidia a firm grasp on the CPU market and provide the combined company with a whole leg in the smartphone market door.
This AI-juiced semiconductor powerhouse and its visionary CEO, Jensen Huang, have proven that Nvidia is a force to be reckoned with. Softbank's leader, Masayoshi Son, and his close ties with Huang catalyzed this ostensible "value deal" for Arm.
This deal includes a significant amount of NVDA stock, which I believe is a big part of the reason that Son is so excited about the sale. He believes in Nvidia with Jensen Huang at the helm and wants to see his transform this business into and wants to be a part of the action.
If this deal does end up getting rejected, it would not be the end of the world for NVDA, as its current portfolio outlay is still poised for prolific growth. It would also mean that no other company could acquire Arm Holdings moving forward. Either way, NVDA wins.
Final Thoughts
NVIDIA is a stock that every investor should have some exposure to. Despite its recent pullback, the NVDA remains at a very frothy market valuation ($680 billion market cap), after more than doubling in the past year, leaving the stock more vulnerable to short-term volatility as monetary tightening initiates.
Still, NVDA is currently trading nearly 15% below its average 12-month price target and roughly 50% below its most optimistic target. 23 out of 26 analysts call it a buy today (with no sell ratings), and I couldn't agree more.
Zacks' Top Picks to Cash in on Artificial Intelligence
In 2021, this world-changing technology is projected to generate $327.5 billion in revenue. Now Shark Tank star and billionaire investor Mark Cuban says AI will create "the world's first trillionaires." Zacks' urgent special report reveals 3 AI picks investors need to know about today.
See 3 Artificial Intelligence Stocks With Extreme Upside Potential>>
Want the latest recommendations from Zacks Investment Research? Today, you can download 7 Best Stocks for the Next 30 Days.
Click to get this free report
NVIDIA Corporation (NVDA): Free Stock Analysis Report
To read this article on Zacks.com click here.
Zacks Investment Research