Regal Beloit (RBC) to Close Deal With Rexnord in October
Regal Beloit Corporation RBC announced an update on its deal with Rexnord Corporation RXN, signed in February 2021. Both parties anticipate closing the transaction on Oct 4, 2021.

The deal signed calls for the combination of Regal Beloit's operations with Rexnord's Process & Motion Control ("PMC") segment. The transaction has been valued at $3.69 billion.

Regal Beloit's shares gained 0.85% yesterday, ending the trading session at $151.01.
Inside the Headlines
As noted, the deal completion on Oct 4 is subject to the fulfillment of closing conditions or waiver of the same. Upon completion, Regal Beloit will be renamed as "Regal Rexnord Corporation", while it will trade on the NYSE under the symbol "RRX". Rexnord will be known as "Zurn Water Solutions Corporation" and its stock's trade symbol on the NYSE will be "ZWS".

A brief discussion on earlier announcements is provided below:

September announcement: Regal Beloit received shareholders' approval for the issuance of common shares. Also, the company's shareholders approved to make changes in the company's Articles of Incorporation. This will enable it to change its name and increase authorized shares.

August announcement: Regal Beloit announced that its planned changes, which are subjected to the closing of the above-mentioned deal. The company intends on grouping its power transmission business — including its existing Power Transmission Solutions ("PTS") segment and Rexnord's PMC segment — under the Motion Control Solutions ("MCS") segment. The MCS segment will be led by Kevin J. Zaba and its president, Integration will be Jerry Morton. While Zaba is currently capacitated as the president of PMC, Morton is the current president of PTS.

Rationale of the Deal: The transaction is anticipated to boost Regal Beloit's product line and enhance its position as a major provider of power transmission solutions. The transaction will also strengthen its market presence and shareholder value. As noted, within three years of the completion, the deal is likely to generate cost savings of $120 million for Regal Beloit. Adjusted earnings before interest, tax, depreciation and amortization are expected to be $1 billion for 2022.

Post the deal completion, Regal Beloit's shareholders will own 61.4% of the combined entity ("New Regal"), while the rest 38.6% will be owned by Rexnord's shareholders.
Zacks Rank, Estimates and Price Performance
With a market capitalization of $6.1 billion, Regal Beloit currently carries a Zacks Rank #2 (Buy). The company anticipates benefiting from strengthening end markets and margin improvements in 2021. It expects adjusted earnings per share of $8.70-$9.00, suggesting growth of 53% (at the mid-point) from the previous year's reported number. Sales are expected to grow in the high-teens on a year-over-year basis.

In the past three months, the company's shares have gained 10.3% compared with the industry's growth of 2.7%.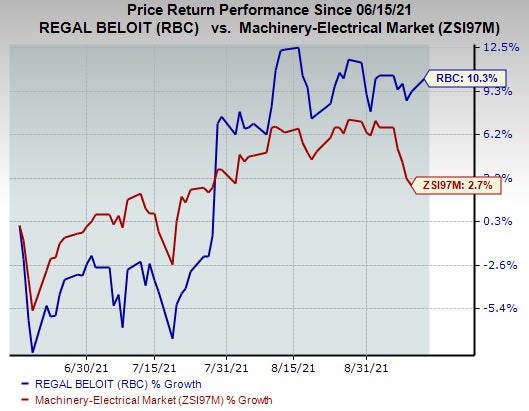 Image Source: Zacks Investment Research
Meanwhile, the Zacks Consensus Estimate for its earnings is pegged at $8.81 for 2021 and $9.85 for 2022, reflecting growth of 13.7% and 15.9% from the respective 60-day-ago figures. Earnings estimates for the third quarter are pegged at $2.34, increasing 21.9% from the 60-day-ago figure.
Regal Beloit Corporation Price and Consensus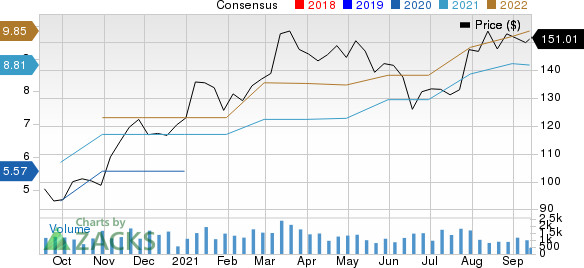 Regal Beloit Corporation price-consensus-chart | Regal Beloit Corporation Quote
Other Stocks to Consider
Two other top-ranked stocks in the industry are Emerson Electric Co. EMR and Eaton Corporation plc ETN. Both companies currently carry a Zacks Rank #2. You can see the complete list of today's Zacks #1 Rank (Strong Buy) stocks here.

In the past 60 days, earnings estimates for both companies have improved for the current year. Further, earnings surprise in the last reported quarter was 11.22% for Emerson Electric and 10.97% for Eaton.
Tech IPOs With Massive Profit Potential
In the past few years, many popular platforms and like Uber and Airbnb finally made their way to the public markets. But the biggest paydays came from lesser-known names.
For example, electric carmaker X Peng shot up +299.4% in just 2 months. Think of it this way…
If you had put $5,000 into XPEV at its IPO in September 2020, you could have cashed out with $19,970 in November.
With record amounts of cash flooding into IPOs and a record-setting stock market, this year's lineup could be even more lucrative.
See Zacks Hottest Tech IPOs Now >>
Want the latest recommendations from Zacks Investment Research? Today, you can download 7 Best Stocks for the Next 30 Days.
Click to get this free report
Emerson Electric Co. (EMR): Free Stock Analysis Report
Eaton Corporation, PLC (ETN): Free Stock Analysis Report
Regal Beloit Corporation (RBC): Free Stock Analysis Report
Rexnord Corporation (RXN): Free Stock Analysis Report
To read this article on Zacks.com click here.
Zacks Investment Research