Continental's (CLR) Q2 Earnings Miss on Lower Oil Prices
Continental Resources, Inc. CLR reported second-quarter 2019 adjusted earnings of 59 cents per share, which missed the Zacks Consensus Estimate by a penny. Moreover, the bottom line fell from the year-ago quarter earnings of 73 cents.
Revenues of $1,208.4 million beat the Zacks Consensus Estimate of $1,166 million. The figure also increased from $1,137.1 million in the year-ago quarter.
The weak quarterly earnings can be attributed to lower commodity price realizations and higher operating expenses. This was partially offset by higher year-over-year oil and gas production.
Continental Resources, Inc. Price, Consensus and EPS Surprise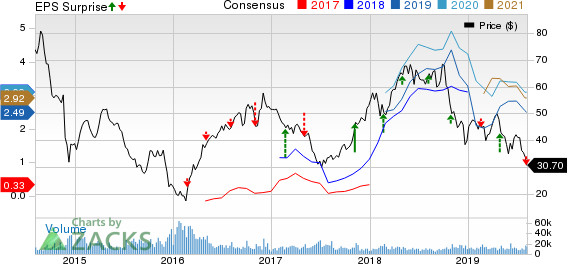 Continental Resources, Inc. price-consensus-eps-surprise-chart | Continental Resources, Inc. Quote
Production Surges
Production from continuing operations averaged 331,414 barrels of oil equivalent per day (BOE/D) in the quarter, higher than 284,059 BOE/D in the year-ago period. Oil production in the quarter came in at 193,586 barrels per day (Bbls/d), up from 157,116 Bbls/d a year ago.
Natural gas production jumped from 761,653 thousand cubic feet per day (Mcf/d) in second-quarter 2018 to 826,969 Mcf/d in the second quarter of 2019.
Price Realization Plunges
Average realized price for oil was $54.66 a barrel, down from $63.35 in the prior-year quarter. Natural gas was sold at $1.66 per Mcf, down from $2.65 in the year-ago quarter. Crude oil equivalent price in the quarter fell to $36.03 per barrel from $42.16 in the prior-year period.
Total Expenses Jump
Total operating expenses of $828.5 million in the second quarter rose from $745.8 million in the April-to-June quarter of 2018. Total production cost rose to $112.4 million from $90.2 million in the year-ago quarter. Exploration costs in the quarter were $3.1 million compared with $0.3 million in the year-ago period.
Production expense per barrel of oil equivalent in second-quarter 2019 was $3.74, higher than the year-ago figure of $3.49.
Increasing Value for Investors
The company authorized a share buyback program valued at $1 billion, effective second-quarter 2019. Till Aug 2, the company bought back 2.4 million shares valued at $92 million. The share repurchase program is expected to run through 2020.
Capital Expenditure
In second-quarter 2019, total capital expenditure (excluding acquisitions) was around $688.8 million, of which nearly 83% was used in exploration and development drilling.
Balance Sheet
As of Jun 30, 2019, the company had total cash and cash equivalents of $206.5 million, as well as debt of $5,767.3 million (excluding current maturities), with a debt-to-capitalization ratio of 45.8%.
Guidance
Continental's 2019 capital spending is expected to be $2.6 billion. For 2019, production of oil is expected in the range of 195,000-200,000 barrels per day, while that of natural gas is projected in the band of 820,000-840,000 thousand cubic feet per day. The company expects production expense for 2019 in the range of $3.50-$4.00 per BOE.
Continental plans to release seven rigs in the South region by the end of this year, owing to efficiency gains in Springer & Woodford.
Zacks Rank and Stocks to Consider
Currently, Continental has a Zacks Rank #3 (Hold). Some better-ranked stocks in the energy sector are given below:
Transportadora de Gas del Sur S.A. TGS is a midstream energy firm. In the trailing four quarters, the company delivered average positive earnings surprise of 114%. The company has a Zacks Rank #1 (Strong Buy). You can see the complete list of today's Zacks #1 Rank stocks here.
Halcón Resources Corporation HKRS is an upstream energy company. Its top line in 2019 is expected to improve nearly 31% from a year ago. The company has a Zacks Rank #1.
MPLX LP MPLX provides midstream infrastructures to upstream companies. Its bottom line in 2019 is expected to improve 23.6% from a year ago. The company has a Zacks Rank #2 (Buy).
Biggest Tech Breakthrough in a Generation
Be among the early investors in the new type of device that experts say could impact society as much as the discovery of electricity. Current technology will soon be outdated and replaced by these new devices. In the process, it's expected to create 22 million jobs and generate $12.3 trillion in activity.
A select few stocks could skyrocket the most as rollout accelerates for this new tech. Early investors could see gains similar to buying Microsoft in the 1990s. Zacks' just-released special report reveals 7 stocks to watch. The report is only available for a limited time.
See 7 breakthrough stocks now>>
Want the latest recommendations from Zacks Investment Research? Today, you can download 7 Best Stocks for the Next 30 Days.
Click to get this free report
MPLX LP (MPLX): Free Stock Analysis Report
Transportadora De Gas Sa Ord B (TGS): Free Stock Analysis Report
Continental Resources, Inc. (CLR): Free Stock Analysis Report
Halcon Resources Corporation (HKRS): Free Stock Analysis Report
To read this article on Zacks.com click here.
Zacks Investment Research