Harmonic Boosts Network Expansion With CableOS Reef Solution
To address the burgeoning demands of high network capacity requirements, Harmonic Inc. HLIT recently introduced an advanced version of virtualized cable access network solution — CableOS Reef. Markedly, the CableOS Reef is an integral component of Harmonic's diversified portfolio of broadband access network solutions. The latest launch by the San Jose, CA-based technology vendor is a significant move, especially at a time when cable operators are struggling to address an upsurge in network capacity expansion.

Interestingly, the innovative CableOS Reef platform has been termed as a dense Remote PHY Shelf (RPS) product that connects services such as video, IP-based data and out-of-band signals into a centralized indoor platform. Apart from providing indoor network services, it also leverages Harmonic's outdoor network that streamlines day-to-day operations, reduces capital expenditure and enables cable operators to push the fiber networks beyond the traditional infrastructure. Backed by CableOS Solution, the avant-garde platform capitalizes on a smarter broadband solution with the best-in-class capabilities of fully virtualized networks, accelerated time-to-market and turnkey deployment services coupled with CableOS Central Intelligence software.

Recognized as an industry leader in distributed access architectures and Remote PHY, Harmonic's user-centric technologies enable data-driven productivity and accelerate node segmentation demands by providing unmatched quality of experience for its subscribers. Markedly, the CableOS Remote PHY Shelf is a next-gen solution that reduces power consumption and has a modular design that adds network capacity without incurring extra costs pertaining to plant size expansion and labor. This one-of-a-kind rack-based product requires minimal hardware investment and delivers best-in-class service quality with greater scalability and flexibility. Primarily, devices such as Ripple node, Wave shelf and Reef Shelf are part of Remote PHY portfolio.

Apart from offering cable broadband upgrades, Harmonic also specializes in delivering high video quality for subscribers of its over-the-top multiscreen services with the help of its EyeQ solution. Harmonic, which competes in the cable access market with companies like CommScope Holding Company, Inc. COMM, Casa Systems, Inc. CASA and Cisco Systems, Inc. CSCO, delivered impressive first-quarter 2020 results. During the quarter, the company deployed 27 commercial CableOS solutions, up 17% sequentially. As cable operators alter their operational priorities amid COVID-19 pandemic, it is worth mentioning that Harmonic managed to add nine new customers for its software-as-a-service streaming offering, including few Tier 1 players. These endeavors are likely to improve the company's position within the marketplace and boost revenues in the near future as well.

Harmonic currently carries a Zacks Rank #4 (Sell). It has a long-term earnings growth expectation of 15%. The stock has lost 6.1% compared with 19.5% decline of the industry in the past year. You can see the complete list of today's Zacks #1 (Strong Buy) Rank stocks here.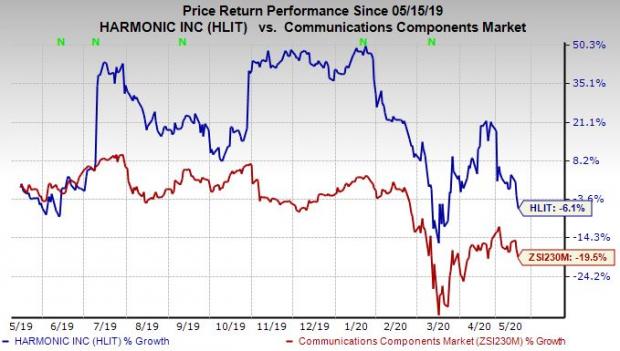 Zacks' Single Best Pick to Double

From thousands of stocks, 5 Zacks experts each picked their favorite to gain +100% or more in months to come. From those 5, Zacks Director of Research, Sheraz Mian hand-picks one to have the most explosive upside of all.

This young company's gigantic growth was hidden by low-volume trading, then cut short by the coronavirus. But its digital products stand out in a region where the internet economy has tripled since 2015 and looks to triple again by 2025.

Its stock price is already starting to resume its upward arc. The sky's the limit! And the earlier you get in, the greater your potential gain.

Click Here, See It Free >>
Want the latest recommendations from Zacks Investment Research? Today, you can download 7 Best Stocks for the Next 30 Days.
Click to get this free report
Cisco Systems Inc (CSCO): Free Stock Analysis Report
Harmonic Inc (HLIT): Free Stock Analysis Report
CommScope Holding Company Inc (COMM): Free Stock Analysis Report
Casa Systems Inc (CASA): Free Stock Analysis Report
To read this article on Zacks.com click here.
Zacks Investment Research