Buy Nike Stock Near Highs and Hold It for Long-Term Growth?
Nike NKE is one of the first of a few big names set to report what we at Zacks consider to be part of the larger third quarter earnings season, with such results already out from FedEx FDX, Adobe ADBE, and a few others. So, let's see if investors should consider buying the sportswear giant, with its Q1 fiscal 2021 financial results due out on Tuesday, September 22.
The Fast Pitch…
Long before the coronavirus was even a minor concern, Nike was benefiting from its transition to a higher-margin direct-to-consumer model. Last year, Nike executives projected that the firm's digital unit will account for up 30% of Nike's total business by 2023, compared to roughly 15% at the time.
Nike's digital and DTC drive came as it watched malls and department stores fade in the Amazon AMZN age, and newcomers like Lululemon LULU become rivals via a mostly DTC model, driven by digital marketing and stand-alone brick-and-mortar shops.
The sportswear giant has rolled out multiple apps in recent years and expanded its social media reach, as people shop directly on Instagram FB and elsewhere. Nike has also digitalized its supply chain to increase efficiency.
On top of that, it has continued to invest and modernize its own stores in high-value cities of cultural influence. Nike has also maintained strategic relationships with the likes of Foot Locker FL and the key players within the booming online sneaker market.
Despite the success of Lululemon and the resurgence of Adidas ADDYY in North America, Nike remains a titan of global and regional sports. More importantly, it has expanded its influence over culture and fashion, as its sneakers are more sought after than ever and streetwear hits the runways.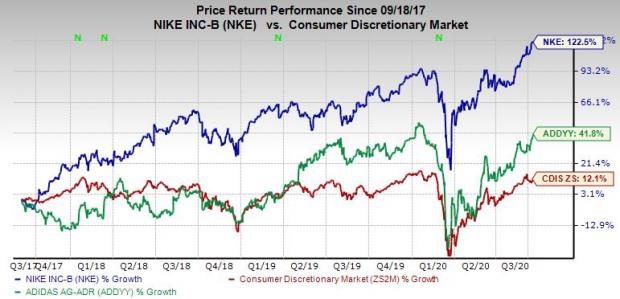 Other Fundamentals
Nike remains one of the world's most valuable brands, alongside Coca-Cola KO, McDonald's MCD, Disney DIS, Apple AAPL, and others. This fact is hardly insignificant, since the top of the list is full of blue chip stocks that help drive the market.
NKE shares have outpaced the S&P 500 and its industry in 2020, and its pandemic performance is even stronger, up 90% off the market's lows to easily top rival Adidas and the S&P 500.
Investors should also note that the stock didn't get dragged down with the big tech names recently and it closed regular trading Wednesday right near its new highs at around $119 per share.
Nike's recent run is part of a longer climb, as the nearby chart highlights. NKE does continue to trade at a premium compared to its industry, peer group, and Adidas, as it has for years.
Meanwhile, its 0.85% dividend yield tops the 10-year U.S. Treasury. On top of that, 18 of the 26 brokerage recommendations Zacks has for Nike come in at a "Strong Buy," with three more at a "Buy."
Outlook
Wall Street didn't care that Nike's Q4 FY20 revenue fell 38% during the three-month period ended on May 31 because its stores were forced to close. Instead, it loved the fact that the sportswear retailer's digital sales jumped 75%. With this in mind, Zacks estimates call its Q1 FY21 revenue to slip 14%, with its adjusted earnings projected to fall 50% to $0.43 a share.
Peeking further ahead, its adjusted full-year FY21 EPS figure is projected to jump 45% on 6% stronger revenue, which signals that NKE is prepared to grow in the second part of its current fiscal year. And its FY22 earnings are expected to come in another 41% higher on nearly 13% better sales.
Bottom Line
Nike is a Zacks Rank #3 (Hold) at the moment that has seen some positive earnings revisions recently. This means that at least one analyst is far higher on Nike's bottom-line outlook heading into its upcoming release.
Overall, Nike appears worth considering as a longer-term buy for its ability to remain on the cutting edge of its industry, pay a dividend, and much more. Its near-term outlook is, of course, less certain given its massive run, but Wall Street is always forward-looking and NKE's return to growth hasn't even started.
More Stock News: This Is Bigger than the iPhone!

It could become the mother of all technological revolutions. Apple sold a mere 1 billion iPhones in 10 years but a new breakthrough is expected to generate more than 27 billion devices in just 3 years, creating a $1.7 trillion market.

Zacks has just released a Special Report that spotlights this fast-emerging phenomenon and 6 tickers for taking advantage of it. If you don't buy now, you may kick yourself in 2021.

Click here for the 6 trades >>
Want the latest recommendations from Zacks Investment Research? Today, you can download 7 Best Stocks for the Next 30 Days.
Click to get this free report
NIKE, Inc. (NKE): Free Stock Analysis Report
Amazon.com, Inc. (AMZN): Free Stock Analysis Report
Apple Inc. (AAPL): Free Stock Analysis Report
McDonalds Corporation (MCD): Free Stock Analysis Report
The Walt Disney Company (DIS): Free Stock Analysis Report
Adobe Systems Incorporated (ADBE): Free Stock Analysis Report
Foot Locker, Inc. (FL): Free Stock Analysis Report
FedEx Corporation (FDX): Free Stock Analysis Report
lululemon athletica inc. (LULU): Free Stock Analysis Report
CocaCola Company The (KO): Free Stock Analysis Report
Adidas AG (ADDYY): Free Stock Analysis Report
Facebook, Inc. (FB): Free Stock Analysis Report
To read this article on Zacks.com click here.
Zacks Investment Research