End-Market Prospects to Aid Quanta Amid Stiff Competition
Quanta Services Inc. PWR is poised to benefit from strong base business activity and robust end-market prospects of both the segments, namely Electric Power and Pipeline and Industrial Infrastructure.

Meanwhile, the company's shares took a battering following a global sell-off in stocks amid rising fears of global slowdown due to the rapid spread of coronavirus. Nonetheless, shares of Quanta Services have outperformed its industry in a year's time.

However, absence of large pipeline projects, regulatory challenges and risks like project delays, stiff competition, and oil & gas volatility remain concerns for Quanta Services — which shares space with Jacobs Engineering Group Inc. J, KBR, Inc. KBR and Fluor Corporation FLR in the same industry.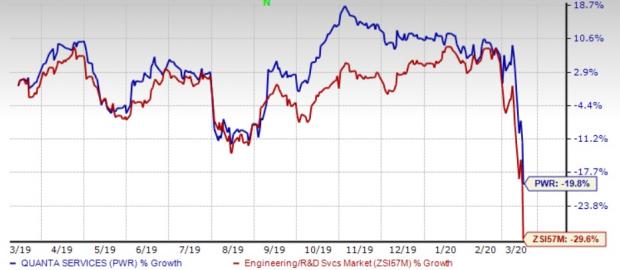 Let's delve into the factors that substantiate its Zacks Rank #3 (Hold). You can see the complete list of today's Zacks #1 Rank (Strong Buy) stocks here.

Key Growth Factors

Promising Performance & Robust Growth Strategy: Quanta Services has been delivering robust performance over the last few quarters. Notably, the company's earnings grew 18.5% year over year in 2019, backed by strong segmental performance. The year 2019 marked the fourth consecutive year of growth with record revenues, operating income, adjusted EBITDA and earnings per share. The company's revenues have been witnessing a double-digit CAGR over the last four years. Quanta Services believes that the delivery of energized services differentiates it from its competitors and helps win new businesses. Currently, the company is pursuing a three-pronged growth strategy focusing on timely delivery of projects to exceed customer expectation, leverage on core business to expand in complementary adjacent service lines and continue exploring new service lines.

Robust Backlog Position: The company ended 2019 with a record total backlog that exceeded $15 billion for the first time in its history and 12-month backlog $7.95 billion. This compares favorably with $12.34 billion of total backlog and $6.98 billion of 12-month backlog at 2018-end. This demonstrates the strength of its core operations. Going forward, it expects base business activity to remain robust, which currently accounts for approximately 90% of revenues. Quanta Services' optimism stems from healthy backlog levels, which are expected to grow further. Quanta Services remains confident about end-market prospects of both its segments, namely Electric Power and Pipeline and Industrial Infrastructure Services.

Solid Prospects for Electric Power Operations: The company continues to properly execute Electric Power operations from a top-line perspective. Segment revenues, with revenues from base business activities including communications operations, grew 20% from the 2018 level. Increase in California fire hardening activities, which more than offset almost $400 million of reduced revenues from larger projects, led to the upside. Solid performance in 2019 was also backed by base business activities, courtesy of robust spending by electric utilities on grid modernization and infrastructure hardening, particularly in the western United States, as well as by gas utilities on distribution system modernization and safety programs. It is important to note that approximately 65% of Quanta's revenues is directly tied to regulated electric and gas utility customers, which are core to its business.

As of Dec 31, 2019, the segment's 12-month backlog was $5.36 billion and total backlog was $9.82 billion, up 17.4% and 14.9% year over year, respectively. Prospects of the Electric Power segment remain robust, given customers' investment in grid modernization programs to accommodate a changing fuel generation mix toward natural gas and renewables, intended to address the aging infrastructure, strengthen systems for resiliency against extreme weather conditions, and support long-term economic growth.

Key Impediments

Volatility in Pipeline and Industrial operations, and consumer spending have been affecting the company's projects, as well as orders. The segment's 2019 revenues were somewhat offset by a decline in revenues from larger pipeline projects. Also, in 2019, its Electric Power Infrastructure Services operating margin declined 150 bps due to the absence of large projects compared with 2018.

The company operates in a highly competitive industry, which has numerous small owner-operated private companies, a few public companies and several large regional companies. Low barriers-to-entry in the industry, adequate financial resources and access to technical expertise may further intensify competition.

Zacks Top 10 Stocks for 2020

In addition to the stocks discussed above, would you like to know about our 10 finest buy-and-hold tickers for the entirety of 2020?

Last year's 2019 Zacks Top 10 Stocks portfolio returned gains as high as +102.7%. Now a brand-new portfolio has been handpicked from over 4,000 companies covered by the Zacks Rank. Don't miss your chance to get in on these long-term buys.

Access Zacks Top 10 Stocks for 2020 today >>
Want the latest recommendations from Zacks Investment Research? Today, you can download 7 Best Stocks for the Next 30 Days.
Click to get this free report
Quanta Services, Inc. (PWR): Free Stock Analysis Report
KBR, Inc. (KBR): Free Stock Analysis Report
Fluor Corporation (FLR): Free Stock Analysis Report
Jacobs Engineering Group Inc. (J): Free Stock Analysis Report
To read this article on Zacks.com click here.
Zacks Investment Research