Emergent (EBS) Bayview Unit Operation on Hold for FDA Probe
Emergent BioSolutions Inc. EBS announced that it has agreed to pause manufacturing at its Baltimore Bayview facility at the request of the FDA. Millions of doses of Johnson & Johnson's JNJ COVID-19 vaccine were ruined at this facility last month. The regulatory authority had initiated inspection of the facility on Apr 12 to investigate the error that led to faulty doses of J&J's vaccine and requested the company to halt manufacturing operations on Apr 16.
Emergent BioSolutions is one of the leading contract manufacturers based in the United States that provides its services to several large and small pharma companies. The company has also signed agreements to manufacture COVID-19 vaccines with multiple companies. However, the FDA inspection and halting of manufacturing operations of one of its facility has spooked investors about the company's path ahead. Any negative statement from the FDA may lead to cancellation of existing contracts and loss of potential contracts in the future. The Baltimore Bayview facility has been looking after production of J&J's COVID-19 vaccine. Any setback to the facility may cause it to lose contracts from this pharma giant for its vaccine, which will hit Emergent BioSolutions' revenues in 2021 significantly.
Shares of Emergent BioSolutions fell 12.6% on Apr 19 after the company announced the news in a SEC filing. In fact, the company's shares have declined 24.3% compared with the industry's decrease of 2.6%.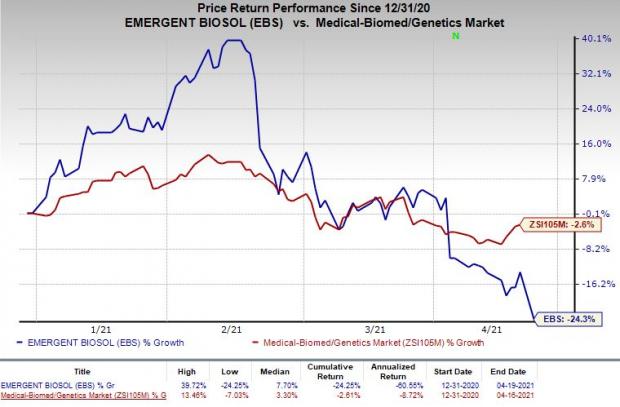 Earlier this month, U.S. health officials put J&J in charge of the of Bayview facility after a batch of drug substance for its COVID-19 vaccine from this facility failed to meet quality standards. Reportedly, workers at Emergent BioSolutions' Bayview facility had mixed up vaccine ingredients of J&J's and AstraZeneca's vaccines. Following the event, the facility also stopped manufacturing of AstraZeneca's vaccine.
Please note that J&J's vaccine was authorized in February by the FDA. However, its administration was paused earlier this month following ultra-rare cases of blood clots. The halting of operations at Emergent BioSolutions' Bayview facility is the second setback for J&J in a month related to its COVID-19 vaccine.
Moreover, J&J has delayed the launch of its vaccine Europe following the pause in the United States. Meanwhile, these setbacks are likely to help its competitors in the COVID-19 vaccine space — Moderna MRNA and Pfizer PFE — gain more orders for their vaccines. Earlier this week, Pfizer signed a supply agreement with Europe for additional 100 million doses of its vaccine. A longer pause for J&J's vaccine may hit the company's income from COVID-19 vaccine.
Emergent Biosolutions Inc. Price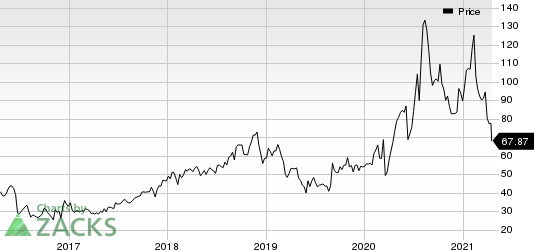 Emergent Biosolutions Inc. price | Emergent Biosolutions Inc. Quote
Zacks Rank
Emergent BioSolutions currently carries a Zacks Rank #3 (Hold). You can see the complete list of today's Zacks #1 Rank (Strong Buy) stocks here.
+1,500% Growth: One of 2021's Most Exciting Investment Opportunities
In addition to the stocks you read about above, would you like to see Zacks' top picks to capitalize on the Internet of Things (IoT)? It is one of the fastest-growing technologies in history, with an estimated 77 billion devices to be connected by 2025. That works out to 127 new devices per second.
Zacks has released a special report to help you capitalize on the Internet of Things's exponential growth. It reveals 4 under-the-radar stocks that could be some of the most profitable holdings in your portfolio in 2021 and beyond.
Click here to download this report FREE >>
Want the latest recommendations from Zacks Investment Research? Today, you can download 7 Best Stocks for the Next 30 Days.
Click to get this free report
Johnson & Johnson (JNJ): Free Stock Analysis Report
Pfizer Inc. (PFE): Free Stock Analysis Report
Moderna, Inc. (MRNA): Free Stock Analysis Report
Emergent Biosolutions Inc. (EBS): Free Stock Analysis Report
To read this article on Zacks.com click here.
Zacks Investment Research