3 Reasons to Retain Ecolab (ECL) Stock in Your Portfolio
Ecolab Inc. ECL is well poised for growth in the coming quarters, backed by its solid product portfolio. A robust second-quarter 2022 performance, along with its strong business, is expected to contribute further. Stiff competition and data security threats persist.
Over the past year, this Zacks Rank #3 (Hold) stock has lost 22.8% compared with 16.4% fall of the industry and 6.9% decline of the S&P 500 composite.
The renowned water, hygiene and infection prevention solutions and services provider has a market capitalization of $48.77 billion. It projects 12.7% growth for the next five years and expects to maintain its strong performance. Ecolab's earnings surpassed the Zacks Consensus Estimate in three of the trailing four quarters and matched the same in the other, the average earnings surprise being 2.4%.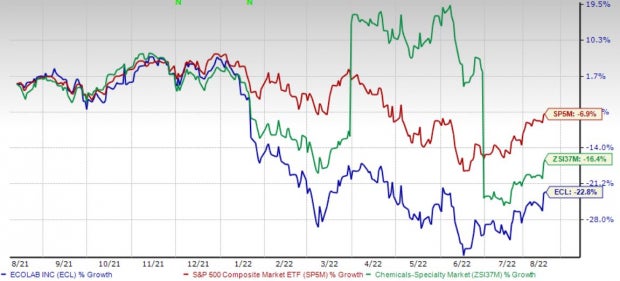 Image Source: Zacks Investment Research
Let's delve deeper.
Product Portfolio Solid: We are upbeat about Ecolab's solid product portfolio, which has enabled it to fortify its foothold in a niche space globally. Ecolab delivers comprehensive solutions, data-driven insights and personalized service to advance food safety and maintain clean and safe environments. It also provides products and services that optimize water and energy use, and improve operational efficiencies and sustainability for customers in the food, healthcare, hospitality and industrial markets in more than 170 countries around the world.

Strong Business: Ecolab's consistent delivery of considerable earnings growth despite the current challenging business environment continues to impress. Ecolab witnessed a strong second-quarter 2022, driven by accelerating total pricing and good volume leverage. The second-quarter top line was driven by 9% total pricing, which nearly doubled from first-quarter levels, and good organic volume growth, led by robust performances by Ecolab's Institutional & Specialty segment. New business wins also significantly contributed to the overall quarterly revenues.
Strong Q2 Results: Ecolab's solid second-quarter results buoy our optimism. The company registered robust year-over-year uptick in its top line, along with solid performances across all of its segments. Strong volume and pricing momentum were also seen. Ecolab's new business wins and innovation pipelines are well-positioned to drive growth and global leadership. The company's digital capabilities are also continuing to broaden, develop and add competitive advantages.
Downsides
Stiff Competition: Ecolab operates in highly competitive markets with numerous global, national, regional and local players. The company's ability to compete depends partly on providing high-quality and high-value-added products, technology and service. However, there can be no assurance that the company will be able to accomplish its technology development goals or that technological developments by its competitors will not place any of its products, technologies or services at a competitive disadvantage in the future.
Data Security Threat: Ecolab relies to a large extent upon information technology systems and infrastructure to operate its business. The size and complexity of the company's information technology systems make them potentially vulnerable to failure, malicious intrusion and random attacks. Acquisitions have resulted in further de-centralization of systems and additional complexity in Ecolab's systems infrastructure.
Estimate Trend
Ecolab is witnessing a negative estimate revision trend for 2022. In the past 90 days, the Zacks Consensus Estimate for its earnings has moved 7.9% south to $4.78.
The Zacks Consensus Estimate for the company's third-quarter 2022 revenues is pegged at $3.69 billion, suggesting an 11% improvement from the year-ago quarter's reported number.
Key Picks
Some better-ranked stocks in the broader medical space are AMN Healthcare Services, Inc. AMN, Patterson Companies, Inc. PDCO and McKesson Corporation MCK.
AMN Healthcare, flaunting a Zacks Rank #1 (Strong Buy) at present, has an estimated long-term growth rate of 3.2%. AMN's earnings surpassed the Zacks Consensus Estimate in all the trailing four quarters, the average beat being 15.7%.
You can see the complete list of today's Zacks #1 Rank stocks here.
AMN Healthcare has gained 7.3% against the industry's 28.9% fall in the past year.
Patterson Companies, carrying a Zacks Rank #2 (Buy) at present, has an estimated long-term growth rate of 9.6%. PDCO's earnings surpassed estimates in all the trailing four quarters, the average beat being 16.5%.
Patterson Companies has gained 3.6% against the industry's 6.3% fall over the past year.
McKesson, carrying a Zacks Rank #2 at present, has an estimated long-term growth rate of 9.9%. MCK's earnings surpassed estimates in three of the trailing four quarters and missed the same in one, the average beat being 13%.
McKesson has gained 80.8% against the industry's 6.3% fall over the past year.
Zacks Names "Single Best Pick to Double"
From thousands of stocks, 5 Zacks experts each have chosen their favorite to skyrocket +100% or more in months to come. From those 5, Director of Research Sheraz Mian hand-picks one to have the most explosive upside of all.
It's a little-known chemical company that's up 65% over last year, yet still dirt cheap. With unrelenting demand, soaring 2022 earnings estimates, and $1.5 billion for repurchasing shares, retail investors could jump in at any time.
This company could rival or surpass other recent Zacks' Stocks Set to Double like Boston Beer Company which shot up +143.0% in little more than 9 months and NVIDIA which boomed +175.9% in one year.
Free: See Our Top Stock and 4 Runners Up >>
Want the latest recommendations from Zacks Investment Research? Today, you can download 7 Best Stocks for the Next 30 Days.
Click to get this free report
Ecolab Inc. (ECL): Free Stock Analysis Report
McKesson Corporation (MCK): Free Stock Analysis Report
Patterson Companies, Inc. (PDCO): Free Stock Analysis Report
AMN Healthcare Services Inc (AMN): Free Stock Analysis Report
To read this article on Zacks.com click here.
Zacks Investment Research