Here's Why Square (SQ) Stock Looks Like a Buy Right Now
Shares of Square SQ rest roughly 35% below their 52-week high at the moment, despite a 30% post-Christmas surge. Clearly, the fintech company's recent climb comes as part of the larger market comeback that has seen the likes of Amazon AMZN, Facebook FB, and Google GOOGL all bounce back. But Square's fundamentals remain impressive amid a growing financial tech market.
Overview
Square has come a long way since Twitter's TWTR Jack Dorsey founded the firm in 2009 to help micro-businesses and entrepreneurs process credit card payments from their mobile devices. Square realized that smartphones and mobile devices would soon become nearly ubiquitous. At the same time, the company understood that the economy was headed in a more cashless direction.
Today, Square, which primarily sells point-of-sale products and software to small and medium-sized businesses, offers services that help sellers create websites and manage everything from inventory to employees. The fintech firm's Square Capital leg also provides business financing options and loans of up $100,000.
Meanwhile, Square's Cash App stands out among competitors like PayPal PYPL and JP Morgan Chase JPM in the quickly expanding and millennial driven peer-to-peer payment industry. The app primarily allows users to send and receive money from family and friends. But Square also allows users to open Visa V debit cards connected only to their Cash App balance and buy and sell bitcoin.
Going forward, Square must figure out how to better monetize the Cash App. But in the meantime, its new all-in-one payment processor, Square Terminal, should help the firm expand its customer base. Plus, SQ recently improved its Square Reader SDK (software development kit) to allow customers to utilize Square's back-end ecosystem with their own personalized platform. Going forward, this should help the company attract larger clients and become more user-friendly for companies in the health care and transportation industries, where Square doesn't currently have industry-specific POS offerings.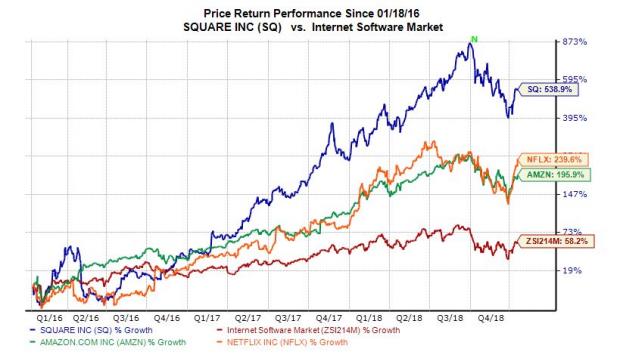 Outlook
Moving on, investors will see that SQ has crushed its industry over the last three years as well as Amazon and Netflix NFLX. Yet, as we mentioned at the top, Square stock currently sits at $66 a share, which marks a 35% downturn from its 52-week high of $101.15. This alone could set up a solid buying opportunity for those high on SQ stock, especially considering its growth prospects.
Looking ahead, Square's Q4 revenues are projected to soar roughly 48% to reach $909.18 million, based on our current Zacks Consensus Estimate—Square's Q3 revenues jumped 51%. Meanwhile, the firm's fiscal year revenues are projected to climb roughly 48% from $2.21 billion in 2017 to hit $3.26 billion in 2018. Peeking ahead to fiscal 2019, Square's revenues are expected to surge over 34% above our 2018 estimate to touch $4.39 billion.
On top of Square's massive revenue growth projections, its adjusted quarterly earnings are expected to soar 62.5% to reach $0.13 per share. Better still, SQ's full-year EPS figure is projected to skyrocket 70.4% to reach $0.46. And this bottom-line growth is expected to continue next year, with the company's fiscal 2019 earnings projected to surge 52% higher than our current year projection.

Bottom Line
Square has already proven that it has been able to attract and meet the needs of larger clients. In fact, a majority of Square's gross payment volume in Q3 came from merchants who do more than $125,000 a year in GPV. These "larger sellers" accounted for 52% of Square's total GPV, up from 47% in the year-ago period. Sellers with annualized GPV of $500,000 or more made up 24% of SQ's payment volume in the third quarter, up from 20% in the year-ago period and 16% in Q3 2016.
Overall, the firm's GPV jumped 29% to touch $22.5 billion in Q3, while its subscription and services-based revenues skyrocketed 155% to hit $166 million, driven by Instant Deposit, its new Cash Card, Caviar food delivery, and Square Capital.
Square is currently a Zacks Rank #2 (Buy) based, in large part, on its positive earnings estimate revision activity. The company also sports an "A" grade for Growth in our Style Scores system and let's not forget that SQ's current price looks relatively attractive.
At the end of the day, investors should understand that Square plans to become a well-diversified financial services firm that has the ability to quickly adapt to the needs and changing habits of the 21st-century business and consumer. And we know that traditional banking giants have raced to jump into the fintech industry as the world moves further away from cash.
More Stock News: This Is Bigger than the iPhone!

It could become the mother of all technological revolutions. Apple sold a mere 1 billion iPhones in 10 years but a new breakthrough is expected to generate more than 27 billion devices in just 3 years, creating a $1.7 trillion market.

Zacks has just released a Special Report that spotlights this fast-emerging phenomenon and 6 tickers for taking advantage of it. If you don't buy now, you may kick yourself in 2020.

Click here for the 6 trades >>
Want the latest recommendations from Zacks Investment Research? Today, you can download 7 Best Stocks for the Next 30 Days.
Click to get this free report
To read this article on Zacks.com click here.
Zacks Investment Research