Here's Why You Should Hold On to Cboe Global (CBOE) Stock
Cboe Global Markets, Inc. CBOE is poised for long-term growth on the back of diversified product portfolio, expansion moves and expense synergies. The company has an impressive Growth Score of A. This style score analyzes the growth prospects of a company. Its long-term earnings growth is pegged at 11.4%, higher than the industry average of 9%.

Cboe Global's return on equity was 17.7% in 2018, higher than the industry average of 11.3%. Return on equity is a profitability measure that identifies the company's efficiency in utilizing its shareholders' funds.

The company has a solid earnings surprise history, beating estimates in each of the last four quarters with the average being 7.41%.

Cboe Global Markets enjoys solid revenue growth driven by increasing transaction fees.

The company has been making strategic acquisitions to gain competitive edge by diversifying as well as adding capabilities to its portfolio. The company is on track to achieve run rate expense synergy target of $85 million in 2020 from its acquisition of Bats.

Cboe Global Markets enjoys strong liquidity that not only mitigates balance sheet risks but also paves the way for accelerated capital deployment.

Cboe Global has been engaging in enhancing its shareholders' value. The company has more than doubled its dividend payout in the last seven years with the current yield being 1.3%. It also engages in regular buybacks. These make the stock an attractive pick for yield- seeking investors.

However, the company recently posted weak first-quarter volumes due to weak performance across business lines — Options, Futures, U.S. Equities and European Equities. ADV of 7.3 million contracts dropped 22.9%. Concurrently, the company guided first-quarter average revenue per contract (RPC). It expects total RPC for Options to be 1-2% lower than 24.5 cents reported for the two-month period ending Feb 28, 2019. While RPC for index options is estimated to be 0.5-1% lower than 73.9 cents, the same for multiply-listed options is projected to be 4-5% lower than 7.3 cents. The company predicts RPC for Futures to be $1.745.

First-quarter estimates for earnings moved down 3% in the last seven days. The Zacks Consensus Estimate is pegged at 99 cents, indicating 28.3% year-over-year decline.

Nonetheless, given its strong market position, global reach and strength in its proprietary products, primarily SPX options, VIX options and VIX futures, the Zacks Rank #3 (Hold) is well poised for growth.

Shares of Cboe Global have lost 1.7% year to date compared with the industry's decrease of 2%.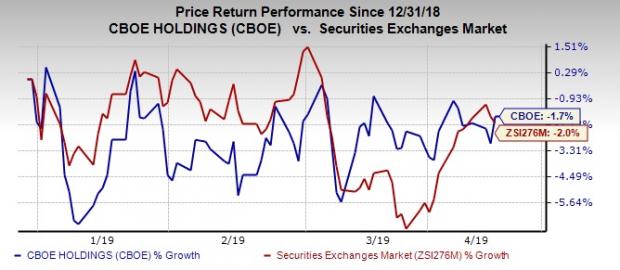 Stocks to Consider

Some better-ranked stocks from the finance sector are Arch Capital Group Ltd. ACGL, Berkshire Hathaway Inc. BRK.B and Reinsurance Group of America, Incorporated RGA.

Each of the stocks carries a Zacks Rank #2 (Buy). You can see https://www.zacks.com/stocks/buy-list/?ADID=zp_1link&ICI... _1link">the complete list of today's Zacks #1 Rank (Strong Buy) stocks here.

Arch Capital provides property, casualty and mortgage insurance and reinsurance products worldwide. The company delivered positive surprise in all the last four reported quarters, with the average being 14.72%.

Berkshire Hathaway provides property and casualty insurance and reinsurance plus life, accident and health reinsurance besides operating railroad systems in North America. The company came up with positive surprise in three of the preceding four reported quarters, the average beat being 4.31%.

Reinsurance Group of America engages in reinsurance business. The company posted 2.06% positive surprise in the last reported quarter.

Breakout Biotech Stocks with Triple-Digit Profit Potential

The biotech sector is projected to surge beyond $775 billion by 2024 as scientists develop treatments for thousands of diseases. They're also finding ways to edit the human genome to literally erase our vulnerability to these diseases.

Zacks has just released Century of Biology: 7 Biotech Stocks to Buy Right Now to help investors profit from 7 stocks poised for outperformance. Our recent biotech recommendations have produced gains of +98%, +119% and +164% in as little as 1 month. The stocks in this report could perform even better.
See these 7 breakthrough stocks now>>
Want the latest recommendations from Zacks Investment Research? Today, you can download 7 Best Stocks for the Next 30 Days.
Click to get this free report
Reinsurance Group of America, Incorporated (RGA): Free Stock Analysis Report
Berkshire Hathaway Inc. (BRK.B): Free Stock Analysis Report
Arch Capital Group Ltd. (ACGL): Free Stock Analysis Report
Cboe Global Markets, Inc. (CBOE): Free Stock Analysis Report
To read this article on Zacks.com click here.
Zacks Investment Research