Why is Antero Midstream (AM) Down 3% Since Q1 Earnings?
Since the first-quarter results were released on Apr 29, Antero Midstream Corporation AM has seen a 3% decline in share price. Despite a solid earnings show, the stock lost ground due to the recent sale of 28 million combined shares by company executives for a total of $115 million.
Strong Earnings Picture
Antero Midstream reported first-quarter 2020 adjusted earnings per share of 23 cents, up 21% from 19 cents in the year-ago quarter. Moreover, the figure beat the Zacks Consensus Estimate of 20 cents. The strong earnings can be attributed to growth in gathering, compression and fresh water delivery volumes.
However, quarterly revenues of $244 million missed the Zacks Consensus Estimate of $249 million and declined from $266 million reported in a year-ago quarter.
Antero Midstream Corporation Price, Consensus and EPS Surprise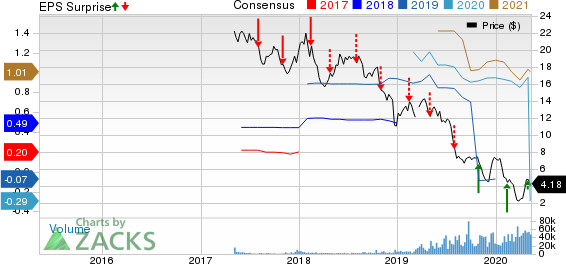 Antero Midstream Corporation price-consensus-eps-surprise-chart | Antero Midstream Corporation Quote
Operational Performance
During first-quarter 2020, average daily compression volumes were recorded at 2,516 million cubic feet (MMcf/D), up 12% from the year-ago level of 2,255 MMcf/D. On a per-Mcf basis, compression fee was 20 cents, up 5% from prior-year quarter's 19 cents.
In the quarter, high pressure gathering volumes totaled 2,697 MMcf/D, up from the year-ago quarter's 2,498 MMcf/D. On a per-Mcf basis, average gathering high pressure fee was 20 cents, in line with the prior-year level.
Low pressure gathering volumes averaged 2,717 MMcf/D, up from the first-quarter 2019 figure of 2,562 MMcf. On a per-Mcf basis, average gathering low pressure fee was 33 cents, in line with the prior-year level.
Fresh water delivery volumes came in at 183 MBbls/D, up from the prior-year level of 153 MBbls/D. On a per-barrel basis, average fresh water distribution fee was $3.96 per barrel in the first quarter, improving from the prior-year level of $3.89.
Operating Expenses
Total operating expenses in the quarter were recorded at $762.9 million.
Balance Sheet
As of Mar 31, Antero Midstream had no cash and cash equivalents. As of the same date, the company had $3,103.8 million of long-term debt and a long-term debt-to-capitalization ratio of 0.55.
DCF
Adjusted distributable cash flow was $164 million, with coverage of 1.1x.
Guidance
The company is planning to invest capital in the range of $215 million to $240 million in 2020. This shows a drop from the initial projection of $300 million to $325 million.
Alongside, the company raised its free cash flow guidance for 2020 by 9% to $420-$450 million from $375-$425 million.
Zacks Rank & Stocks to Consider
Antero Midstream currently carries a Zacks Rank #3 (Hold). Meanwhile, a few better-ranked stocks in the energy sector are Murphy USA Inc MUSA, Key Energy Services, Inc. KEGX and CNX Resources Corporation CNX. While Key Energy sports a Zacks Rank #1 (Strong Buy), Murphy USA and CNX Resources carry a Zacks Rank #2 (Buy). You can see the complete list of today's Zacks #1 Rank stocks here.
Murphy USA is likely to see earnings growth of 7% in the next five years.
Key Energy is likely to see bottom-line growth of 97.2% in 2020.
CNX Resources has witnessed upward estimate revisions for 2020 bottom line in the past 60 days.
More Stock News: This Is Bigger than the iPhone!
It could become the mother of all technological revolutions. Apple sold a mere 1 billion iPhones in 10 years but a new breakthrough is expected to generate more than 27 billion devices in just 3 years, creating a $1.7 trillion market.
Zacks has just released a Special Report that spotlights this fast-emerging phenomenon and 6 tickers for taking advantage of it. If you don't buy now, you may kick yourself in 2020.
Click here for the 6 trades >>
Want the latest recommendations from Zacks Investment Research? Today, you can download 7 Best Stocks for the Next 30 Days.
Click to get this free report
CNX Resources Corporation (CNX): Free Stock Analysis Report
Antero Midstream Corporation (AM): Free Stock Analysis Report
Murphy USA Inc (MUSA): Free Stock Analysis Report
Key Energy Services Inc (KEGX): Free Stock Analysis Report
To read this article on Zacks.com click here.
Zacks Investment Research