Here's Why Abercrombie (ANF) is a Lucrative Investment Pick Now
Abercrombie & Fitch Company ANF has been trending up the charts, given its investments in omni-channel capabilities as well as marketing, data and analytics, and prudent inventory management strategies. Moreover, the company has been benefiting from an increased focus on EMEA and APAC regions. Additionally, it is gaining from strong digital sales, backed by higher traffic. This along with store-optimization plans is likely to be an upside in the near term.

Gains from these factors were well-reflected in the company's strong fourth-quarter fiscal 2020 results, with top and bottom lines surpassing the Zacks Consensus Estimate. This marked the third straight quarter of earnings and sales beat.

Not to mention, the stock of this specialty retailer of premium, high-quality casual apparel has rallied 70.1% year to date compared with the industry's 20.2% growth. Moreover, the S&P 500 has grown 7.4%, while the Retail-Wholesale sector declined 2.7%.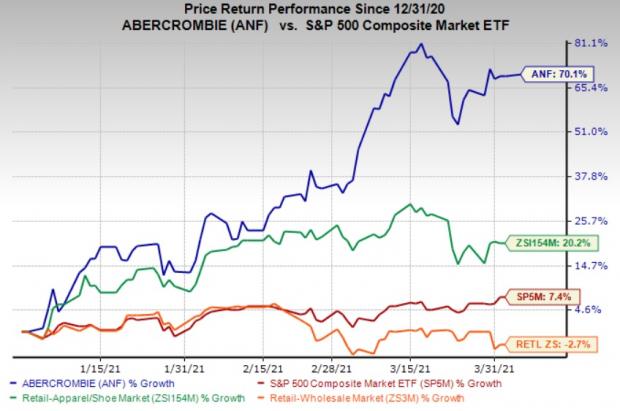 The Zacks Consensus Estimate for fiscal 2021 revenues presently stands at $3.48 billion, suggesting growth of 11.4% from the year-ago reported figure. The consensus estimate for fiscal 2021 earnings of $1.36 per share suggests a substantial increase from the year-ago quarter's loss of 73 cents. Moreover, the consensus estimate has moved up 17.2% in the past 30 days.

Moreover, the company's VGM Score of A and long-term earnings growth rate of 18% support the positive view for the Zacks Rank #1 (Strong Buy) stock.
What Else You Should Know?
Abercrombie is making significant progress in expanding digital and omni-channel capabilities to better engage with consumers. The company witnessed a strong online show amid the coronavirus pandemic, which continued in fourth-quarter fiscal 2020. Digital net sales advanced 34% year over year to $639 million. Markedly, digital sales reflected robust growth in every month of the quarter. Continued strength in traffic across the company's websites and apps has led to its highest-ever digital sales and gross margins in the past eight years.

Going ahead, the company remains encouraged with its strong online presence and expects to keep gaining from the platform. It plans to continue investing in bolstering omni-channel capabilities, including curbside and ship-from-store services. It is also striving to optimize capacity at its distribution centers to meet increased digital demand.

Furthermore, the company is working toward rationalizing its store base by reducing the dependence on underperforming tourist-driven locations. As part of its store-optimization plans, Abercrombie plans to reposition larger-format flagship locations to smaller omni-channel enabled stores. Progressing on these efforts, the company closed eight European flagship locations in fiscal 2020, bringing the total count of flagship stores to seven.

Additionally, 129 non-flagship stores were shut down in the aforementioned period. Stores in London, Paris, Munich and Dusseldorf have been shut down, while the ones in Brussels, Madrid and Fukuoka closed due to lease expiry in the fiscal fourth quarter. Eighth stores in Dublin remained closed due to the latest COVID-19 restrictions. Further, it opened 15 stores, revamped four and right-sized six. As of Jan 30, 2021, the company's total store base included 537 stores in the United States and 198 stores, internationally.

Going ahead, the company remains focused on closing more such stores, which do not meet its terms and conditions, especially after the disruptions caused by the coronavirus situation.

Additionally, we note that the company has been adjusting its store-reopening strategies from time to time so as to ensure compliance with the government regulatory measures as well as to ensure the safety of employees and customers. In the fiscal fourth quarter, the company had 88% of their global store base open. These stores operated with reduced working hours and limited capacity with approximately 75% productivity.

Abercrombie has also been on track with its cost-minimization measures. In fact, prudent expense-management strategies, including reduced in-store payroll and store-occupancy expenses, lower marketing costs, and COVID-related rent abatements aided the company's performance in the fourth quarter of fiscal 2020. This led to significant cost savings, which were later utilized to improve customers' shopping experiences. Management remains on track to control spending by undertaking measures like occupancy cost reduction through store closures and right-sizing.

Based on the aforementioned strategies and robust digital trends, we expect the company to retain the positive growth trend in the near future.
3 Other Retail Stocks to Watch
L Brands, Inc. LB has a long-term earnings growth rate of 13% and currently it sports a Zacks Rank #1. You can see the complete list of today's Zacks #1 Rank stocks here.

Boot Barn Holdings, Inc. BOOT, with a Zacks Rank #2 (Buy), has an expected long-term earnings growth rate of 20%.

Tapestry, Inc. TPR presently has a long-term earnings growth rate of 10% and a Zacks Rank #2.
Zacks Top 10 Stocks for 2021
In addition to the stocks discussed above, would you like to know about our 10 best buy-and-hold tickers for the entirety of 2021?

Last year's 2020 Zacks Top 10 Stocks portfolio returned gains as high as +386.8%. Now a brand-new portfolio has been handpicked from over 4,000 companies covered by the Zacks Rank. Don't miss your chance to get in on these long-term buys.

Access Zacks Top 10 Stocks for 2021 today >>
Want the latest recommendations from Zacks Investment Research? Today, you can download 7 Best Stocks for the Next 30 Days.
Click to get this free report
Abercrombie & Fitch Company (ANF): Free Stock Analysis Report
Boot Barn Holdings, Inc. (BOOT): Free Stock Analysis Report
L Brands, Inc. (LB): Free Stock Analysis Report
Tapestry, Inc. (TPR): Free Stock Analysis Report
To read this article on Zacks.com click here.
Zacks Investment Research