3 Solar Stocks Set to Benefit From China's $247M Subsidies
The government of China recently announced its decision to offer subsidies worth $247.4 million to the nation's centralized solar power projects in 2019, per the National Energy Administration (NEA). This marks a dramatic reversal from China's stance in 2018 when it had dramatically cut down subsidies offered to solar projects.
No doubt, the latest news was received encouragingly by solar stock investors. The Zacks Solar industry gained 0.9% following the announcement on Jul 11.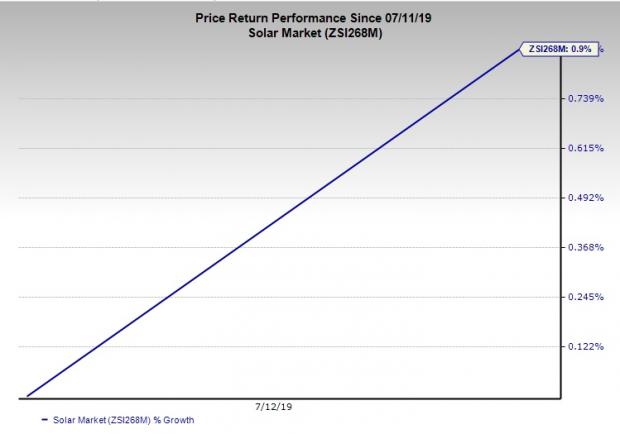 The grant comes at a crucial time with President Donald Trump and his Chinese counterpart Xi Jingping agreeing to resume trade talks, which raised hopes of a respite from the severe tariff on import of cheap solar panels and modules from China.
Notably, at the start of June 2018, China had announced a cut in feed-in tariffs (FiTs) related to utility-scale solar projects and a cap on distributed generation (DG) projects.
Details of the Latest Subsidy Plan
Per the latest announcement, 3,921 large-scale Chinese solar projects with a total installed capacity of 22.79 gigawatts (GW) will be eligible for these subsidies. The new subsidy is part of a fixed subsidy amount that the government has allocated this year for solar projects.
China also expects to bring online 40-45 GW of solar PV in 2019. The government plans to allocate approximately $109 million worth of subsidies for rooftop power projects.
Analysts' Opinion
Analysts across the globe expressed their optimism regarding the latest subsidy provision by increasing expectations for the nation's solar projects. Taking into account the 22.79 GW of feed-in-tariff supported projects approved, Asia Europe Clean Energy (Solar) Advisory (AECEA) increased its 2019 guidance for China's solar installations from 32-34 GW to 38-42 GW.
Impact on Solar Stocks
According to China's National Renewable Energy Centre (CNREC) data, in the first half of 2019, China installed 5.2 GW of solar photovoltaic (PV) capacity, reflecting a 40% decline. Naturally, Chinese solar panels and cells manufacturers along with overseas solar players engaged in Chinese projects suffered.
The latest subsidy provision is expected to boost profits of these solar players in the coming days. This is because, with the removal of the cap on solar projects, the nation will witness construction of new projects.
Our Picks
We have zeroed in on three solar companies that are either based in China or are connected to the nation's solar industry and have gained following the subsidy news. These stocks carry a favorable Zacks Rank #1 (Strong Buy) or #2 (Buy) and have solid bottom-line growth potential. You can see the complete list of today's Zacks #1 Rank stocks here.
Enphase Energy Inc. ENPH, a solar inverter producer, with 26% of its assets in China, expects its earnings to increase a whopping 420% year over year in 2019. It currently sports a Zacks Rank #1. Following the announcement of subsidy provision, its shares gained 1%.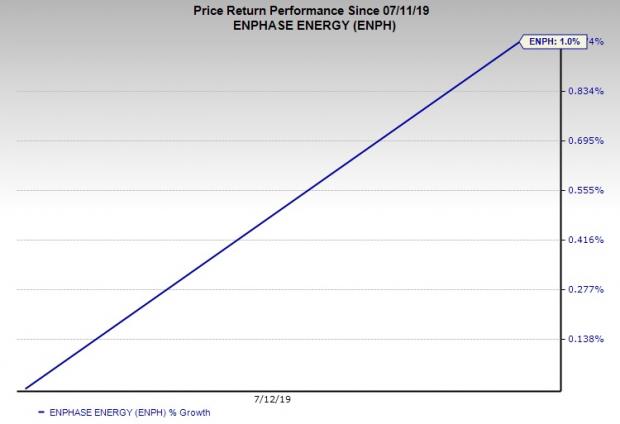 JinkoSolar Holding Company Ltd. JKS, a solar panel manufacturer, is expected to record earnings growth of 70.1% year over year in 2019. It currently sports a Zacks Rank #1. Following the announcement of subsidy provision, this company's shares were up 0.5%.
Canadian Solar Inc. CSIQ is a solar power developer, which conducts most of its manufacturing operations in China and South-East Asia. The Zacks Consensus Estimate for 2019 earnings moved north by 2.1% over the last 90 days. It currently carries a Zacks Rank #2. Following the announcement of subsidy provision, this company's shares were up 2%.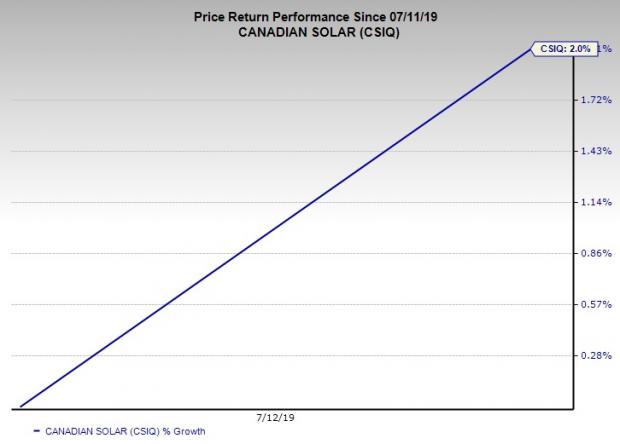 Wall Street's Next Amazon
Zacks EVP Kevin Matras believes this familiar stock has only just begun its climb to become one of the greatest investments of all time. It's a once-in-a-generation opportunity to invest in pure genius.
Want the latest recommendations from Zacks Investment Research? Today, you can download 7 Best Stocks for the Next 30 Days.
Click to get this free report
Enphase Energy, Inc. (ENPH): Free Stock Analysis Report
Canadian Solar Inc. (CSIQ): Free Stock Analysis Report
JinkoSolar Holding Company Limited (JKS): Free Stock Analysis Report
To read this article on Zacks.com click here.