Strategic Education Surges 41% YTD: Will Growth Continue?
So far, the year 2019 has turned out to be an encouraging one for the Schools industry. Year to date, the industry has rallied 29.6% compared with the S&P 500's 18.7% increase. Strategic Education, Inc. STRA, which belong to the same industry, has gained 41.3% during the same period. We believe there is still momentum left in this Zacks Rank #2 (Buy) stock. This is because the company has an expected long-term earnings growth rate of 15%.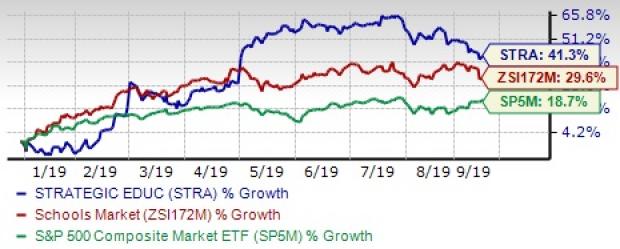 Moreover, an upward revision in earnings estimates for 2019 reflects analysts' confidence in the company's potential. Over the past 60 days, the Zacks Consensus Estimate for its earnings in 2019 has moved up 3.4%. Further, the company delivered positive earnings surprise in each of the trailing four quarters, the average being 14.3%.
Let's delve deeper into other factors that have kept Strategic Education ahead of its peers.
Key Catalysts
Strayer and Capella Universities have been exhibiting stellar enrollment results, which is commendable. Both Strayer and Capella Universities reported solid second-quarter 2019 operating results as new student enrollment increased a respective 8.5% and 7.8%, while total enrollment grew 11.5% and 1.6% each.
Strayer University's efforts to reduce costs for students who are unable to complete graduation due to higher fees or related costs are an added positive. Strategic Education introduced graduation funds in mid-2013, which offer financial assistance to students during their final year of the programs. The company's new student enrollment growth represents its 11th consecutive quarter of new student growth.
Meanwhile, Capella University consistently invests in the introduction of programs as well as specializations to improve student outcomes. Continuous innovation and course updates fortifies its product portfolio, which in turn, boost enrollments and drive long-term growth. At present, Strategic Education is focusing on providing programs based on a "competency-based learning model and direct assessment capabilities". One of these innovations is FlexPath.
Notably, FlexPath continues to be one of the company's fastest-growing programs as it allows students to focus on leveraging their skills and knowledge gained during professional hours.
Increased enrollment in bachelors and master degree programs under FlexPath is likely to drive Strategic Education's top line in the near term. At Capella, FlexPath has been quite successful and now constitutes 31% of Capella's bachelor and master's degree enrollment. New FlexPath enrollments grew 21% and total FlexPath enrollments increased 37% from the prior-year quarter. FlexPath enrollments now represent one-third of all non-doctoral students at Capella.
These apart, Strayer as well as Capella University's educational programs are specifically designed to meet the educational needs of working adults in targeted professions.
Other Key Picks
Some other top-ranked schooling stocks in the same space are K12 Inc. LRN, Lincoln Educational Services Corporation LINC and Bright Horizons Family Solutions Inc. BFAM. While K12 and Lincoln currently sport a Zacks Rank #1 (Strong Buy), Bright Horizons carries a Zacks Rank #2. You can see the complete list of today's Zacks #1 Rank stocks here.
K12, Lincoln and Bright Horizons have an impressive long-term earnings growth rate of 15%, 15% and 10.1%, respectively.
Today's Best Stocks from Zacks
Would you like to see the updated picks from our best market-beating strategies? From 2017 through 2018, while the S&P 500 gained +15.8%, five of our screens returned +38.0%, +61.3%, +61.6%, +68.1%, and +98.3%.
This outperformance has not just been a recent phenomenon. From 2000 – 2018, while the S&P averaged +4.8% per year, our top strategies averaged up to +56.2% per year.
See their latest picks free >>
Want the latest recommendations from Zacks Investment Research? Today, you can download 7 Best Stocks for the Next 30 Days.
Click to get this free report
Bright Horizons Family Solutions Inc. (BFAM): Free Stock Analysis Report
Strategic Education Inc. (STRA): Free Stock Analysis Report
K12 Inc (LRN): Free Stock Analysis Report
Lincoln Educational Services Corporation (LINC): Free Stock Analysis Report
To read this article on Zacks.com click here.
Zacks Investment Research