RPM International (RPM) Misses on Q4 Earnings & Revenues
RPM International Inc. RPM posted fourth-quarter fiscal 2018 results, wherein earnings and revenues missed the Zacks Consensus Estimate.

The company reported adjusted earnings per share of $1.05 in the quarter, missing the consensus mark of $1.18 by 11%. However, earnings improved 2.9% from the year-ago quarter's figure of $1.02.

Net sales of $1.56 billion in the quarter lagged the consensus mark of $1.56 billion by 1.5%. Nonetheless, net sales increased 4.4% year over year.

Sales were mainly affected by unseasonably cold and rainy spring in North America that delayed the coating and construction projects. Meanwhile, RPM's bottom-line results were impacted by rising raw material costs and weak sales in the consumer segment. Strategic restructuring initiatives introduced by new management at Rust-Oleum also added to the woes.

Segment Sales Details

The company has three reportable segments — the industrial, specialty and consumer segment.

Sales in the Industrial segment (contributing more than 50% of total sales) increased 10.8% to $812.9 million. Organic sales growth contributed 6.2%, while acquisitions added 1.7%. Foreign currency translation positively impacted sales by 2.9%.

Consumer segment sales declined 3% to $548.4 million due to lower organic growth (down 5.4%). That said, acquisitions contributed 1.2% and foreign currency translation positively impacted sales by 1.2%.

Severe unfavorable weather conditions in North America affected sales in its consumer segment as it inhibited outdoor projects. Lack of operating leverage along with higher raw material costs impacted the segment's results.

Specialty segment sales increased 1.5% to $196.9 million as foreign currency translation positively impacted sales by 1.5% and acquisitions added 0.6%. However, these positives were partly offset by a decline in organic sales of 0.6% due to negative impact from a patent expiration last August. However, the segment registered strong sales in OEM powder coatings and wood finishes.
RPM International Inc. Price, Consensus and EPS Surprise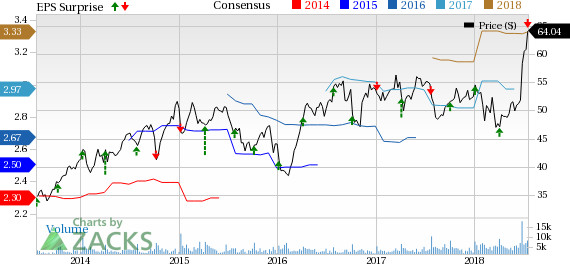 RPM International Inc. Price, Consensus and EPS Surprise | RPM International Inc. Quote
Balance Sheet

As of May 31, 2018, the company had cash and cash equivalents of $244.4 million compared with $350.5 million in the prior-year period.

Long-term debt (excluding current maturities) at the end of fiscal 2018 was $2.18 billion compared with $1.84 billion a year ago.

Fiscal 2018 Highlights

Earnings per share came in at $2.92 per share, indicating an 18.2% increase from $2.47 a year ago. Net sales were $5.32 billion, reflecting an increase of 7.3% from fiscal 2017.

RPM's Industrial, Consumer and Specialty segments recorded 9.8%, 4.4% and 5.5% net sales growth, respectively.

Fiscal First Quarter Views

The company expects first-quarter fiscal 2019 to be the most difficult in terms of bottom-line leverage owing to several reasons. The Consumer segment will be marked by higher promotional advertising and load-in spending to support the recent market share gains. Moreover, the gap between current price increases and raw material inflation is at its peak, with its consumer businesses realizing some of their price increases of late. Meanwhile, in its specialty segment, the first quarter of fiscal 2019 marks the last quarter of negative comparisons relating to the NatureSeal patent expiration last August.

Fiscal 2019 Views

RPM expects the challenging raw material environment to persist, thereby creating pressure on the company's gross margin. All of its businesses have been pursuing price increases aggressively, including the consumer segment division.

The company expects Industrial segment sales to increase in the mid-single-digit range. The segment is expected to gain from robust construction activity and a mostly stable international backdrop outside Brazil. Again, RPM's industrial coatings business will also likely benefit from ongoing oil and gas market recovery.

For the Consumer segment, sales are expected to grow in the mid- to upper single-digit range. This segment is going to undergo a leaner and more simplified organizational structure as it enters fiscal 2019. Improved product line, market share gains, higher advertising campaign for new product placements and the recent purchase of Miracle Sealants are expected to drive growth.

For the specialty segment, RPM will annualize last year's patent expiration at the end of first-quarter fiscal 2019. The company expects difficult year-over-year comparisons for Legend Brands restoration business, which experienced a sales boost due to three hurricanes last fall. Overall, RPM expects sales growth in the specialty segment to be in the low single-digit range.

Zacks Rank & Key Picks

RPM currently carries a Zacks Rank #3 (Hold). Some better-ranked stocks in the same industry are Boise Cascade Company BCC, Louisiana-Pacific Corporation LPX and PotlatchDeltic Corporation PCH, each sporting a Zacks Rank #1 (Strong Buy). You can see the complete list of today's Zacks #1 Rank stocks here.

Boise Cascade, Louisiana-Pacific and PotlatchDeltic's 2018 earnings are expected to grow 84.3%, 30.5% and 4.7%, respectively.

Will You Make a Fortune on the Shift to Electric Cars?
Here's another stock idea to consider. Much like petroleum 150 years ago, lithium power may soon shake the world, creating millionaires and reshaping geo-politics. Soon electric vehicles (EVs) may be cheaper than gas guzzlers. Some are already reaching 265 miles on a single charge.

With battery prices plummeting and charging stations set to multiply, one company stands out as the #1 stock to buy according to Zacks research.

It's not the one you think.

See This Ticker Free >>

Want the latest recommendations from Zacks Investment Research? Today, you can download 7 Best Stocks for the Next 30 Days.
Click to get this free report
Louisiana-Pacific Corporation (LPX): Free Stock Analysis Report
Boise Cascade, L.L.C. (BCC): Free Stock Analysis Report
Potlatch Corporation (PCH): Free Stock Analysis Report
RPM International Inc. (RPM): Free Stock Analysis Report
To read this article on Zacks.com click here.
Zacks Investment Research