Here's Why AB InBev (BUD) Withdraws $9.8B IPO in Hong Kong
Shares of Anheuser-Busch InBev SA/NV BUD, alias AB InBev, declined as much as 3% on Friday after the leading beer maker failed to price an initial public offering (IPO) for its Asia unit. AB InBev withdrew its IPO for Budweiser Brewing Company APAC on the Hong Kong stock exchange on Jul 11, citing prevailing market conditions as one of the reasons among many.

Based on initial transaction terms, the company anticipated pricing the offering between HK$40 and HK$47 per share, selling about 1.6 million shares of Budweiser Brewing APAC for a valuation of $54-$64 billion. The offering was valued between 15.5 times and 18.2 times EBITDA, higher than the valuation of rivals, Carlsberg CABGY and Heineken NV HEINY, as well as its own parent.
The IPO would have raised about US$8.3-US$9.8 billion for the company, outpacing the $8.1 billion raised by Uber Technologies UBER listing on the New York exchange earlier this year. The offering, if successful, would have been the world's biggest IPO of 2019.

Sources revealed that investors' unwillingness to subscribe to the high-priced expectations for the Budweiser unit was the reason for pulling out the IPO. The Budweiser unit expected to win bids based on its leading position in the premium beer market in China, where it sells more than 50 beer brands.
Notably, it counts China, Australia, South Korea, India and Vietnam among its key markets in the Asia Pacific. While the offering received quotes within the said range from large hedge funds and private wealth managers, some long-term U.S. investors made offers below the lower end of the range.

However, the company revealed that it would closely monitor the market conditions, indicating a re-visit when conditions are favorable.

Through this IPO, Budweiser APAC targeted to deleverage the highly-leveraged balance sheet of its parent, with debt piles built following the SABMiller buyout in 2016. Notably, this IPO would have enabled it to pay down a significant amount of AB InBev's debt of $105.6 billion as of Dec 31, 2018.

With this setback, the company will now look for other options to deleverage balance sheet, which might include considering selling of minority stake of its China business. Notably, AB InBev is witnessing pressures in the China market, which is among its key growth regions in Asia. The company's market shares declined to 43% in the premium China market in recent years. However, its competitors, Carlsberg and Heineken, have been boosting market share in the region through the introduction of new products and making alliances.

Additionally, AB InBev is looking to reduce leverage by lowering dividends. The company earlier targeted to reduce its net debt-to-EBITDA ratio to below 4.0 by the end of 2020 from 4.6 at the end of 2018.

Price Performance

Despite the setback from the IPO withdrawal, shares of AB InBev have gained 32.1% year to date, outperforming the industry's growth of 23.7%. The robust performance of this Zacks Rank #3 (Hold) stock is attributed to its ability to retain a positive sales trend despite a though global beer market. You can see the complete list of today's Zacks #1 Rank (Strong Buy) stocks here.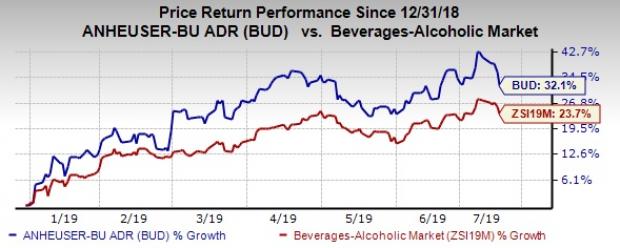 Wall Street's Next Amazon

Zacks EVP Kevin Matras believes this familiar stock has only just begun its climb to become one of the greatest investments of all time. It's a once-in-a-generation opportunity to invest in pure genius.

Click for details >>
Want the latest recommendations from Zacks Investment Research? Today, you can download 7 Best Stocks for the Next 30 Days.
Click to get this free report
Carlsberg AS (CABGY): Free Stock Analysis Report
Heineken NV (HEINY): Free Stock Analysis Report
Anheuser-Busch InBev SA/NV (BUD): Free Stock Analysis Report
Uber Technologies, Inc. (UBER): Free Stock Analysis Report
To read this article on Zacks.com click here.
Zacks Investment Research