SWN or RRC: Which Natural Gas-Heavy Stock is Better Placed?
On Jun 20, natural gas prices hit a more than three-year low of $2.185 per one million British thermal units (MMBtu), after U.S. government data revealed a weekly injection in domestic stockpiles that was much more than expected. The fuel, which is currently trading near $2.26 per MMBtu, is far off the 2019-high of $3.722 that was attained in January. Despite a slight recovery from the 37-month low, which was recorded on Jun 20, natural gas prices remain in the bearish territory amid growing fears that soaring production is outpacing demand growth.
While the fundamentals of natural gas consumption continue to be favorable on growing demand for cleaner fuel, record high production in the United States and expectation of explosive growth through 2020 signify that supply will keep pace with demand. Therefore, prices are likely to trade sideways but for weather-driven movements.Although natural gas prices might experience a short-lived surge owing to positive weather forecasts, any powerful turnaround looks unlikely at the moment.
In this context, we put the spotlight on two small-cap gas-weighted firms, namely Southwestern Energy Company SWN and Range Resources Corporation RRC. Markedly, both the stocks hit 52-week low in yesterday's trading session. While Range Resources closed at $6.18, Southwestern hit a one-year low of $2.85 before closing a tad higher at $2.88. Since both the stocks currently carry a Zacks Rank #3 (Hold), it will be interesting to see which stock is better positioned in terms of fundamentals.
Battle on the Bourses
While both Southwestern Energy and Range Resources are struggling on the bourses, the latter has witnessed a steeper decline in stock price on a year-to-date basis. Both the companies have underperformed the broader industry's growth of 4.8% so far this year. On a year-to-date basis, shares of Range Resources fell 35.4% while Southwestern stock declined 15.5%.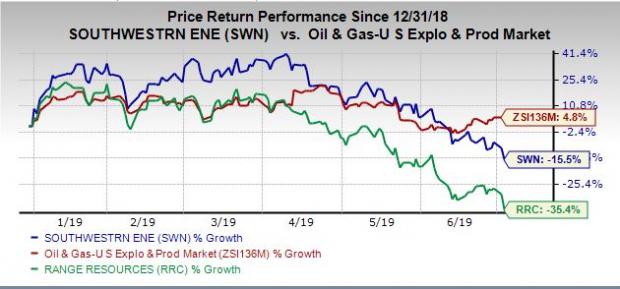 Performance and Projections
While both Southwestern Energy and Range Resources beat earnings and sales estimates in the last reported quarter, Southwestern Energy's bottom line declined y/y, unlike Range Resources. Considering a more comprehensive earnings history, Southwestern Energy managed to surpass estimates in three out of the four trailing quarters, whereas Range Resources pulled off a positive earnings surprise in each of the last four quarters.
Notably, in the last reported quarter, Range Resources' production was 2,256 million cubic feet per day (MMcfe/d), whereas Southwestern Energy recorded an output of 1,994 MMcfe/d. Hence, Range Resources fares better in the output department. It expects full-year production in the band of 2,325-2,345 MMcfe/d, whereas Southwestern Energy anticipates output within 2,055-2,151 MMcfe/d.
Even in terms of long-term growth expectations, Range Resources has an edge over Southwestern Energy. Per the Zacks model, the expected growth rate for Range Resources for the next three-five years is 11.20% compared with 9% for Southwestern Energy.
Leverage and Liquidity
While Range Resources carries a debt-to-capital ratio of 48.3%, Southwestern Energy has a leverage ratio of 43.6%. Resultantly, Southwestern Energy has an edge over Range Resources in this department. Southwestern Energy also displays better liquidity with a current ratio of 0.94, higher than Range Resources' 0.58.
FCFs and ROE
In 2018, Southwestern Energy posted negative free cash flows (FCFs) of $25 million, while Range Resources recorded positive FCF of $80 million. However, in the last reported quarter, Southwestern Energy fared better in the FCF parameter, generating FCFs of $184 million versus $50 million by Range Resources.
ROE — a measure of a company's efficiency in utilizing shareholders' funds — in the trailing 12 months for Southwestern Energy and Range Resources is 23.46% and 5.23%, respectively. Southwestern Energy clearly has an edge here, per our model.
Valuation
Range Resources and Southwestern Energy have respective EV/EBITDA ratio of 1.72 and 3.9. While both the companies are underpriced compared with the industry's EV/EBITDA ratio of 7.09, clearly, Range Resources is the cheaper proposition in comparison.
Bottom Line
Our comparative analysis shows that Southwestern Energy is better placed than Range Resources when considering share price performance, financials and ROE. Range Resources, however, scores on long-term projections, earnings surprise history and valuation metrics.
We prefer to remain on the sidelines for both the stocks and advise investors to hold the stocks for now, given their current Zacks Rank, overall natural gas fundamentals and seasonal nature.
However, investors interested in the energy space can consider some better-ranked players like Approach Resources Inc. AREX and Plains Group Holdings, L.P. PAGP, each sporting a Zacks Rank #1 (Strong Buy). You can see the complete list of today's Zacks #1 Rank stocks here.
The Hottest Tech Mega-Trend of All
Last year, it generated $8 billion in global revenues. By 2020, it's predicted to blast through the roof to $47 billion. Famed investor Mark Cuban says it will produce "the world's first trillionaires," but that should still leave plenty of money for regular investors who make the right trades early.
See Zacks' 3 Best Stocks to Play This Trend >>
Want the latest recommendations from Zacks Investment Research? Today, you can download 7 Best Stocks for the Next 30 Days.
Click to get this free report
Southwestern Energy Company (SWN): Free Stock Analysis Report
Plains Group Holdings, L.P. (PAGP): Free Stock Analysis Report
Approach Resources Inc. (AREX): Free Stock Analysis Report
Range Resources Corporation (RRC): Free Stock Analysis Report
To read this article on Zacks.com click here.
Zacks Investment Research