Freeport (FCX) to Divest Majority Stake in Indonesia Unit
Freeport-McMoRan Inc. FCX provided an update on its negotiations with the Indonesian Government regarding long-term operating rights of PT Freeport Indonesia (PT-FI).
Freeport and the government of Indonesia have agreed on a framework to support PT-FI's investment plans in Papua. Per the terms of the framework, PT-FI will convert its Contract of Work to a special license (IUPK). This will provide long-term operating rights to PT-FI till 2041. The Indonesian government will provide certainty of legal and fiscal terms during the term of the IUPK.
PT-FI will also build a new smelter in Indonesia within five years and Freeport will divest its majority stake in PT-FI, at fair market value, so that Indonesian interests own 51% of PT-FI's shares.
Shares of Freeport fell roughly 2.1% yesterday to eventually close at $15.21.
Freeport is presently in talks about the procedure and timing of divestments with the Indonesian government, so that the company retains control over governance and operations of PT-FI.
According to Freeport, reaching an understanding on a framework of the mutual agreement is positive and significant for all stakeholders and the framework will support its ongoing investment program and operations in Papua. The company is also committed to complete the required definitive documentation for this framework at the earliest.
Freeport stock has moved up 32.4% in the last three months, substantially outperforming the 20.8% rally of the industry it belongs to.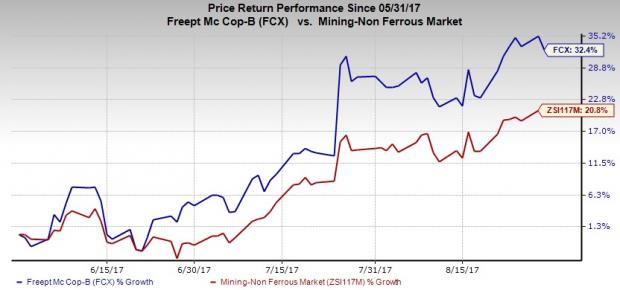 Freeport reported net income (attributable to common stock) of 18 cents per share in second-quarter 2017, against a year-ago loss of 38 cents per share. Barring one-time items, adjusted earnings were 17 cents. The figure missed the Zacks Consensus Estimate of 20 cents. Revenues rose around 11.3% year over year to $3,711 million in the second quarter, surpassing the Zacks Consensus Estimate of $3,678.
Consolidated copper sales volumes (of 942 million pounds) for the quarter were lower than the company's expectations reflecting the impact of worker absenteeism on mining and milling rates in Indonesia.
Copper sales from Indonesia mining were 247 million pounds in the quarter, up 26% from 196 million pounds the year-ago quarter. The results reflect the sale of concentrate in inventory and increased ore grades, partly offset by reduced mill rates. Gold sales surged 182.8% to 427,000 ounces and production rose 120.2% year over year to 348,000 ounces in the second quarter.
Freeport expects sales from Indonesia mining to be about 1 billion pounds of copper and 1.6 million ounces of gold for 2017.
Freeport-McMoran, Inc. Price and Consensus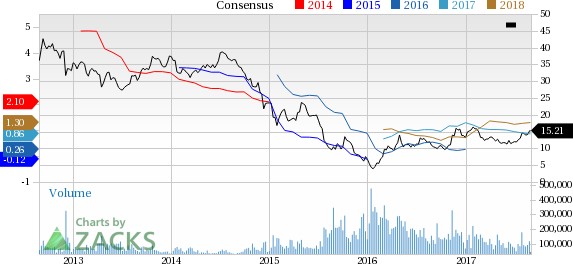 Freeport-McMoran, Inc. Price and Consensus | Freeport-McMoran, Inc. Quote
Freeport currently carries a Zacks Rank #3 (Hold).
Stocks to Consider
Some better-ranked stocks in the basic materials space are The Chemours Company CC, POSCO PKX and Kronos Worldwide Inc. KRO. All three stocks sport a Zacks Rank #1 (Strong Buy). You can see the complete list of today's Zacks Rank #1 stocks here.
Chemours has expected long-term earnings growth rate of 15.5%.
POSCO has expected long-term earnings growth rate of 5%.
Kronos has expected long-term earnings growth rate of 5%.
4 Surprising Tech Stocks to Keep an Eye On
Tech stocks have been a major force behind the market's record highs, but picking the best ones to buy can be tough. There's a simple way to invest in the success of the entire sector. Zacks has just released a Special Report revealing one thing tech companies literally cannot function without. More importantly, it reveals 4 top stocks set to skyrocket on increasing demand for these devices. I encourage you to get the report now – before the next wave of innovations really takes off.
Want the latest recommendations from Zacks Investment Research? Today, you can download 7 Best Stocks for the Next 30 Days.
Click to get this free report
Kronos Worldwide Inc (KRO): Free Stock Analysis Report
Chemours Company (The) (CC): Free Stock Analysis Report
Freeport-McMoran, Inc. (FCX): Free Stock Analysis Report
POSCO (PKX): Free Stock Analysis Report
To read this article on Zacks.com click here.
Zacks Investment Research