Sonoco's Industry Alliance to Enhance Fiber-Based Packaging
Sonoco Products Company SON has joined an international industry alliance, 4evergreen. This alliance is aimed at boosting fiber-based packaging for creating a more sustainable economy, in a bid to reduce climate change and other environmental impacts.
The alliance has been launched by Cepi, the European association for the paper industry. 4evergreen is focused on spreading awareness about the benefits of fiber-based packaging materials, support recyclable product design, and stimulate the development of optimized collection systems and suitable recycling infrastructures.

This alliance was initially formed to connect industry members from across the fiber-based packaging value chain, from paper producers to packaging converters, retailers and brand owners, material suppliers and technology, as well as waste sorters and collectors. Environmental awareness and rising consumer concerns have fueled rapid development of climate-friendly options, including fiber-based packaging.

The first 4evergreen alliance members include Nestlé, Danone DANOY, Sappi, WestRock Company WRK, Graphic Packaging International, International Paper Company IP to name a few. Moreover, the cooperation is welcoming more organizations to join the collaboration.

Recently, Sonoco issued its financial outlook for 2020 and reaffirmed the same for the current year. It reaffirmed fourth-quarter 2019 and full-year earnings per share (EPS) guidance ranges, which were provided during the third-quarter earnings release.

For the fourth quarter, EPS is envisioned between 72 and 76 cents. Compared with earnings of 84 cents reported in the year-ago quarter, the mid-point of the guided range reflects a year-over-year decline of 12%.

The 2019 earnings guidance remains in the range of $3.50 to $3.54, the mid-point of which reflects a projected increase of 4% from the $3.37 per share reported in 2018. The company projects 2019 sales at $5.4 billion.

Sonoco has reaffirmed its guidance for 2019 operating cash flow at $435-$455 million and free cash flow at $60-$80 million.
For 2020, Sonoco anticipates earnings per share to lie within $3.65 and $3.75. The mid-point of the target range is at $3.70 per share. The EPS guidance factors in positive impact of acquisitions, volume/mix and productivity initiatives. However, these benefits are likely to be partially offset by negative price/cost relationship, primarily due to higher operating inflation, and higher depreciation and amortization and other costs. Moreover, higher income taxes and the impact of a strengthening dollar are expected to dampen earnings.

Sonoco projects 2020 sales at $5.55 billion, reflecting 3% year-over-year growth. It expects to deliver 4% organic growth in Flexible packaging and 4-5% organic growth in Rigid Plastic Packaging in 2020.

For 2020, operating cash flow is projected at around $635 million. The company expects to generate free cash flow of $260 million, after spending $195 million in capital investments and a dividend payout of $180 million, subject to approval of its board.

The company plans to turn the consumer packaging segment around in fiscal 2020, and grow and optimize industrial packaging. Sonoco will continue its portfolio-optimization initiatives. It plans to focus on profitable growth through new products, customers and sustainable products. Margin expansion is expected to be aided by commercial excellence, operating excellence and SG&A cost control. Working capital management and strategic capital expenditure are likely to drive free cash flow.

Share Price Performance

Shares of Sonoco have gained 14.5% over the past year, as against the industry's decline of 17.7%.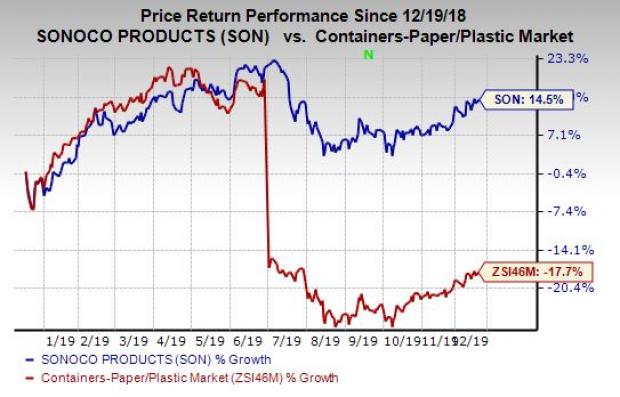 Sonoco currently carries a Zacks Rank #3 (Hold). You can see the complete list of today's Zacks #1 Rank (Strong Buy) stocks here.

7 Best Stocks for the Next 30 Days

Just released: Experts distill 7 elite stocks from the current list of 220 Zacks Rank #1 Strong Buys. They deem these tickers "Most Likely for Early Price Pops."

Since 1988, the full list has beaten the market more than 2X over with an average gain of +24.6% per year. So be sure to give these hand-picked 7 your immediate attention.

See 7 handpicked stocks now >>
Want the latest recommendations from Zacks Investment Research? Today, you can download 7 Best Stocks for the Next 30 Days.
Click to get this free report
Sonoco Products Company (SON): Free Stock Analysis Report
Danone (DANOY): Free Stock Analysis Report
WestRock Company (WRK): Free Stock Analysis Report
International Paper Company (IP): Free Stock Analysis Report
To read this article on Zacks.com click here.