Verisk (VRSK) Hits 52-Week High: What's Driving the Stock?
Shares of Verisk Analytics, Inc. VRSK scaled a 52-week high of $208.75 in the trading session on Dec 29, before closing a tad lower at $207.98.
The company's shares have charted a solid trajectory in recent times, appreciating 39.3% year to date, ahead of 1.8% growth of the industry it belongs to and 17% surge of the Zacks S&P 500 composite.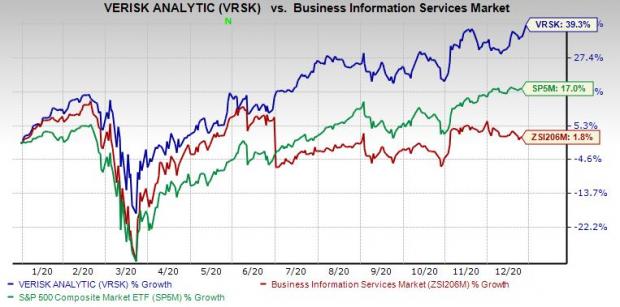 Notably, Verisk has witnessed a 5.9% rise in share price since it posted third-quarter 2020 results.
Let's find out what's supporting the uptick.
Impressive Revenue Performance
Verisk reported revenue beat in all the four quarters of 2019 as well as in the first and third quarters of 2020. This encouraging performance can be attributed to continued strength in the company's Insurance segment and improvement in the Energy and Specialized Markets segments.
Higher Organic Revenue Growth
Verisk continues to witness higher organic revenue growth through a combination of an increase in new customers for existing solutions, cross-sale of its existing solutions to customers at present, and also the sale of new solutions. The company continuously seeks to expand its portfolio by leveraging its deep knowledge and position. It develops new proprietary data sets and predictive analytics after understanding customers' evolving needs. Notably, Verisk has recorded an average organic revenue growth of about 8% in the past 10 years. During third-quarter 2020, revenues went up 3.6% on an organic constant currency ("OCC") basis. In 2019, total revenues grew 6.7% on an OCC basis, marking an improvement from 6.1% growth in 2018 and 5.3% in 2017.
Strategic Acquisitions Bode Well
Acquisitions have also been one of the key growth catalysts for Verisk. The company has been continuously acquiring and investing in companies globally to expand its data and analytics capabilities across industries.
In 2020, Verisk completed the purchase of Franco Signor, which will become part of its Claims Partners business and should help the company strengthen its foothold in the Medicare space.
In 2019, Verisk completed seven acquisitions — FAST to enhance its data and analytics solutions in life insurance and annuities market; Commerce Signals to enhance its Financial Services segment; BuildFax to boost its Insurance segment; Genscape to expand its Wood Mackenzie business line's existing intelligence in energy data and analytics, and strengthen its research and consultancy across the natural resources sectors; Keystone Aerial Surveys, Inc. to expand its aerial survey services; and Property Pres Wizard to enhance its Insurance segment, and Content as a Service (Caas) business to strengthen its environmental health and safety services and extend its global customer footprint and European operations.
Notably, Verisk's long-term business strategy includes growth through acquisitions. Internally, it is focused on evaluating and integrating acquisitions that are valuable for its shareholders.
Zacks Rank and Stocks to Consider
Verisk currently carries a Zacks Rank #3 (Hold).
Some better-ranked stocks in the broader Zacks Business Services sector are ManpowerGroup MAN, Insperity NSP and BG Staffing BGSF, each carrying a Zacks Rank #2 (Buy). You can see the complete list of today's Zacks #1 Rank (Strong Buy) stocks here.
The long-term expected earnings per share (three to five years) growth rate for ManpowerGroup, Insperity and BG Staffing is 3.5%, 15% and 20%, respectively.
Just Released: Zacks' 7 Best Stocks for Today
Experts extracted 7 stocks from the list of 220 Zacks Rank #1 Strong Buys that has beaten the market more than 2X over with a stunning average gain of +24.4% per year.

These 7 were selected because of their superior potential for immediate breakout.

See these time-sensitive tickers now >>
Want the latest recommendations from Zacks Investment Research? Today, you can download 7 Best Stocks for the Next 30 Days.
Click to get this free report
ManpowerGroup Inc. (MAN): Free Stock Analysis Report
Insperity, Inc. (NSP): Free Stock Analysis Report
Verisk Analytics, Inc. (VRSK): Free Stock Analysis Report
BG Staffing Inc (BGSF): Free Stock Analysis Report
To read this article on Zacks.com click here.
Zacks Investment Research