Can Cirrus Logic Turn Around on Apple AirPod Contract Win?
Reportedly, Cirrus Logic CRUS has won a deal to provide active noise cancellation for Apple's AAPL next generation AirPods to be released in 2019. The deal is expected to help the chipmaker grow its top and bottom line by 4% and 15%, respectively, per media reports.

Cirrus depends majorly on Apple for selling audio chips that are used in iPhone devices. Sales to Apple accounted for nearly 82% of its revenues in fiscal 2018. We have earlier seen that sluggish demand for smartphones, especially iPhone X, led to production cuts, which took a toll on Cirrus, reflecting in its quarterly results.

These dampened investors' confidence, which is evident from its year-to-date price performance. Shares of Cirrus have lost 26.1% while the industry declined 2.4% over the same time frame.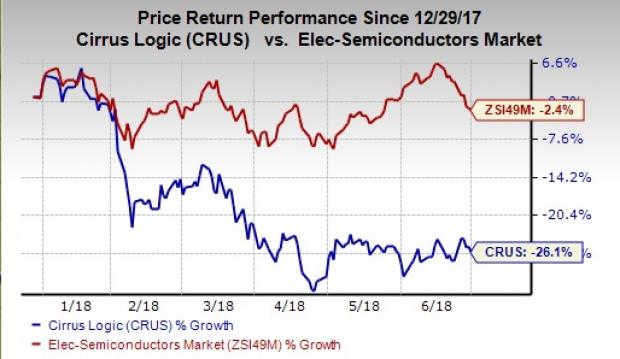 Reliance on Apple: A Boon or Bane?

Cirrus's relationship with Apple dates back a long time. Although Cirrus's overreliance on Apple is a concern for investors but the tech giant's dependency on Cirrus should also not be ignored.

Apple is well known for its focus on quality, which is the key differentiator for its higher priced products. Apple's brand is something that gives it an edge over its competitors. Choosing Cirrus for next gen AirPods definitely shows the trust it has on the chipmaker.

Moreover, Cirrus is expected to gain from the diversification strategy of Apple. The iPhone maker is trying to beef up its other offerings such as AirPods, which will drive Cirrus's growth.

However, customer concentration is definitely a risk to the company, given Apple's proactive stance on building a closed ecosystem of semiconductor solutions.
Cirrus Logic, Inc. Revenue (TTM)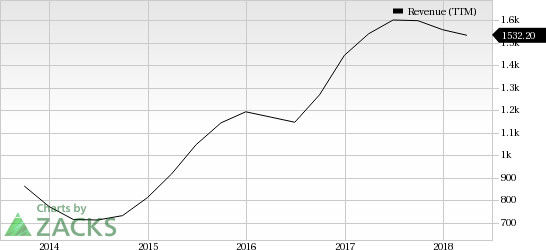 Expansion in TAM

Cirrus's ability to bring innovative products will help it expand its total addressable market (TAM).

Sluggish smartphone demand is hurting Cirrus Logic's overall performance. Management expects the sluggish demand in the smartphone market to continue for some time. We therefore believe Cirrus's foray into noise cancelling earphones to be a positive.

Moreover, it is looking to penetrate the Android market, which we believe will reduce its dependence on Apple and broaden its ability to cater to a larger customer base.

Zacks Rank and Stocks to Consider

Cirrus Logic currently has a Zacks Rank #4 (Sell).

Better-ranked stocks in the broader technology sector include Micron Technology MU and NVIDIA Corporation NVDA, both sporting a Zacks Rank #1 (Strong Buy). You can see the complete list of today's Zacks #1 Rank stocks here.
Long-term earnings growth rate for Micron and NVIDIA is projected to be 8.2% and 10.3%, respectively.

Today's Stocks from Zacks' Hottest Strategies

It's hard to believe, even for us at Zacks. But while the market gained +21.9% in 2017, our top stock-picking screens have returned +115.0%, +109.3%, +104.9%, +98.6%, and +67.1%.

And this outperformance has not just been a recent phenomenon. Over the years it has been remarkably consistent. From 2000 - 2017, the composite yearly average gain for these strategies has beaten the market more than 19X over. Maybe even more remarkable is the fact that we're willing to share their latest stocks with you without cost or obligation.
Want the latest recommendations from Zacks Investment Research? Today, you can download 7 Best Stocks for the Next 30 Days.
Click to get this free report
Apple Inc. (AAPL): Free Stock Analysis Report
Cirrus Logic, Inc. (CRUS): Free Stock Analysis Report
NVIDIA Corporation (NVDA): Free Stock Analysis Report
Micron Technology, Inc. (MU): Free Stock Analysis Report
To read this article on Zacks.com click here.
Zacks Investment Research