Astec's (ASTE) Margins to Bear the Brunt of Inflated Costs
Astec Industries, Inc. ASTE will benefit from its robust backlog levels, strong construction demand and increased U.S. infrastructure spending. The company is also progressing well on its strategy — Simplify, Focus and Grow — which has been designed to deliver profitable growth. Some of these gains will however be negated by the impact of higher raw material costs as well as transportation and logistics costs. Labor shortage and supply-chain headwinds add to the concerns.
Improving Order Levels Instill Optimism
Astec has been witnessing an improvement in order levels lately, as evident from a year-over-year increase of 184% to a record backlog of $620.5 million at the end of the third quarter of 2021. The company expects the current backlog levels to be converted to sales in the next two to three quarters.
Another player in the industry, The Manitowoc Company Inc. MTW, reported a 54% increase in its orders for the nine months ended Sep 30, 2021, to $1,546 million. Backlog as of the end of the third quarter of 2021 was $890.6 million, up 92% from the year-ago quarter's end and the highest seen in the last three years.
Terex Corporation's TEX backlog surged a whopping 237% year over year to $2,725 million in third-quarter 2021. TEX's both segments have witnessed improvement in backlog over the past four quarters.
Meanwhile, mining and construction equipment behemoth Caterpillar, Inc. CAT reported a backlog of $20.6 billion at the end of the third quarter, up $7.2 billion on a year-over-year basis. This bodes well for CAT's top-line performance in the forthcoming quarters.
Astec as well as others in the industry are expected to continue to benefit from strong construction demand. With the U.S Infrastructure Bill signed into law by President Biden, the perked-up infrastructure spending represents a huge opportunity for these companies.
Simplify, Focus and Grow Strategy to Aid Growth
Astec is progressing well on its strategy — Simplify, Focus and Grow. Under the Simplify aspect, ASTE continues to reduce organizational structure complexity, and consolidate and rationalize footprint and product portfolio. Per the Focus initiative, Astec sold its GEFCO business, eliminating its exposure to the energy industry. It continues to drive operational excellence across the organization and optimize the product portfolio. Through the Grow aspect, the company will focus on innovation, global expansion, and disciplined and strategic acquisitions. It expects to use technology and digital connectivity to enhance customer experience.
Astec acquired two premier full-line concrete batch plant manufacturers — CON-E-CO and BMH — in 2020 to strengthen the Infrastructure Solutions business and provide customers with access to the most robust line of concrete products in the infrastructure industry. Astec also remains committed toward growing its part sales volume and international business.
Cost Inflation to Hurt Margins
Steel prices have remained high this year and are anticipated to remain so in 2022 as well, backed by the improving demand and continued supply constraints. This will impact Astec's margins. Given that steel is a major raw material for Caterpillar, Manitowoc and Terex as well, their margins will be impacted.
Astec as well as the above-mentioned companies are witnessing tightness in labor availability, increased transportation and logistics costs. They are resorting to cost-reduction efforts to help offset the impacts.
Reflecting these headwinds, the Zacks Consensus Estimate for Astec's 2021 earnings is currently pegged at $1.74 per share, suggesting a year-over-year decline of 27%. Nevertheless, the consensus mark for the same for 2022 is pegged at $2.70, indicating a year-over-year improvement of 55%.
Terex lowered the guidance for 2021 earnings per share to $2.75-$2.85 from the previously mentioned $2.85-$3.05, citing higher costs, the ongoing supply chain, labor, freight and logistics challenges. The Zacks Consensus Estimate for its current year's earnings has, thus, gone down 2% over the past 30 days. Its shares have appreciated 39% so far this year despite the headwinds.
The Zacks Consensus Estimate for Manitowoc's current-year earnings has also gone down 20% over the past 30 days. The company lowered its adjusted EBITDA guidance for 2021 to $100-$110 million from the prior $105-$115 million. MTW's shares have gained 60% so far this year.
The Zacks Consensus Estimate for Caterpillar's current-year earnings has moved up 2% over the past 30 days. Apart from the demand from the construction sector, the demand from mining, backed by higher commodity prices, will support its results. CAT's shares have gone up 13% year to date.
Price Performance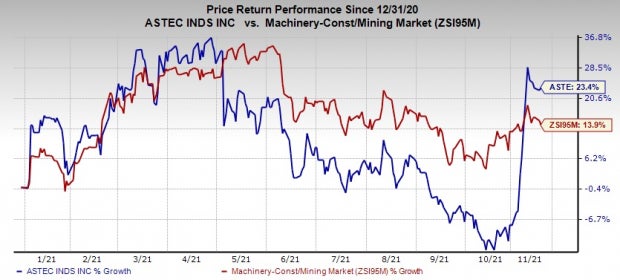 Image Source: Zacks Investment Research
Astec has gained 23.4% year to date compared with the industry's rally of 13.9%.
Zacks Rank & Stocks to Consider
Astec currently carries a Zacks Rank #4 (Sell).
You can see the complete list of today's Zacks #1 Rank (Strong Buy) stocks here.
Zacks' Top Picks to Cash in on Artificial Intelligence
This world-changing technology is projected to generate $100S of billions by 2025. From self-driving cars to consumer data analysis, people are relying on machines more than we ever have before. Now is the time to capitalize on the 4th Industrial Revolution. Zacks' urgent special report reveals 6 AI picks investors need to know about today.
See 6 Artificial Intelligence Stocks With Extreme Upside Potential>>
Want the latest recommendations from Zacks Investment Research? Today, you can download 7 Best Stocks for the Next 30 Days.
Click to get this free report
Astec Industries, Inc. (ASTE): Free Stock Analysis Report
The Manitowoc Company, Inc. (MTW): Free Stock Analysis Report
Caterpillar Inc. (CAT): Free Stock Analysis Report
Terex Corporation (TEX): Free Stock Analysis Report
To read this article on Zacks.com click here.
Zacks Investment Research