3 Income Stocks to Consider as Jobs Data Bolsters Stock Market
The stock market rallied Friday as the strong jobs data sent the Dow up over 330 points and the S&P 500 climbed 0.91%.
The S&P 500 came into the session down 0.7% for the week, but Friday's strong gains helped the index recover those losses. The Dow entered Friday down about 1% on the week and ended down only about 1% after Friday's session.
The better-than-expected jobs growth illustrates a strong economic picture for the US and equities. The current health of the market adds to the value of owning dividend-paying stocks that can bolster the already strong returns stocks have put out this year.
Dick's Sporting GoodsDKS is a stock that is coming off a hot third quarter performance where it saw its net sales grow 5.6% and its earnings jump over 33% Y/Y. In addition to its stellar top and bottom-line performance, Dick's comp sales rose an impressive 6% and e-commerce sales surged 13%.
The company has launched initiatives to improve its consumer experience such as the HitTrax Batting Cages, which allows Dick's customers to try out a specific bat in the batting cage and see their performance metrics on the screen.
Dick's pays out a quarterly dividend with a solid yield of 2.4%, which can add to the stock's 48% YTD return. Its solid dividend payout is also paired with a 0.62 beta ratio that can help anchor a portfolio in turbulent times. Our estimates for the current fiscal year call for sales to grow 3.21% to $8.71 billion and for earnings to climb 10.8% to $3.59 per share. DKS stock is listed as a Zacks Rank #1 (Strong Buy) right now.
Gaming and Leisure PropertiesGLPI is a REIT that can be a safer addition than betting on traditional casinos, which are more dependent on the health of the broader economy. The company started as an offshoot of Penn National Gaming PENN, but it has become a favorite REIT for regional casino companies to tap when they need financing.
The strength of the current economy makes this REIT an even more enticing addition. As casinos cash in on the heath of the current economy, so does this REIT as it sells more real estate to the buoyant casinos.
Gaming and Leisure Properties pays out a dividend with a robust 6.44% yield. GLPI stock has climbed over 31% in 2019 and outperformed the broader real estate market's 22% run. The company is also coming off a solid third quarter, with its shares up over 5% since its report. Our fiscal 2019 estimates project earnings to rally 8.2% to $3.44 per share and for sales to gain 9.2% to $1.15 billion. GLPI stock has seen its earnings estimates revised higher helping the stock hold a Zacks Rank #1 (Strong Buy).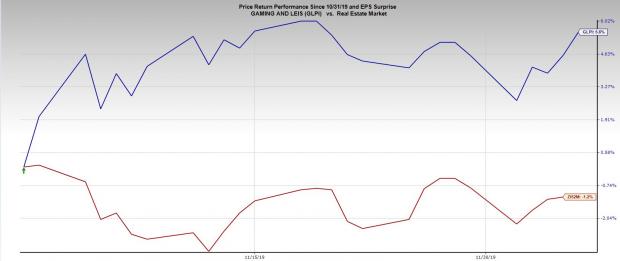 TargetTGT is a solid move to consider as the holiday season ramps up. The retailer has had a tremendous year with its shares soaring over 89%. The company captivated Wall Street again with its third quarter performance, where its digital sales continued their robust gains.
This year has fewer days between Black Friday and Christmas, which makes Target's services like one hour in-store pickup perfect for rushing consumers. This particular feature also yields higher margins for Target as it leverages existing stores rather than utilizing a capital-intensive logistics network. Target's Shipt acquisition should also drive Target's digital sales this quarter as it provides consumers same day delivery for $9.99 per order.
The Shipt acquisition has proved fruitful as sales volume fulfilled by Shipt saw 100% growth in the third quarter. In addition to all the things Target currently has going for it, the company pays a dividend with a healthy 2.12% yield. Our estimates for the vital Q4 forecast sales to jump 4.2% to $23.95 billion and for earnings to climb 11.1% to $1.70 per share. Target's earnings estimates have been revised higher, earning TGT stock a Zacks Rank #1 (Strong Buy).
Breakout Biotech Stocks with Triple-Digit Profit Potential

The biotech sector is projected to surge beyond $775 billion by 2024 as scientists develop treatments for thousands of diseases. They're also finding ways to edit the human genome to literally erase our vulnerability to these diseases.

Zacks has just released Century of Biology: 7 Biotech Stocks to Buy Right Now to help investors profit from 7 stocks poised for outperformance. Our recent biotech recommendations have produced gains of +98%, +119% and +164% in as little as 1 month. The stocks in this report could perform even better.

See these 7 breakthrough stocks now>>

Want the latest recommendations from Zacks Investment Research? Today, you can download 7 Best Stocks for the Next 30 Days.
Click to get this free report
Penn National Gaming, Inc. (PENN): Free Stock Analysis Report
Target Corporation (TGT): Free Stock Analysis Report
DICK'S Sporting Goods, Inc. (DKS): Free Stock Analysis Report
Gaming and Leisure Properties, Inc. (GLPI): Free Stock Analysis Report
To read this article on Zacks.com click here.
Zacks Investment Research