AbbVie + Allergan: Where Are The Synergies?
AbbVie ABBV is on the hunt for their next big revenue driver as their patent for the world's top-selling drug, Humira, is nearing its end. AbbVie just made a $63 billion deal to acquire Dublin-based Allergan AGN in an attempt to keep their drive alive.
This deal would represent a roughly 45% premium over Allergan's closing price yesterday. ABBV investors aren't thrilled with this excessive premium at the end of an economic cycle with the stock falling over 15% so far today. AGN investors, on the other hand, couldn't be more thrilled with their stock surging north of 26% this morning and still 13% below the $188 per share offer price.
AbbVie + Allergan
Humira makes up over 60% of AbbVie's top-line and this patent is said to be expiring mid-2023. The Allergan acquisition would significantly boost their portfolio's diversification and reduce the reliance on Humira.
Allergan's top line has been driven by eye care products, which has been losing momentum, as well as its medical aesthetics segment, which is the firm's saving grace. Medical aesthetics (aka cosmetic appearance products) drives 40% of their revenue and continues to illustrate double-digit expansion. Their neuroscience and urology segment has also been driving a lot of growth for Allergan.
These two pharmaceutical companies don't have an enormous amount of synergies considering that their portfolios and pipelines don't overlap. The synergies will arise from distribution leverage, larger R&D departments to push expansive pipelines, and portfolio diversification.
Although this premium appears high on paper, the actual valuation of AGN is much more reasonable. AGN is trading around its lowest forward P/E since the company started below 8x, miles below the pharma industries 20x multiple. The transaction would value Allergan at 11.3x EV/EBITDA, still roughly an 8% discount to the broader pharmaceutical industry.
Allergan has been looking for a change whether it be a new investment opportunity, potential acquisitions, a company split up or a sale for some time now as their top-line appears to be stalled. This acquisition comes at an opportune time.
This deal is following the Bristol-Myers Squibb's BMY $74 billion agreement to buy their rival Celgene CELG, the largest pharmaceutical acquisition since 1999. This merger is now facing some antitrust concerns that are expected to delay the deals closure. These two mergers would create two of the world's largest pharmaceutical companies.
Performance
Both AGN and ABBV have been underperforming the broader market over the last 52-weeks. These companies both need a change as their revenue slows to decline.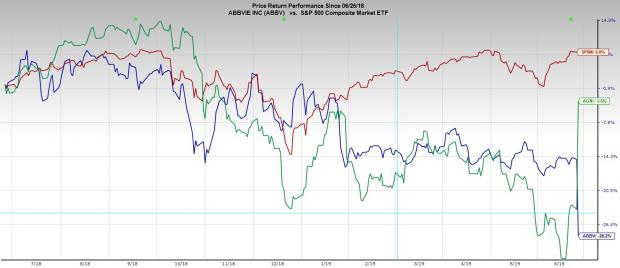 Take Away
This acquisition could make or break these firms. As I said above, both these firms need to revitalize their top-line and this merger could be the rejuvenating measure that they needed. Whether the 45% premium that AbbVie is paying for Allergan is worth the diversification remains to be seen. The acquisition will be finalized in 2020. Look to see how these firms synergize over the next 24-months.
Looking for Stocks with Skyrocketing Upside?

Zacks has just released a Special Report on the booming investment opportunities of legal marijuana.

Ignited by new referendums and legislation, this industry is expected to blast from an already robust $6.7 billion to $20.2 billion in 2021. Early investors stand to make a killing, but you have to be ready to act and know just where to look.

See the pot trades we're targeting>>
Want the latest recommendations from Zacks Investment Research? Today, you can download 7 Best Stocks for the Next 30 Days.
Click to get this free report
Allergan plc (AGN): Free Stock Analysis Report
AbbVie Inc. (ABBV): Free Stock Analysis Report
Bristol-Myers Squibb Company (BMY): Free Stock Analysis Report
Celgene Corporation (CELG): Free Stock Analysis Report
To read this article on Zacks.com click here.
Zacks Investment Research