Dycom Shares Up 23% Post Earnings: What's Driving the Stock?
Dycom Industries, Inc.'s DY strengthening telecommunication business, strong backlog and consistent contract flows owing to stable demand for its services despite a challenging economic backdrop are driving its business.

Shares of this specialty contracting firm have rallied more than 23% since it reported its first-quarter of fiscal 2021 (ended Apr 25, 2020) results on May 19. This compares favorably with the Zacks Building Products - Heavy Construction industry's 5.5% growth.

The solid price performance was mainly backed by above-mentioned tailwinds along with strong financial position and diligent operational execution. Notably, both the top and the bottom lines of the company not only surpassed their respective Zacks Consensus Estimate but also exceeded its prediction.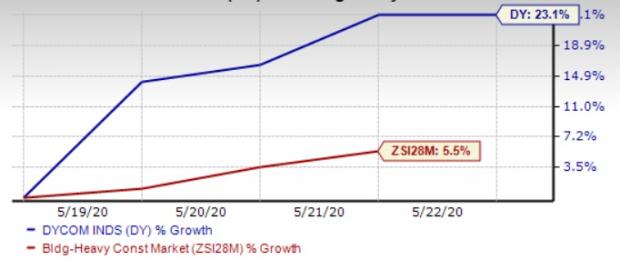 Let's delve deeper and find out the factors that are substantial growth drivers of this Zacks Rank #2 (Buy) company. You can see the complete list of today's Zacks #1 Rank (Strong Buy) stocks here.

Telecommunication Business Dycom's Strength: Dycom's overall performance is highly dependable on telecom business, which accounts for more than 89% of total contract revenues. The company has been witnessing solid demand for network bandwidth and mobile broadband. Presently, a number of major industry participants are deploying significant wireline networks to offer bandwidth-enabling 1-gigabit speeds, thereby creating significant opportunities for Dycom. Although the company is facing higher-than-expected costs of a large customer program and a slow start at a specific customer in rolling out its new system, two of its top five customers witnessed increased demand during fiscal first quarter.

Although the recent market trend is a concern for the industry, as overall demand depends upon the customers' need for the time, telecom services will soon gain momentum as it is deemed to be crucial infrastructure for the country.

New Contract Wins Boost Investors' Confidence: Dycom — which shares space with EMCOR Group, Inc. EME, Great Lakes Dredge & Dock Corporation GLDD and North American Construction Group Ltd. NOA in the same industry — continue to experience strong 12-month backlog. The company recorded backlog of $6.442 billion at the end of fiscal first-quarter. Of this backlog, 39% is expected to be completed over the next 12 months.

The increased demand for its services has boosted investors' sentiments in recent times, despite challenging environment stemming from coronavirus woes.

Strong Financial Position: The company has undertaken several strategic initiatives to expand its market share on the back of strong financial position and diligent operational execution. The company's strong liquidity positions it well to undertake strategic initiatives like investments and acquisitions.

Dycom ended the fiscal first quarter with ample liquidity, including $643.9 million of cash and equivalent, and $390.1 million availability under its credit facility.

Today's Best Stocks from Zacks

Would you like to see the updated picks from our best market-beating strategies? From 2017 through 2019, while the S&P 500 gained and impressive +53.6%, five of our strategies returned +65.8%, +97.1%, +118.0%, +175.7% and even +186.7%.

This outperformance has not just been a recent phenomenon. From 2000 – 2019, while the S&P averaged +6.0% per year, our top strategies averaged up to +54.7% per year.

See their latest picks free >>
Want the latest recommendations from Zacks Investment Research? Today, you can download 7 Best Stocks for the Next 30 Days.
Click to get this free report
EMCOR Group, Inc. (EME): Free Stock Analysis Report
Great Lakes Dredge Dock Corporation (GLDD): Free Stock Analysis Report
Dycom Industries, Inc. (DY): Free Stock Analysis Report
North American Construction Group Ltd. (NOA): Free Stock Analysis Report
To read this article on Zacks.com click here.
Zacks Investment Research