Reasons to Retain Insperity (NSP) Stock in Your Portfolio
Insperity, Inc. NSP has had an impressive run on the bourse over the past year. The stock gained a massive 73.9%, significantly outperforming the 42.9% rally of the Zacks S&P 500 composite.
The company has an impressive Growth Score of B. This style score condenses all the essential metrics from a company's financial statements to get a true sense of quality and sustainability of its growth.
The company has an expected long-term (three to five years) earnings per share growth rate of 15%.
Insperity, Inc. Price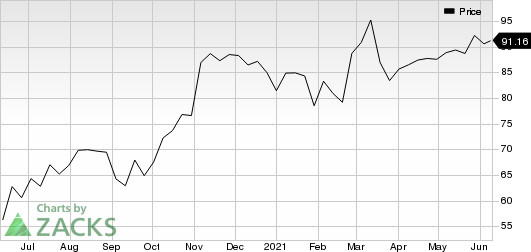 What's Supporting the Rally?
Insperity's business is currently benefiting from strength in the professional employer organization or PEO industry. This is being driven by growth of small- and medium-sized businesses, increased need of providing employee benefits and workplace safety programs, as well as the related expenses, time and knowledge required to attain the technology infrastructure to administer benefits, HR and payroll processing on an integrated basis.
Insperity puts consistent efforts to reward its shareholders. During 2020, the company repurchased 1.4 million shares for $99.4 million and paid out dividends totaling $61.9 million. It repurchased shares for $203 million, $113.3 million, $38.7 million and $31.7 million, and paid out dividends totaling $48.6 million, $33.4 million, $65.8 million and $20.6 million in 2019, 2018, 2017 and 2016, respectively. Such moves indicate Insperity's commitment toward boosting shareholders' value, thus underlining its confidence in its business.
Hurdles to Counter
Insperity is seeing an increase in expenses as it continues to invest in growth, technology, and product and service offerings. In first-quarter 2021, operating expenses increased 12.6% year over year to $167.62 million. During 2020, adjusted operating expenses of $612.2 million increased 12.1% year over year. The same rose 10.7% year over year in 2019 and 12% in 2018. Hence, going forward, the bottom line is likely to remain under pressure.
Zacks Rank and Stocks to Consider
FTI Consulting currently carries a Zacks Rank #3 (Hold).
Some better-ranked stocks in the broader Zacks Business Services sector are Equifax EFX, Cross Country Healthcare CCRN and Charles River Associates CRAI, each carrying a Zacks Rank #2 (Buy). You can see the complete list of today's Zacks #1 (Strong Buy) Rank stocks here.
The long-term expected earnings per share (three to five years) growth rate for Equifax, Cross Country Healthcare and Charles River is pegged at 14%, 10.5% and 15.5%, respectively.
Bitcoin, Like the Internet Itself, Could Change Everything
Blockchain and cryptocurrency has sparked one of the most exciting discussion topics of a generation. Some call it the "Internet of Money" and predict it could change the way money works forever. If true, it could do to banks what Netflix did to Blockbuster and Amazon did to Sears. Experts agree we're still in the early stages of this technology, and as it grows, it will create several investing opportunities.
Zacks' has just revealed 3 companies that can help investors capitalize on the explosive profit potential of Bitcoin and the other cryptocurrencies with significantly less volatility than buying them directly.
See 3 crypto-related stocks now >>
Want the latest recommendations from Zacks Investment Research? Today, you can download 7 Best Stocks for the Next 30 Days.
Click to get this free report
Equifax, Inc. (EFX): Free Stock Analysis Report
Charles River Associates (CRAI): Free Stock Analysis Report
Insperity, Inc. (NSP): Free Stock Analysis Report
Cross Country Healthcare, Inc. (CCRN): Free Stock Analysis Report
To read this article on Zacks.com click here.
Zacks Investment Research