Here's Why You Should Retain Delta Air Lines (DAL) Stock Now
Delta Air Lines, Inc. DAL has an impressive Growth Score of B. This style score condenses all the essential metrics from the company's financial statements to get a true sense of quality and sustainability of its growth. For 2021 and 2022, earnings are expected to grow at a rate of 67.5% and 225.7%, respectively, on a year-over-year basis.
The stock has moved up 14.1% in the past year compared with 12.8% growth of the industry it belongs to.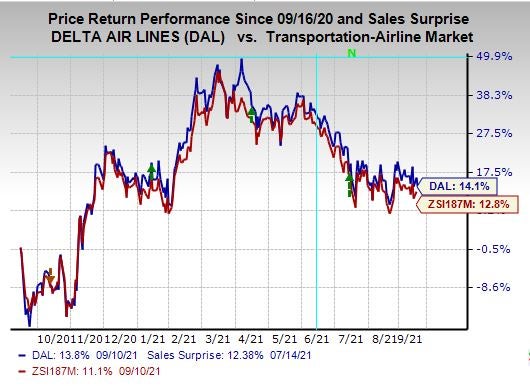 Image Source: Zacks Investment Research
Key Growth Drivers
Delta Air Lines has a strong cash position. The airline ended the second quarter of 2021 with cash and cash equivalents of $15.23 billion, much higher than the current debt of $2.37 billion. This implies that the company has sufficient cash to meet its current debt obligations.
With the rapid spread of the Delta variant in the United States, the company's focus on getting its staff vaccinated is highly commendable. To this end, management announced that its unvaccinated employees will have to pay $200 more per month for their company-sponsored healthcare scheme. The surcharge will be effective from Nov 1.
Cargo revenues rose 23% in the first half of 2021, amid falling passenger revenues.
Primary Concern
Pandemic-led low air-travel demand has made the carrier incur a loss for six successive quarters. Adding to the headwinds, the spread of the Delta variant is likely to dampen its September-quarter results. In September, Delta Air Line's management stated that due to the rising COVID-19 cases in the second half of the third quarter, total adjusted revenues are likely to be at the lower end of its previous guidance. Previously, the metric was estimated to decline in the 30-35% band from third-quarter 2019 levels. Capacity is expected to drop in the 28-30% range from third-quarter 2019 actuals.
Zacks Rank & Stocks to Consider
Delta Air currently carries a Zacks Rank #3 (Hold).
Some better-ranked stocks in the broader Zacks Transportation sector are Knight-Swift Transportation Holdings Inc. KNX, Landstar System, Inc. LSTR and Herc Holdings Inc. HRI. Knight-Swift and Landstar carry a Zacks Rank #2 (Buy), while Herc Holdings sports a Zacks Rank #1 (Strong Buy). You can see the complete list of today's Zacks #1 Rank stocks here.
Long-term expected earnings per share (three to five years) growth rate for Knight-Swift, Landstar and Herc Holdings is pegged at 15%, 12% and 49.2%, respectively.

Time to Invest in Legal Marijuana
If you're looking for big gains, there couldn't be a better time to get in on a young industry primed to skyrocket from $17.7 billion back in 2019 to an expected $73.6 billion by 2027.
After a clean sweep of 6 election referendums in 5 states, pot is now legal in 36 states plus D.C. Federal legalization is expected soon and that could be a still greater bonanza for investors. Even before the latest wave of legalization, Zacks Investment Research has recommended pot stocks that have shot up as high as +285.9%.
You're invited to check out Zacks' Marijuana Moneymakers: An Investor's Guide. It features a timely Watch List of pot stocks and ETFs with exceptional growth potential.
Today, Download Marijuana Moneymakers FREE >>
Want the latest recommendations from Zacks Investment Research? Today, you can download 7 Best Stocks for the Next 30 Days.
Click to get this free report
Delta Air Lines, Inc. (DAL): Free Stock Analysis Report
KnightSwift Transportation Holdings Inc. (KNX): Free Stock Analysis Report
Landstar System, Inc. (LSTR): Free Stock Analysis Report
Herc Holdings Inc. (HRI): Free Stock Analysis Report
To read this article on Zacks.com click here.
Zacks Investment Research